On 26th June 2011, Google announced the launch of a new social network, called Google+, or Google Plus, which aims to take on Facebook in terms of their market share in Social Media space. Many have been waiting for Google's big push into social since it rolled out its +1 button in March 2011, especially as Facebook gets cozy with its search rival, Microsoft.
Google+ (Google Plus) site bears a striking resemblance to Facebook, with streaming feeds and specialized groups of friends. In fact, Google + gathers many of the features of existing social networks. There's almost nothing original with Google+: Groups, video chat, news feed, link-sharing, and group texting. And while it looks pretty, we don't think it's a big enough change for anyone to abandon Facebook, Twitter, or LinkedIn.
The company is now boasting that four features in Google+ could help make the company a permanent player in social networking:
Circles – a functionality that allows individuals to place friends into groups, allowing users to share different forms of content with targeted clusters of friends
Hangouts – live multi-user video conferencing that permits friends to drop in and out of live group conversations
Huddle – group instant messaging
Sparks – a feature that connects individuals on the network to others with common interests
As the sign up to Google+ is only by limited invitation basis, I have consolidated some key screenshots to give you a quick overview & flavor of this new social networking tool.
A) Home
The layout is pretty neat, no Ads (for the time being) and fairly similar to Facebook. 'Stream' is equivalent to FB's 'Posts'.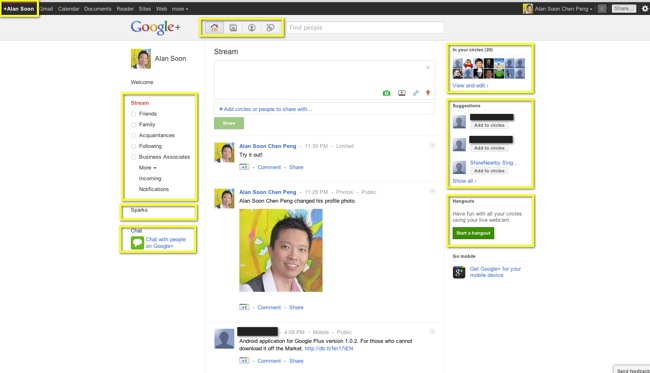 B) Photos
It is integrated with Google Picasa account but will inherit the original album's privacy/sharing restrictions. Drag & drop canvas is useful and neat for quick uploading of new images.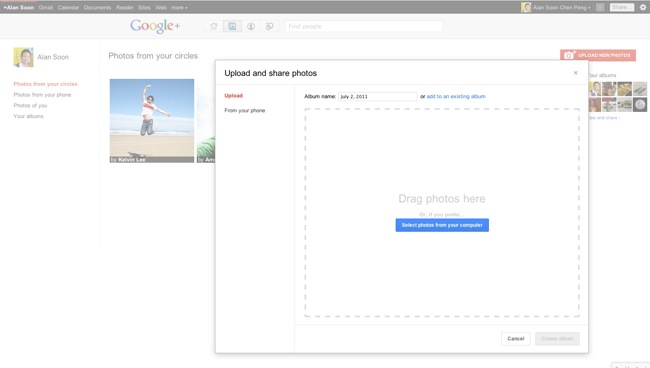 C) Google Profiles – Personal Writeup
With personal information exposed via Google+ profile especially in Google Search, this is one good starting page to optimise for profile visibility and cross site linkages. No massive fields to fill to start having a decent profile page.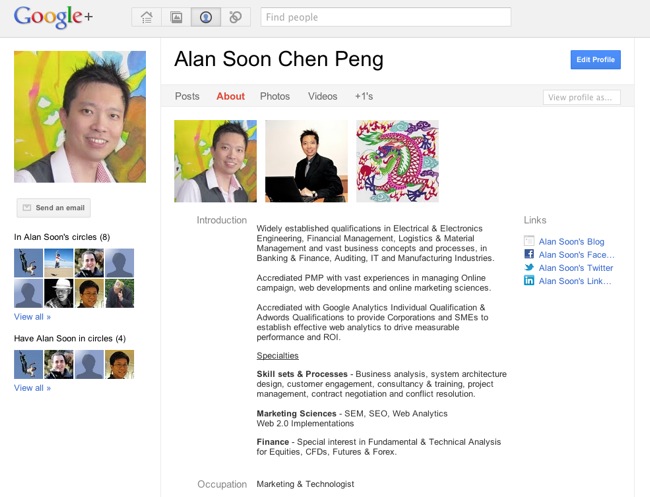 D) Circles
This is similar to FB's 'Friends List' to organise your Google+ contacts. Perhaps, this is one feature which I am impressed over FB for the ease of organizing friends into the various 'Circles' via drag & drop method.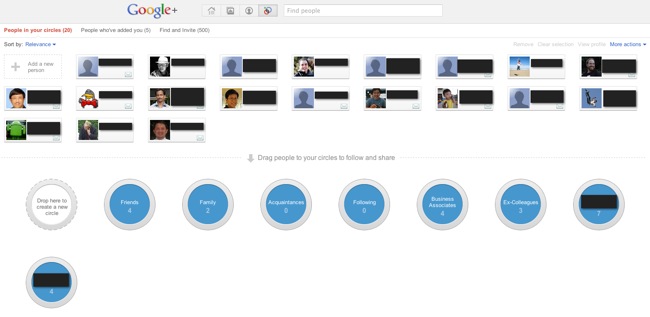 The Google+ (Google Plus) can also be readily accessed from standard smartphones. I have also take some screenshots using iPhone 4 Safari to access Google+: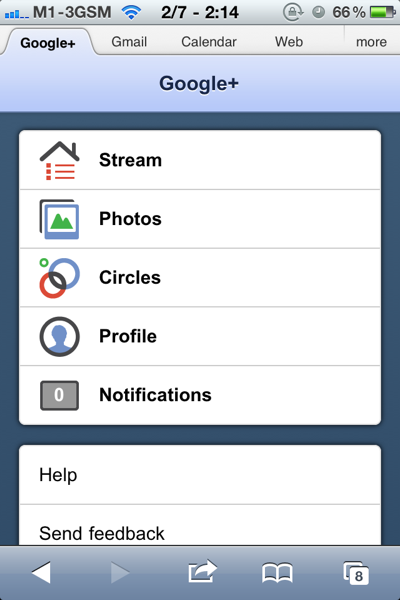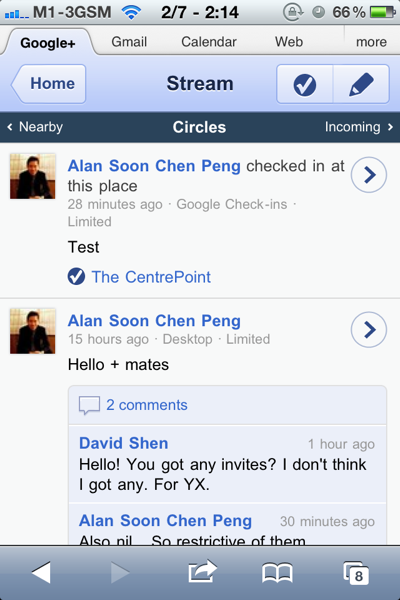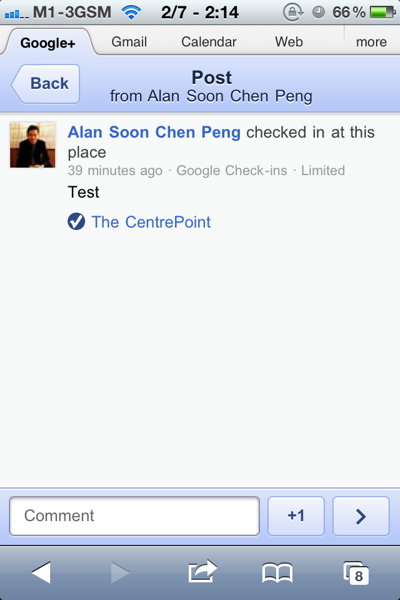 Leveraging tight integration with Google Maps & Google Places, one can readily 'Check-in' to a specific location and browse for nearby amenities.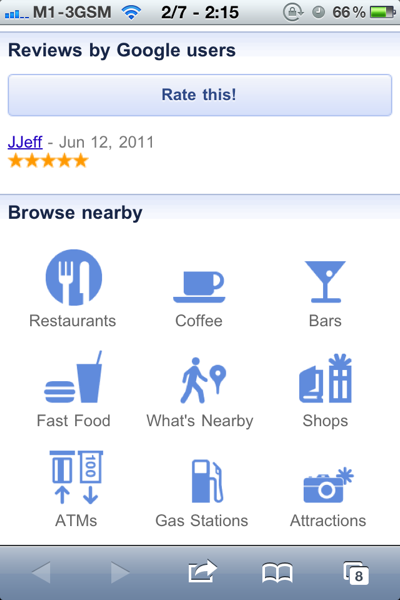 Similar to Twitter, one can view Streams (Posts) from users around the Check-in location.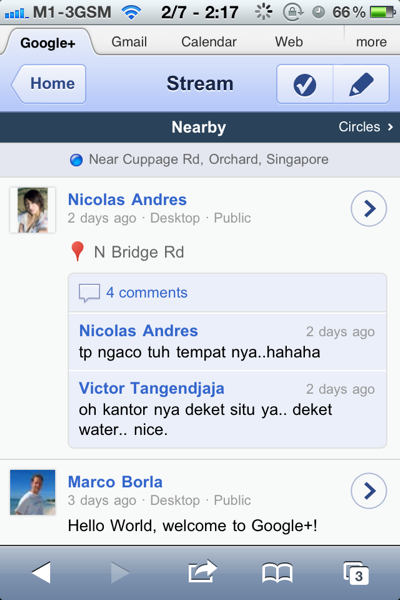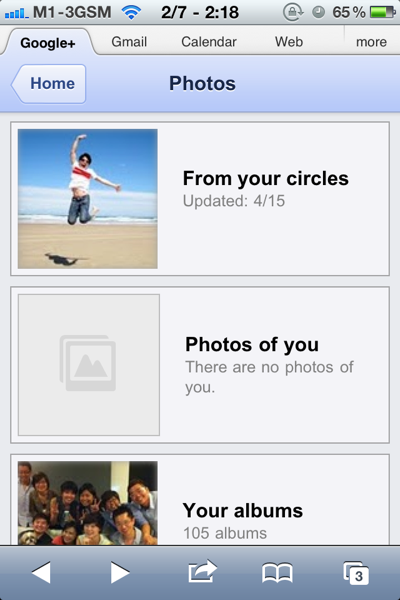 In conclusion, my first hand experience with Google+ was pretty good. Even at the prelim beta stage, it has established all the key functionalities to kickstart social networking activities. Navigation and site loading is commendable. Personally, I believe it has much more potential than the earlier Google Wave. Its success over the other competitors will greatly depend on how soon its user base can reach a certain critical mass. Will readily await Google+ to be made available for the general public!
Read other related posts:
Follow us on:



Share this article on: