One of the most important benefit of subscribing to a VPN service is it secures your computer's internet connection to guarantee that all of the data you're sending and receiving is encrypted and secured from prying eyes. Though it is pretty straightforward to configure a VPN service connection on most devices (e.g. Laptop, smart mobile devices, etc), there are some devices which do not provide VPN connectivity built in the setup. For instance, Roku media player, Amazon Fire TV or even Kindle readers etc.
Fortunately, some newer routers support custom firmware to include VPN setup to support some of the leading VPN service providers:
– OverPlay
– IPVanish
– HideMyAss
– PrivateInternetAccess
– EarthVPN
– IVPN
– VPNSecure.me
– CyberGhost
– ExpatTelly
– Proxy.sh
– SaferVPN
– Seed4me
– 12VPN
– S4UVPNSurfer
– StrongVPN
The other benefits of subscribing to a VPN service:
– secured browsing when connecting via free Wifi / Hotel hotspots
– anomynous downloads / surfing [more details can be found from : http://torrentfreak.com/which-vpn-providers-really-take-anonymity-seriously-111007/)
– circumvent location based access restrictions (e.g. some Drama can only be accessed in US or China)
Some of the better known & newer routers which support customised firmware with OpenVPN are:
– Cisco Linksys E4200
– Netgear R7000 AC1900 Nighthawk
– Netgear R6300 V2 AC1750 Wireless-AC
– Netgear WNDR4000
– Asus RT-AC68U Wireless-AC1900
– Asus RT-AC66U AC1750
– Asus RT-N66U
– TP-Link WDR3600 Dual Band
Though the existing warranty for the router will be voided by installing a custom firmware, there are other benefits gained:
– QoS – Quality of Service – Allow some types of traffic to take priority over others.
– Wireless Bridging.
– Ability to Turn Into A Hotspot.
– Adding SNMP (Monitoring protocol).
– Detailed Diagnostic Tools.
– More detailed & advanced VPN setup
The choice of customised firmware will depend on the actual router. The different types of customised firmware chiefly are:
– DD-WRT
– Tomato Firmware
– OpenWRT
– FreeWRT
– Chilifire
– Gargoyle
Knowing the resources requirement on the encryption payload for the router to process, I have decided to invest in one which has the most computing juice – Netgear Nighthawk R7000: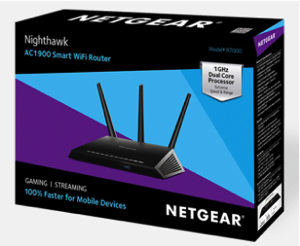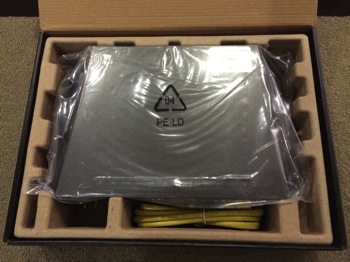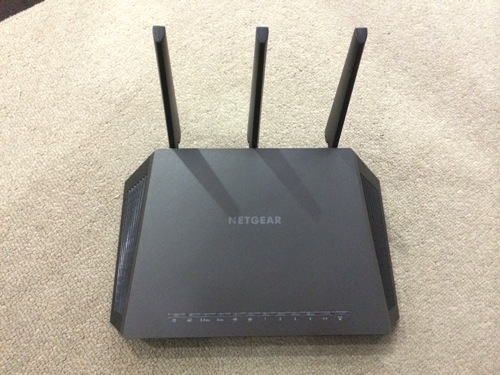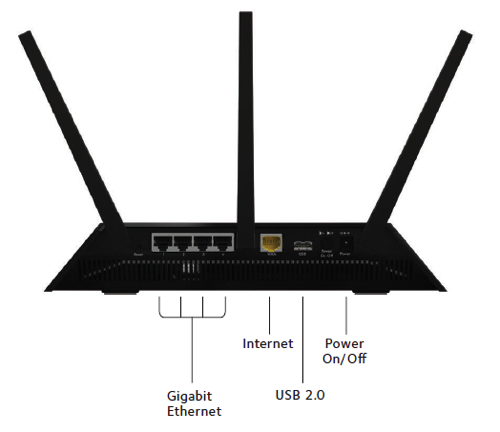 Key Specifications for Netgear R7000: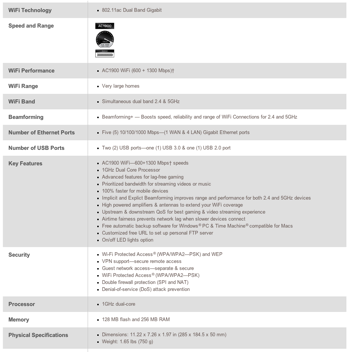 With DD-WRT firmware installed, setting up for Home VPN usage is easy:
1) Access the Administration area and then go to Commands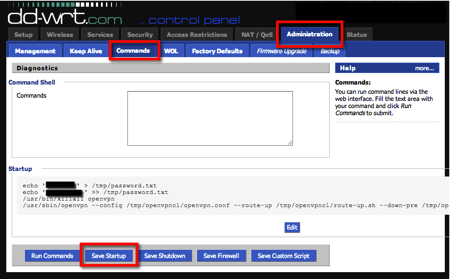 2) Enter the following:
echo 'your username' > /tmp/password.txt
echo 'your password' >> /tmp/password.txt
/usr/bin/killall openvpn
/usr/sbin/openvpn –config /tmp/openvpncl/openvpn.conf –route-up /tmp/openvpncl/route-up.sh –down-pre /tmp/openvpncl/route-down.sh –daemon
Then save this startup.
3) Access the VPN tab found under the Services section.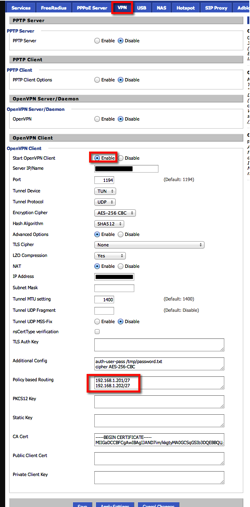 4) Enable the OpenVPN Client.
5) Set the Server IP/name shown in welcome email or in VPN Service panel's product details.
6) Set the Port to 1194.
7) Set the Tunnel Device to TUN.
8) Set the Tunnel Protocol to UDP.
9) Set the Encryption Cipher to AES-256 CBC aka AES-256-CBC aka BF-CBC.
10) Set the Hash Algorithm to SH1512.
11) Set the nsCertType to unchecked.
12) Set the Advanced Options to Enabled.
13) Set Use LZO Compression to Enable.
14) Set NAT to Enable.
15) In the Additional Config enter the following:
auth-user-pass /tmp/password.txt
cipher AES-256-CBC
auth SHA512
tls-client
comp-lzo
verb 1
By setting the Policy based Routing, one can program specific devices in the home to route all traffic via VPN connection. This also allows my current Webserver hosting to bypass the home VPN connection. This also ensure the public IP address 
In summary, the overall experience for the Netgear R7000 has been a pleasant one. Speed & signal strength are marvellous. However, with the rich functionality of the installed DD-WRT firmware, it will take me sometime to further explore other new features.
If you are interested to get one reliable custom VPN router, you can check out FlashRouters.com
Read other related posts:
Follow us on:



Share this article on: