I am fortunate to have participated in the inaugural launch of Adobe's Creative Suite CS 6 in Singapore, Kallang Theatre. It was also the great congregation of professionals from the fields of web design, print design, video production and creative evangelists.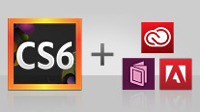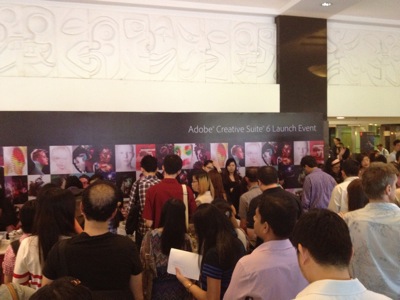 The opening keynote was impressive with a quick glimpse of the the awe from the enhanced Dreamweaver, InDesign and Premiere Pro. The session opened with a statement which I felt quite apt in this creative economy:
'Imagination more important than knowledge'.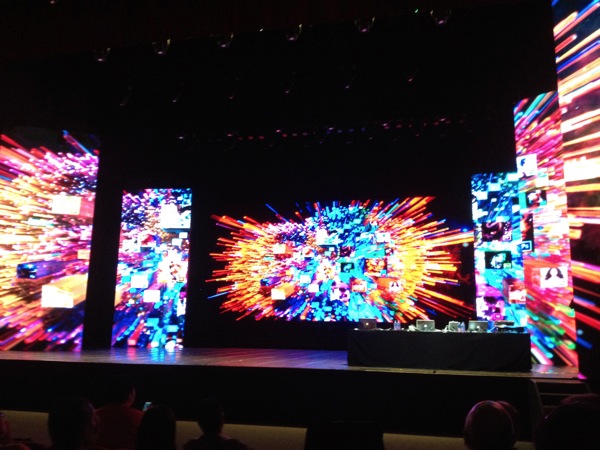 Similar to the previous launches, all eyes were on the 3 captivating speakers who are the gurus in each of the key Adobe's product lines in CS6:
– Paul Burnett, APAC Evangelist, Creative Solutions
– Michael Stoddart, APAC Evangelist, Creative Solutions
– Karl Soule, APAC Evangelist, Adobe Video
Here are some of the key mentions during the web/design breakout track:
AfterEffects
– 3D camera tracker – embed pic along camera path in video.
Dreamweaver
– HTML with jquery mobile support. Preview in live webkit in-browser.
– Phonegap build service to compile from HTML5 within dreamweaver for multiple mobile OS. Fetch the compiled app from cloud using QR code or direct download
– Fluid grid layout – platform specific layouts. Facilitate objects / code viewing in design views across multiple layouts in one HTML project
– Web fonts : To use fonts out of the standard browser fonts licensed to run off from a web server
– Div Transitions : Animations on CSS3 objects e.g font sizes or alignment to top etc
Fireworks
– Create CSS3 design objects and transport them into dreamweaver
Flash
– Export and publish to HTML5
– Inbuilt JavaScript coding and execute within flash file
Adobe Edge
Create animations for web in HTML5 CSS3. Single line of js script reference inserted into main HTML which is automatically prepared by Edge
InDesign
– Content collector + placer : to duplicate the assets and linked to original asset contents. Any changes can be synced without multiple re-editing
– Inbuilt multi language converter for content text paragraphs
– Auto sizing – width or height with overflow text wrappings
– Interactivity within – buttons, predefined code widgets
– Folio builder for file to be published into iPad document app.
– Create forms in InDesign which can be exported into interactive PDF. The form can be filled within the free Adobe Reader.
– Auto relayout for multiple screen size with Adobe Document Viewer (e.g. Mobile, desktop, tablets).
Illustrator
– Rewritten as 64bit app to fully utilize the full ram past 4gb and massive improvement in rendering speed.
– Colored gradient on strokes and image trace interface.
– New pattern creator tool to create complex tiles but in a much manageable file.
Photoshop
– Photoshop iOS touch app allows working files to be sync with the creative cloud and be edited on the photoshop desktop
– Content-aware move – move selected objects and content-aware fill the resulted void.
– Liquidfy speed improvement.
– Background saving and interval saving
– Guides for cropping tool e.g rule of thirds, golden arc etc
– Perspective crop tool
– On screen controls to tune tools parameters e.g centre, radius of blurs
– Adaptive wide angle Filter – corrects any distortions from fisheye lens, paranoma stitches etc
– Selection by color range + Face detection – skin tones adjustment
– Improve auto adjustments – curves, contrasts, brightness
– Filter selections for layers – object types, names etc
– 3D workspace for working with 3D & perspective objects
– Include basic video editing
In summary, Adobe is seen to be preparing its product line to be ready with the new HTML5, CSS3 standards and offer tighter workflow integration among the product lines. One thing for sure, Adobe Flash is underplayed in today's session especially with the introduction of the Adobe Edge where you can also work animations within. Nevertheless, CS6 will be an excellent tool for all creative professionals to realize their deepest imaginations and improve their productivity and effectiveness in quality delivery.
Read other related posts:
Follow us on:



Share this article on: