It was quite an eventful day for SGX between conversations of SGX CEO and Australia's foreign investment regulator. This will shed some light in the long awaited outcome of the merger deal between SGX & ASX.
Earlier this afternoon (5 April 2011, 1300hrs), Singapore Exchange Ltd. (S68.SG) Tuesday said it received notification from Australia's foreign investment regulator that the Australian Treasurer is "disposed to reject the proposed merger" with ASX Ltd. (ASX.AU) but that it will continue to pursue strategic growth opportunities. Towards the end of the day, SGX CEO indicated that the company 'will not aggressively pursue another merger if ASX offer fails'
If the merger fails, each exchange is back to business as usual. Phillip Securities has indicated a fair value estimate of S$10.50 based on SDAV of S$2.0 billion for FY10 (inclusive of ADRs trading contribution). Even if ADRs do not have substantial gain in volumes, their original estimate of SDAV is S$1.8 billion, giving us a fair value estimate of S$9.00. Although the price has ran up a fair bit within the past 2 weeks, the last closed price is still below these fair value estimates and warrants a buy rating. The upside potential ranges from 8% to 26%.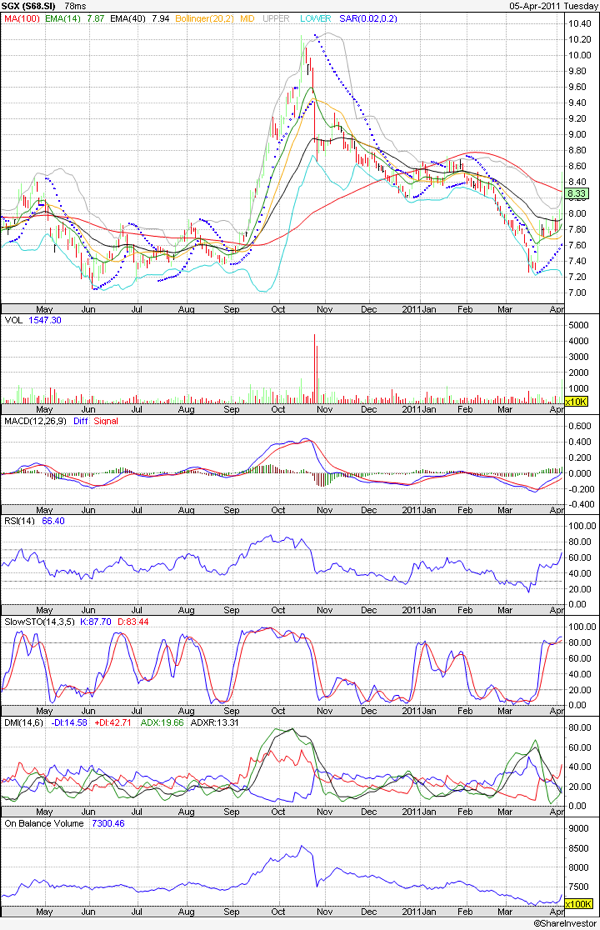 SGX stock has indicated in my previous post, has made a slow recovery from the bottom price at $7.30. MACD & RSI is rising. But OBV only picks up these 2 days, indicated a strong return of bigger funds. Uptick of ADX indicates potential strength in further short term gains.
Next resistance will be at $8.60 and would recommend slow accumulation towards $8.22 to $8.30. Good luck!
Read other related posts:
Follow us on:



Share this article on: