Earlier this year, Synology Inc. launched Synology DiskStation DS1817+ together with their Expansion Unit DX517. Both are powered by the Intel Atom C2538 CPU offering four x86 cores with AES-NI hardware encryption engine, providing outstanding performance even with encryption.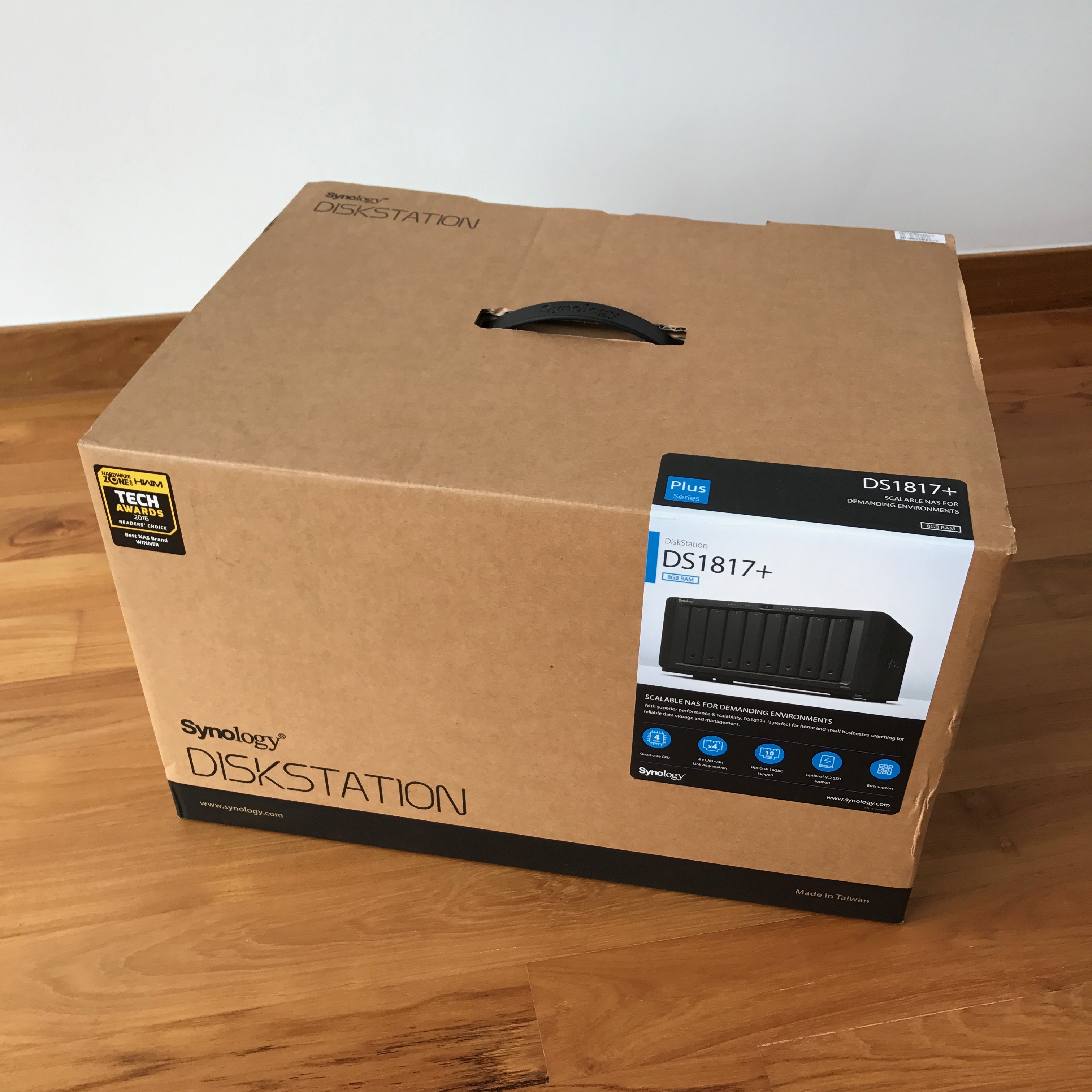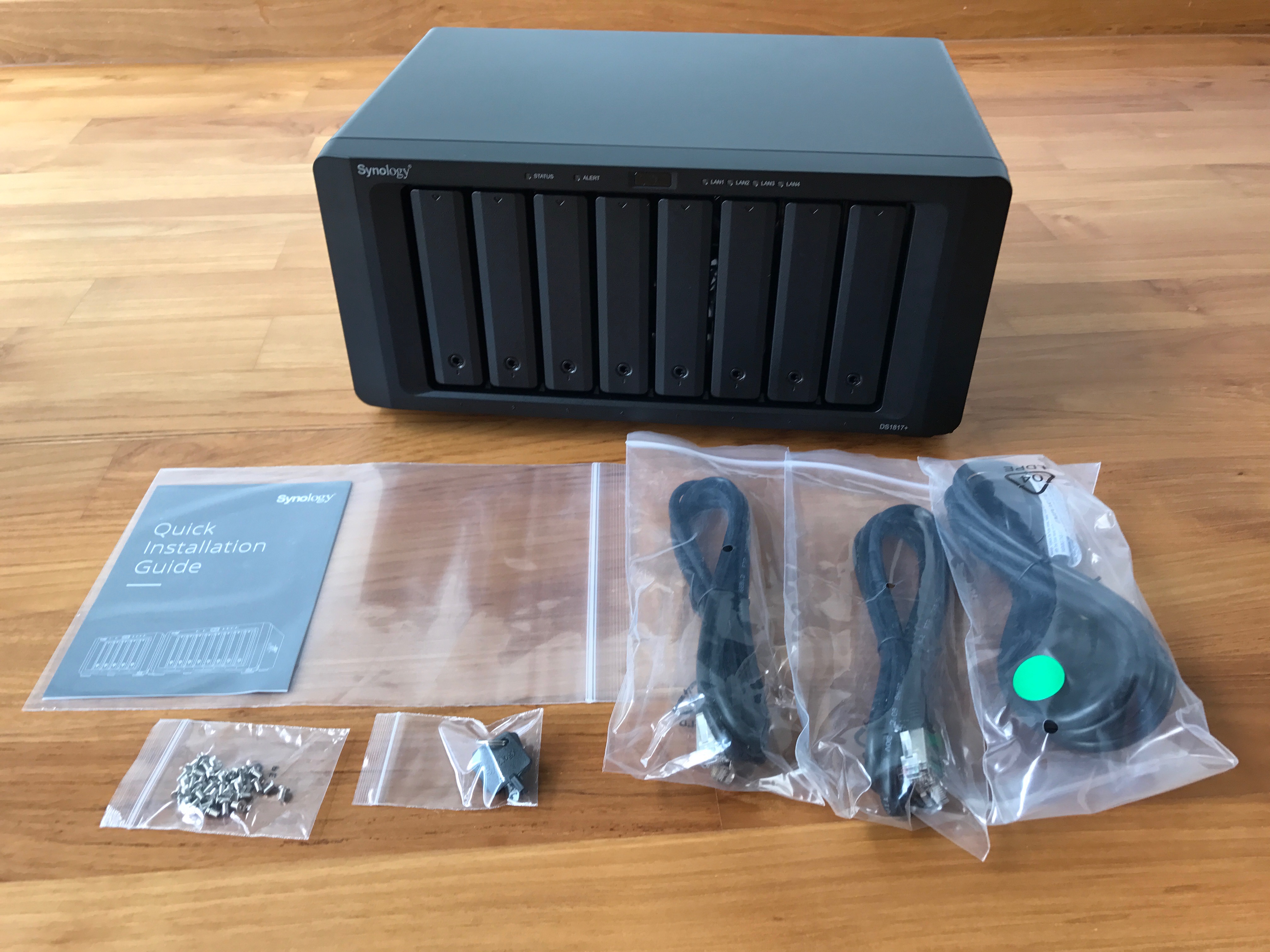 Personally, one of the exciting new features in DS1817+ is the inclusion of a PCIe slot. This readily allows NAS users to install an optional 10GbE network interface card or Synology's new M2D17 M.2 SATA SSD adapter.
1) Upgrading the On-Board memory of DS1817+ NAS: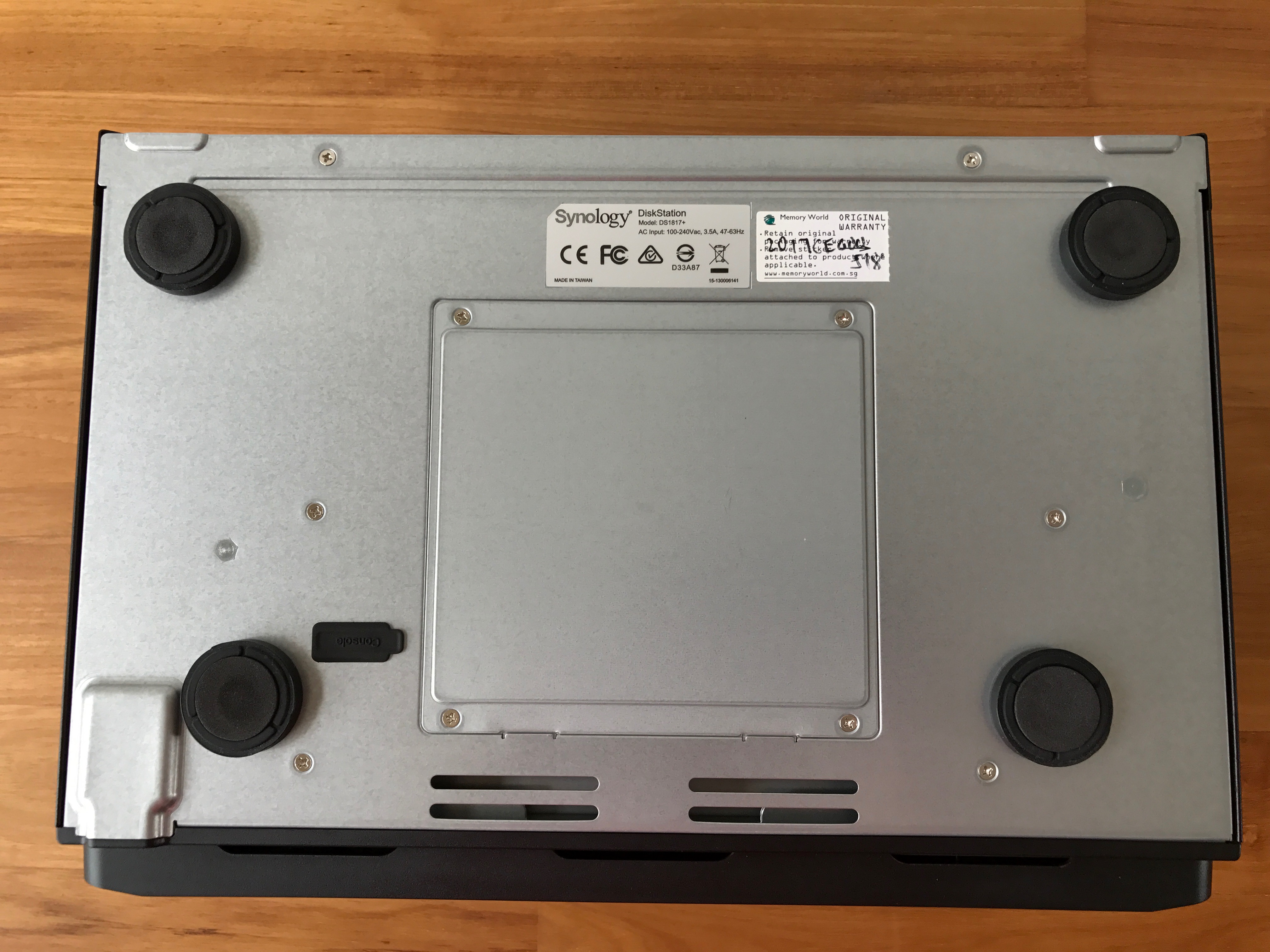 By default, DS1817+ come in 8GB memory configuration. The two SO-DIMM memory slots have been moved under the motherboard and are easily accessible behind a removable panel.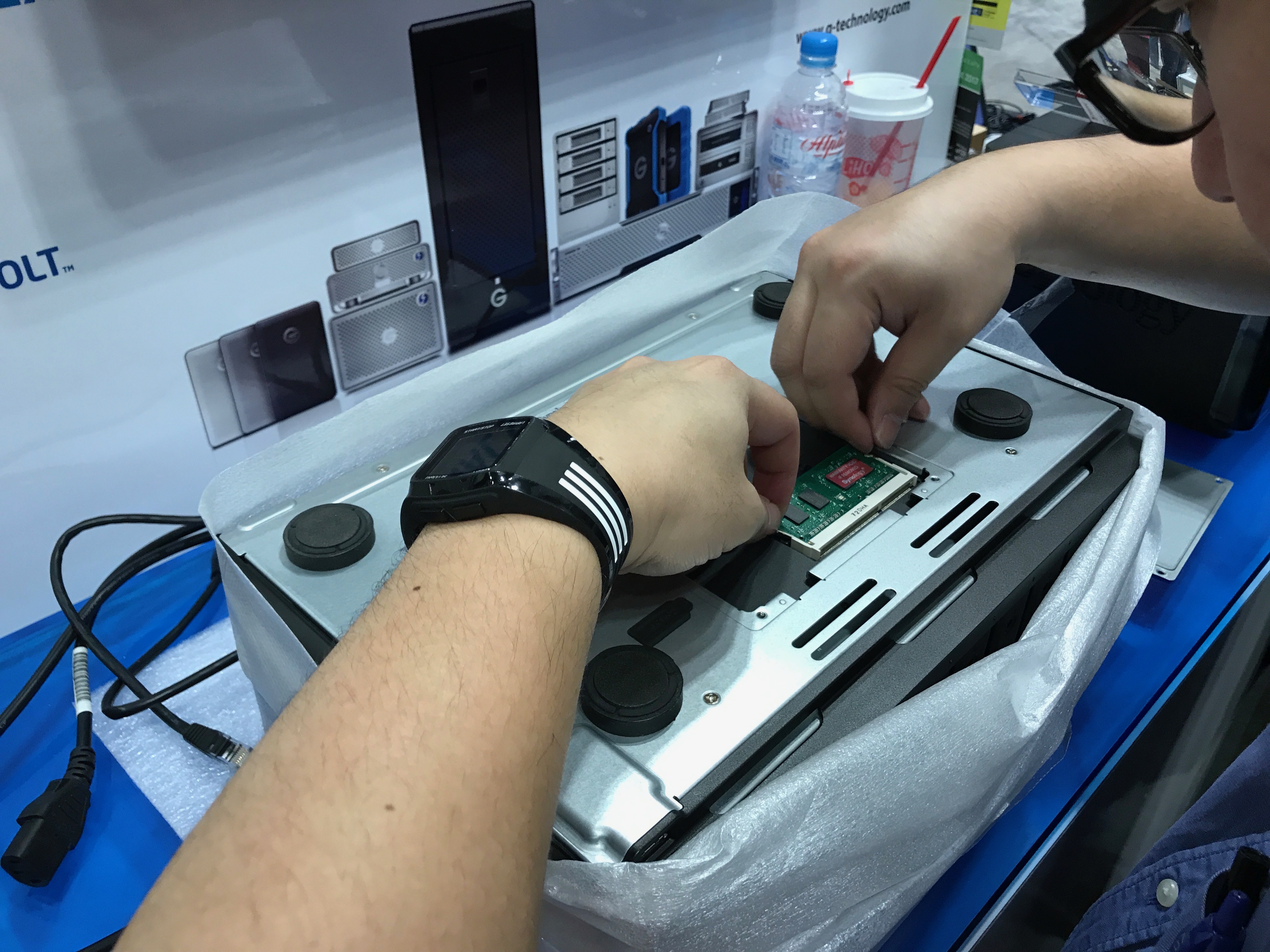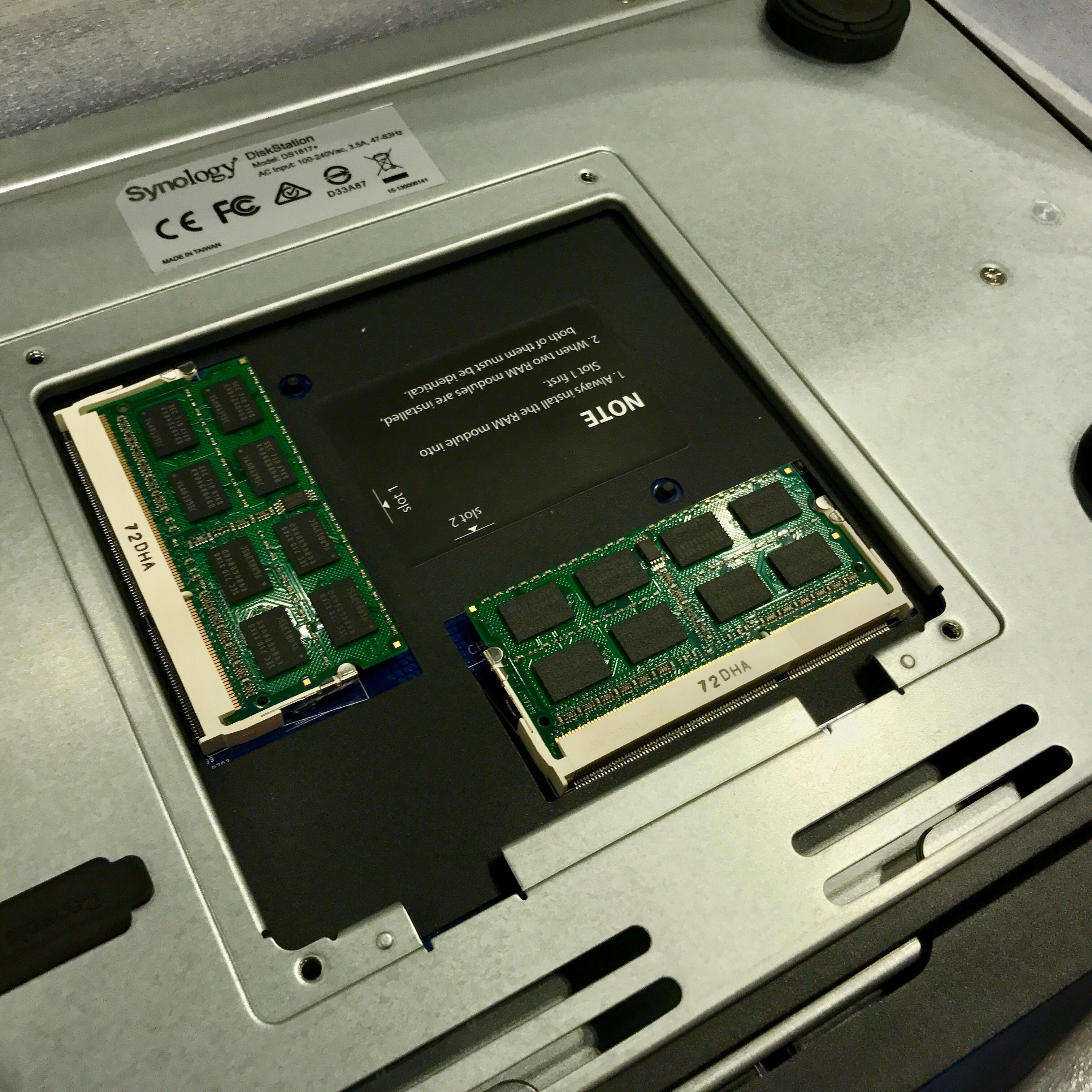 This can be easily upgraded to 16GB. The x2 4GB ram can be swapped with x2 8GB ram from the access panel below the machine.
2) Overall design of DS1817+:
The DS1817+ uses the same sleek black chassis as my previous DS1513+ but with a number of modifications at the rear. The quad Gigabit, triple USB 3 and dual eSATA ports have been relocated to the base of the panel leaving room at the side for a single PCI-Express expansion slot.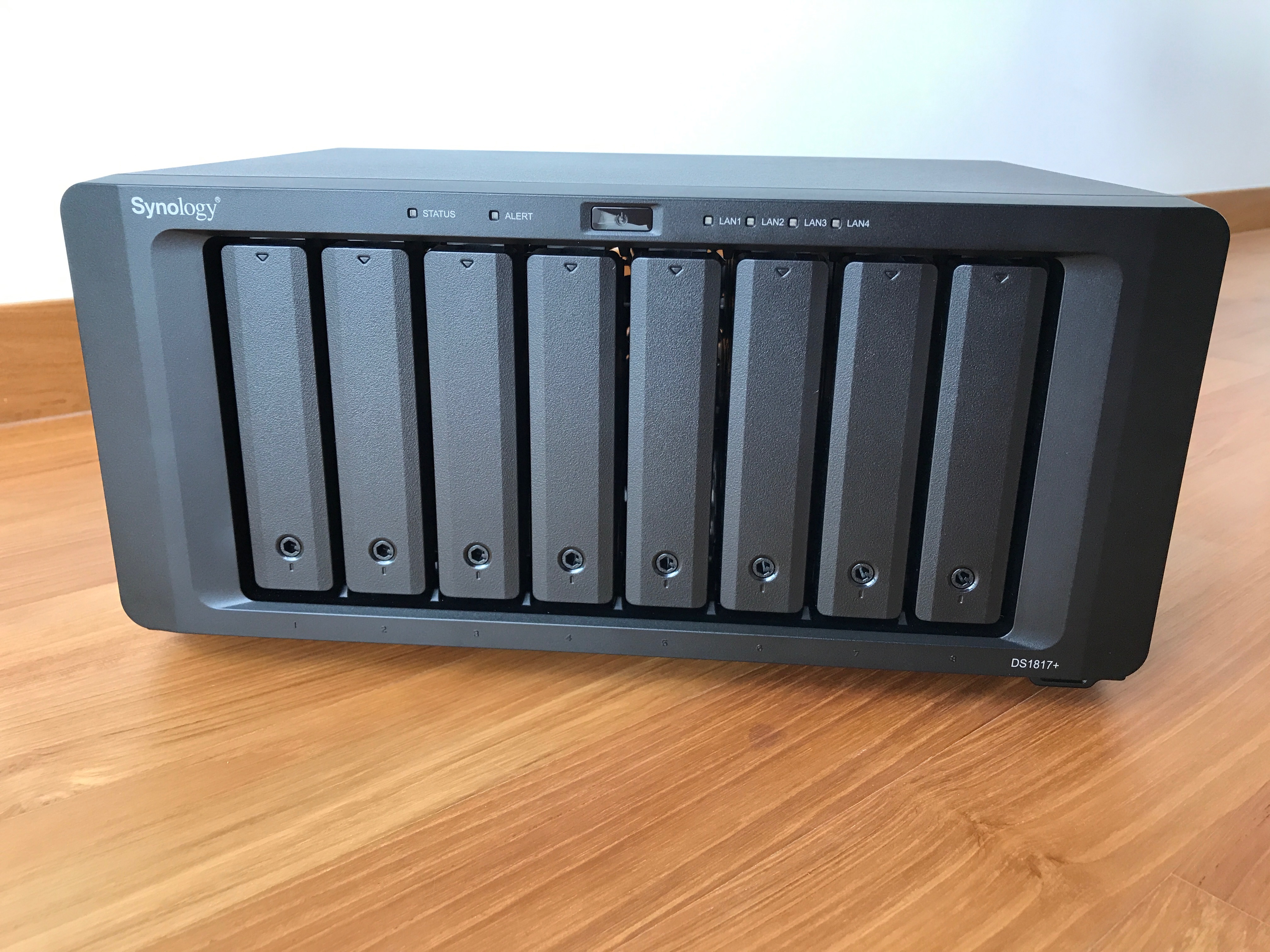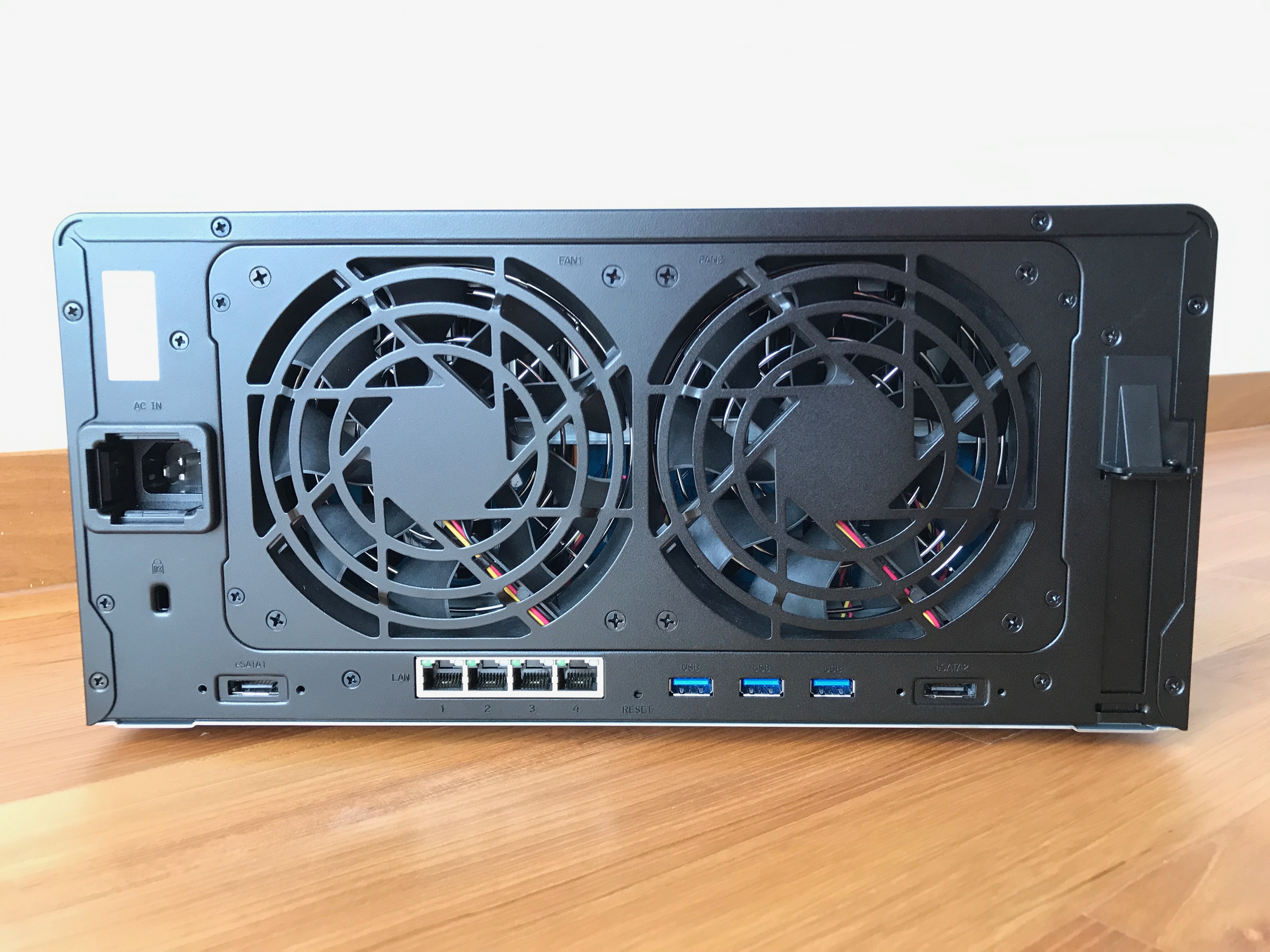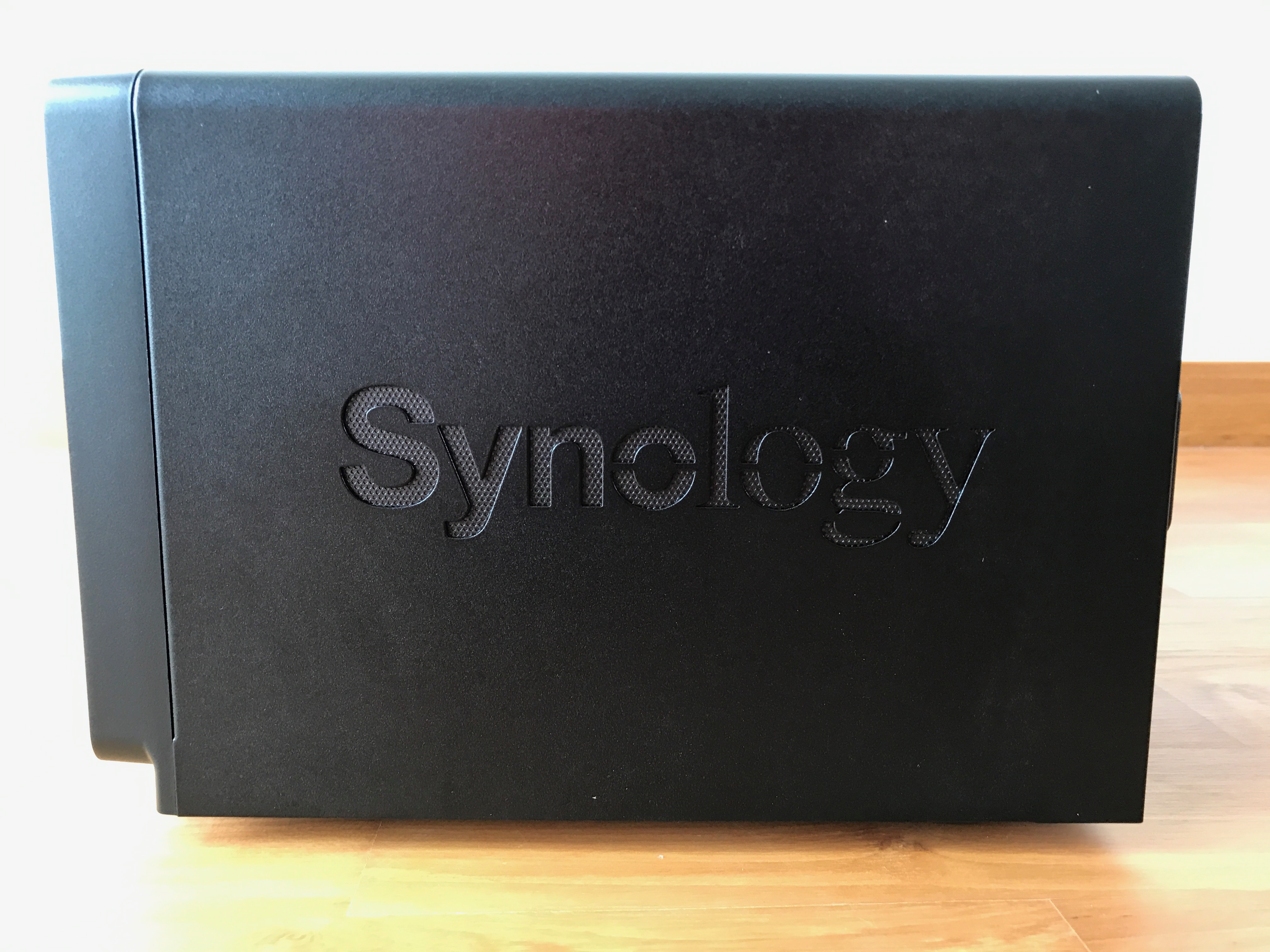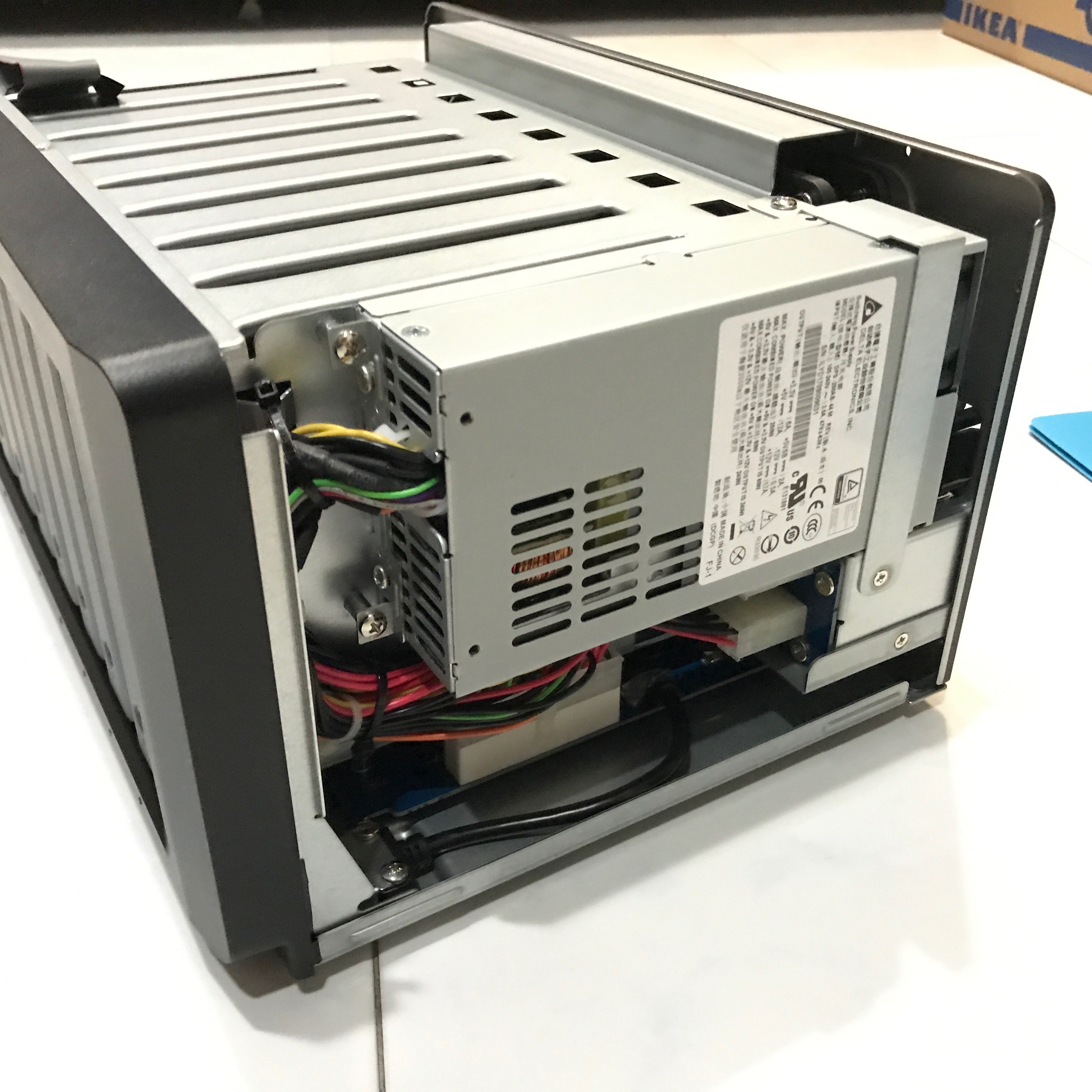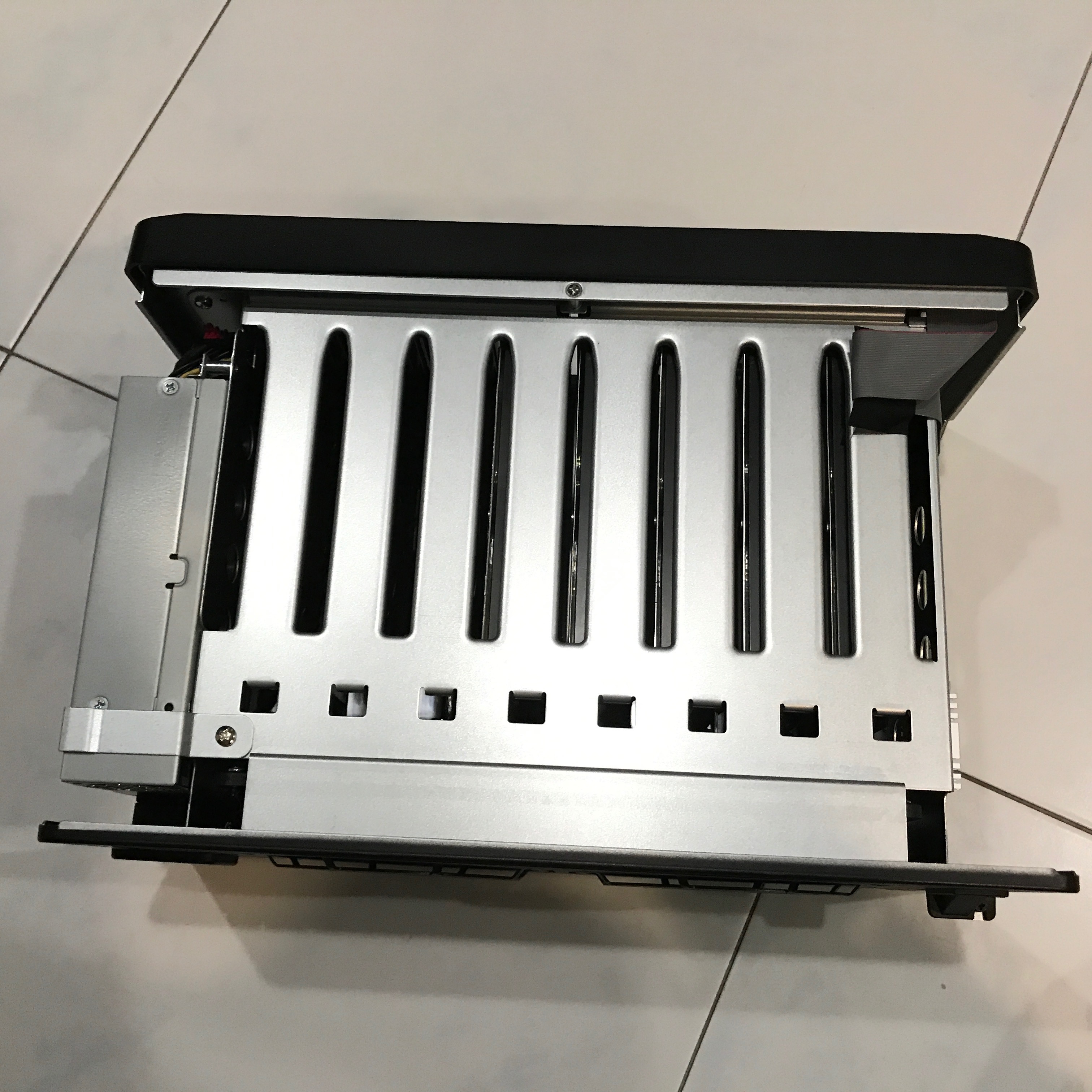 The DS1817+ accepts up to eight 3.5-inch or 2.5-inch SATA drives, giving a potential array of 80TB with current drive options. However, the maximum single volume capacity is 108TB which is already huge even for the most demanding small businesses.
3) Migrating from existing Synology DS1513+ to DS1817+:
The beauty of migrating between an older Synology NAS to a newer one is the simplicity of the migration. Just make sure that theHDD bays are transfer to the same corresponding bay in the new NAS.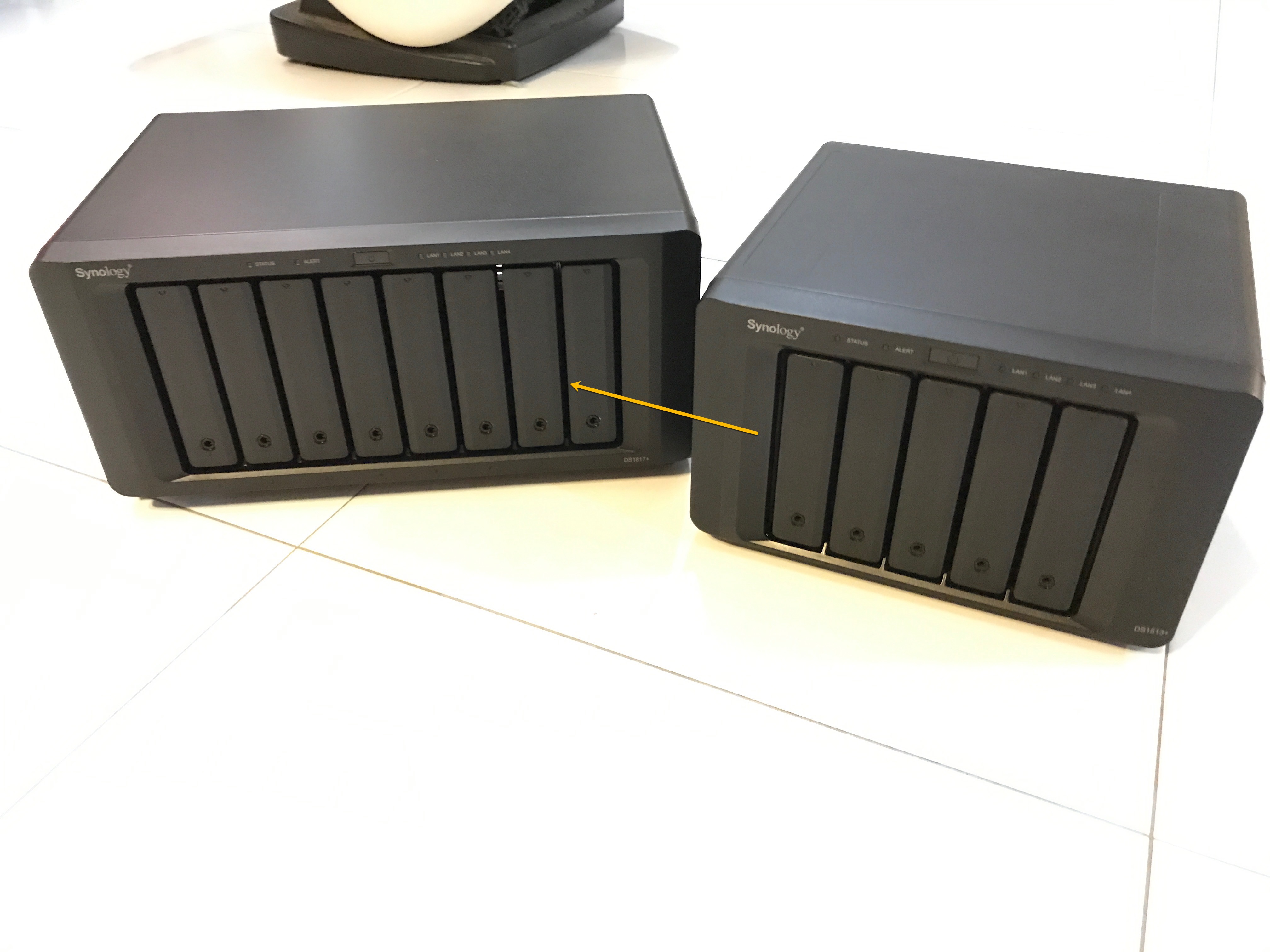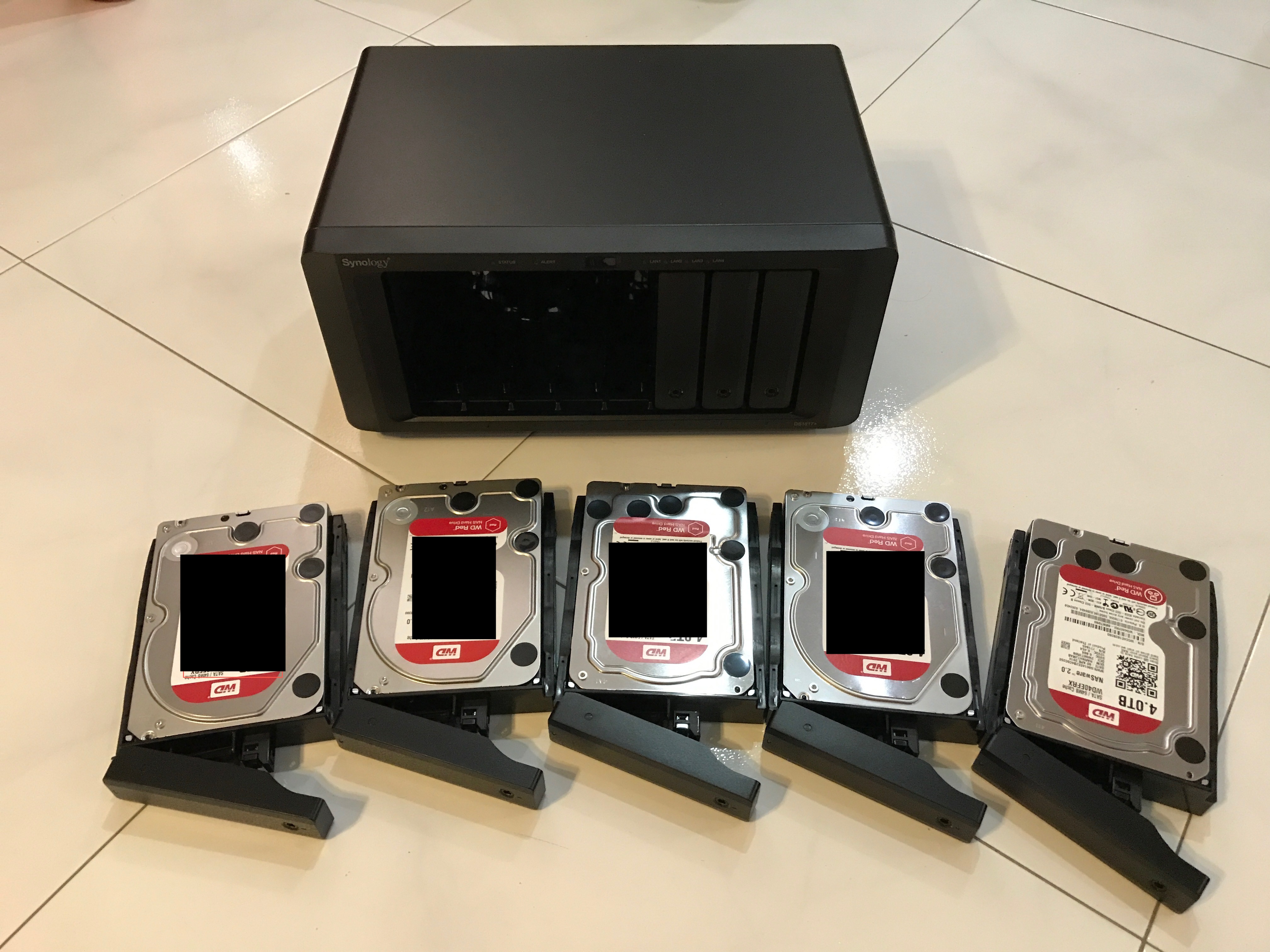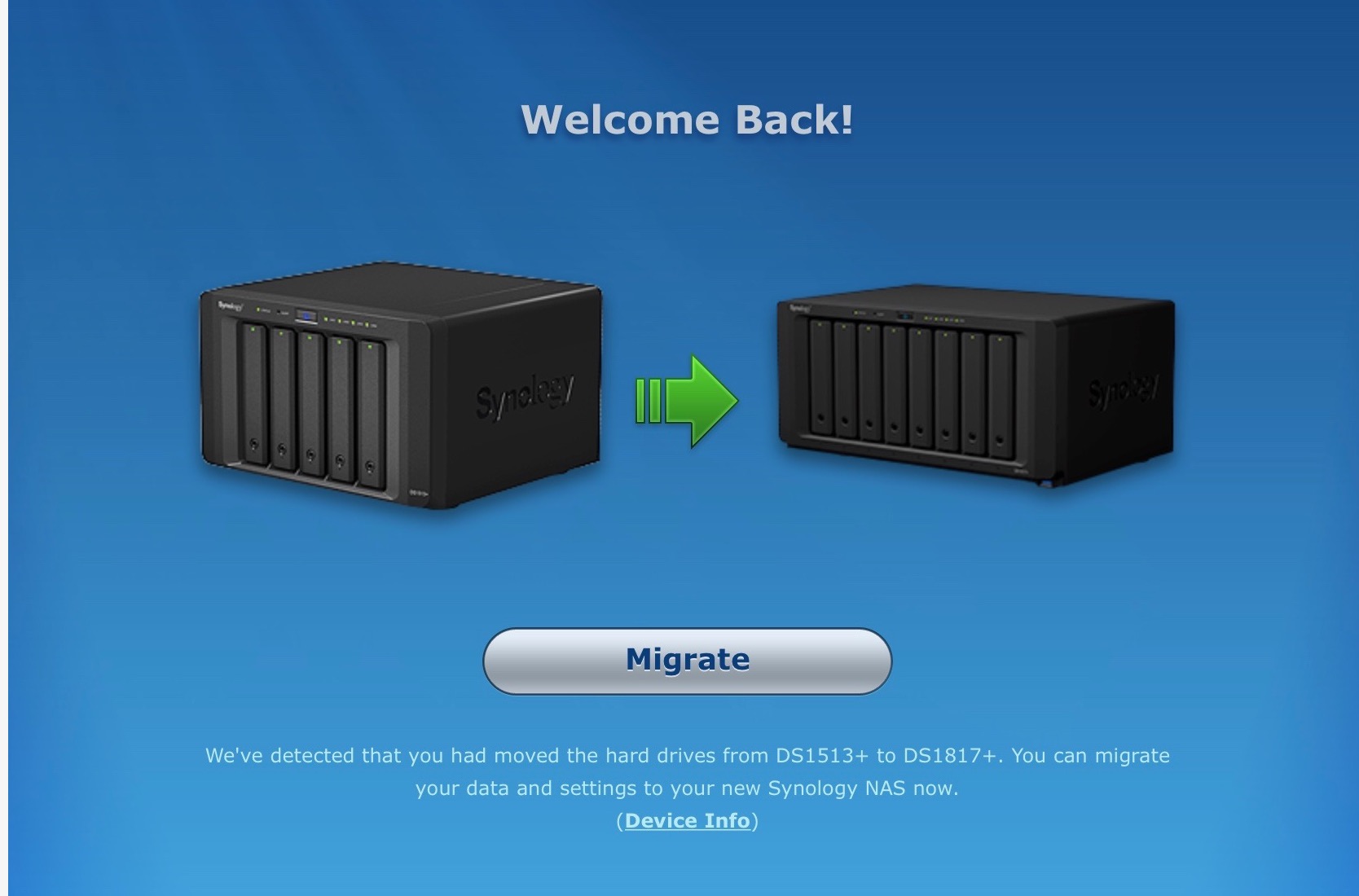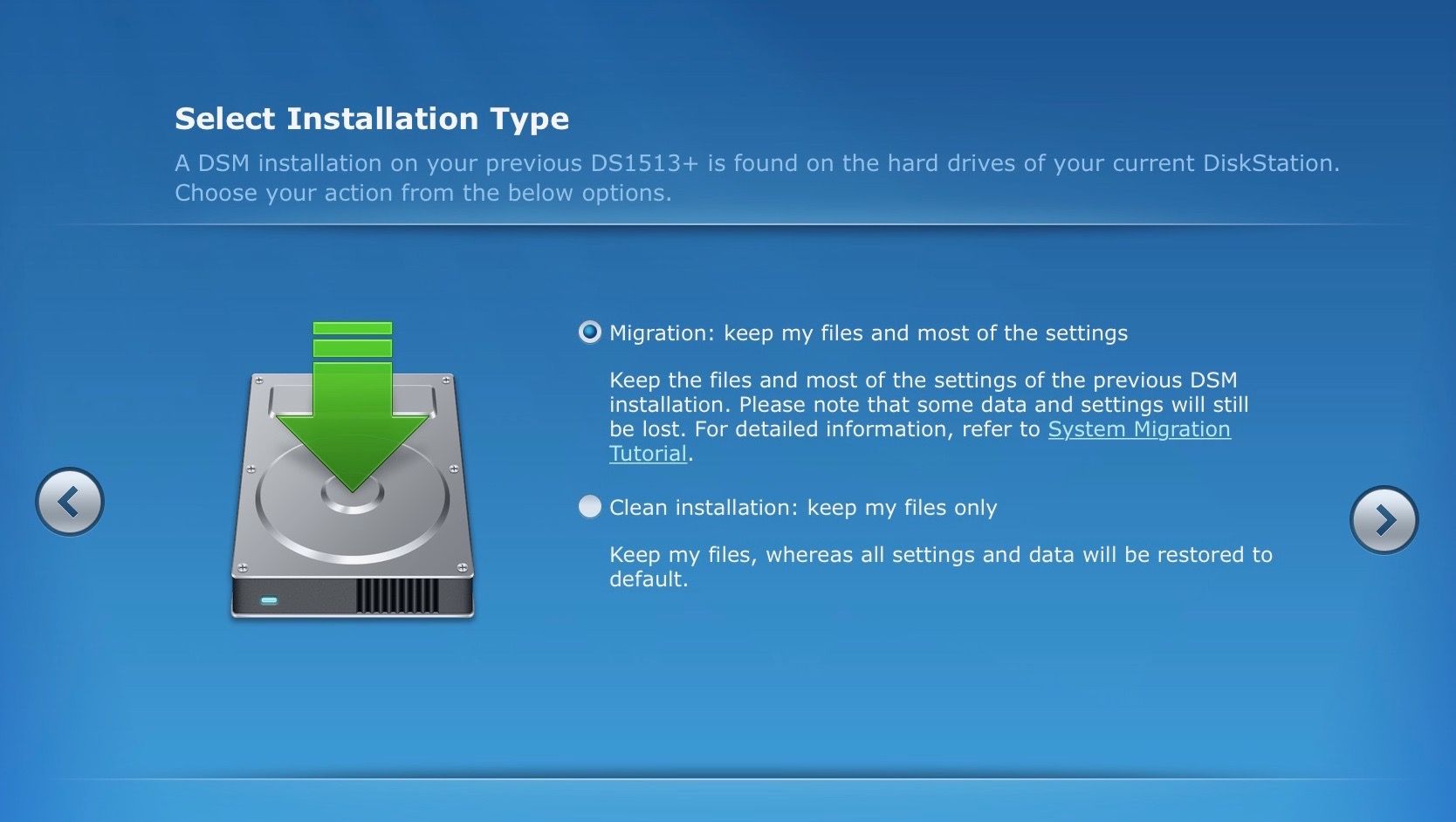 4) Key mentions:
The HDD storage options are numerous – mirroring, redundant array and the allocation of hot-swap drives ready to jump into action if the array goes critical due to failure.
Network connectivity is excellent, having both dual 1GbE LAN ports and dual 10GbE ports. Each of these dual port combinations can be organised either to link aggregate or failover depending on your priorities.
There are also two eSATA ports for connecting the external drive enclosures, and a pair of USB 3.0 Type-A ports for connecting portable storage or a USB peripheral (printer) that you may wish to network share.
5) Installing SSD Cache for better read/writes:
Using the M2D17 Dual M.2 SSD PCIe Caching Card – it is the new add-in card officially specified for use in the new DiskStation DS1817+ NAS devices. The card uses a PCI-Express 2.0 x8 slot for its connection and it is a low profile card.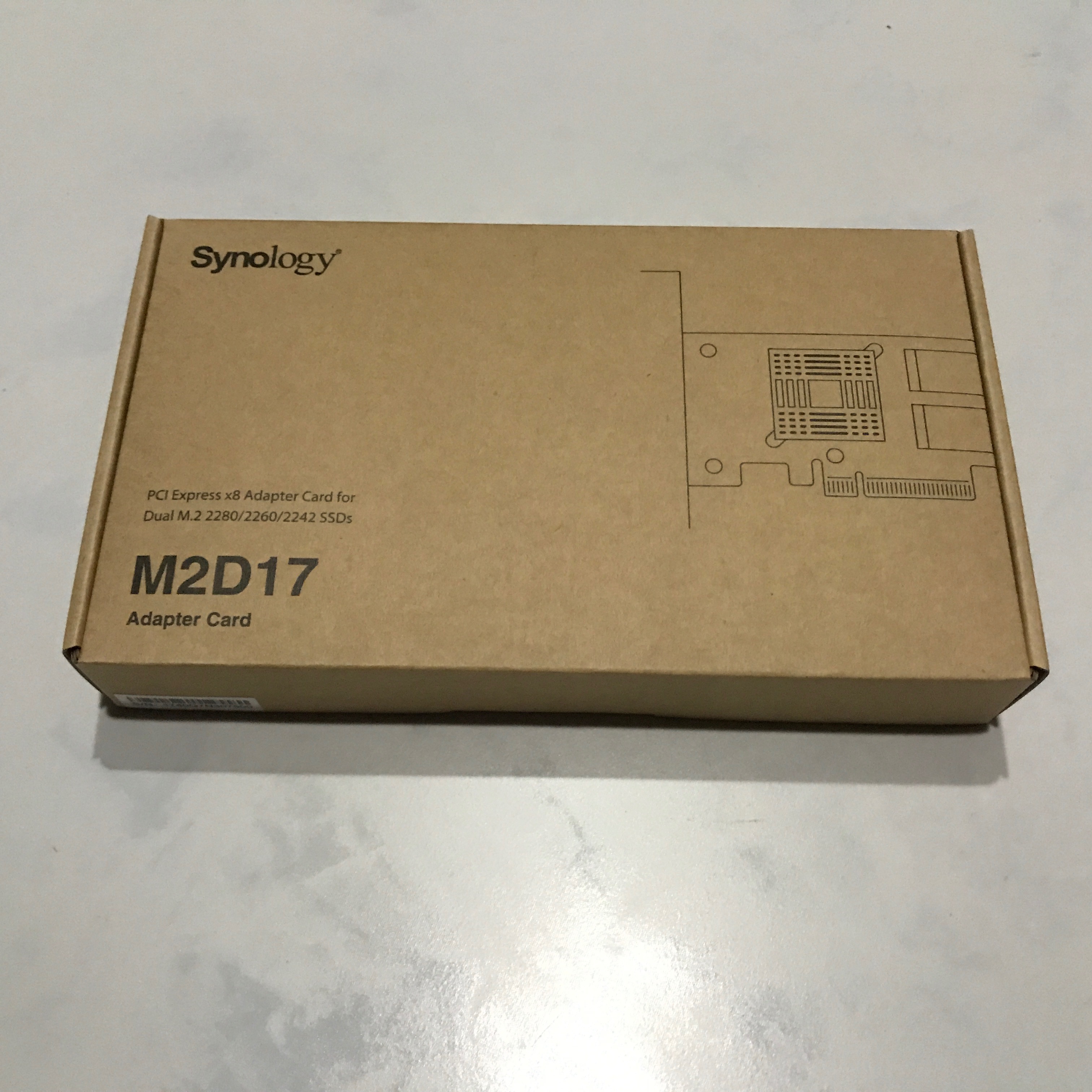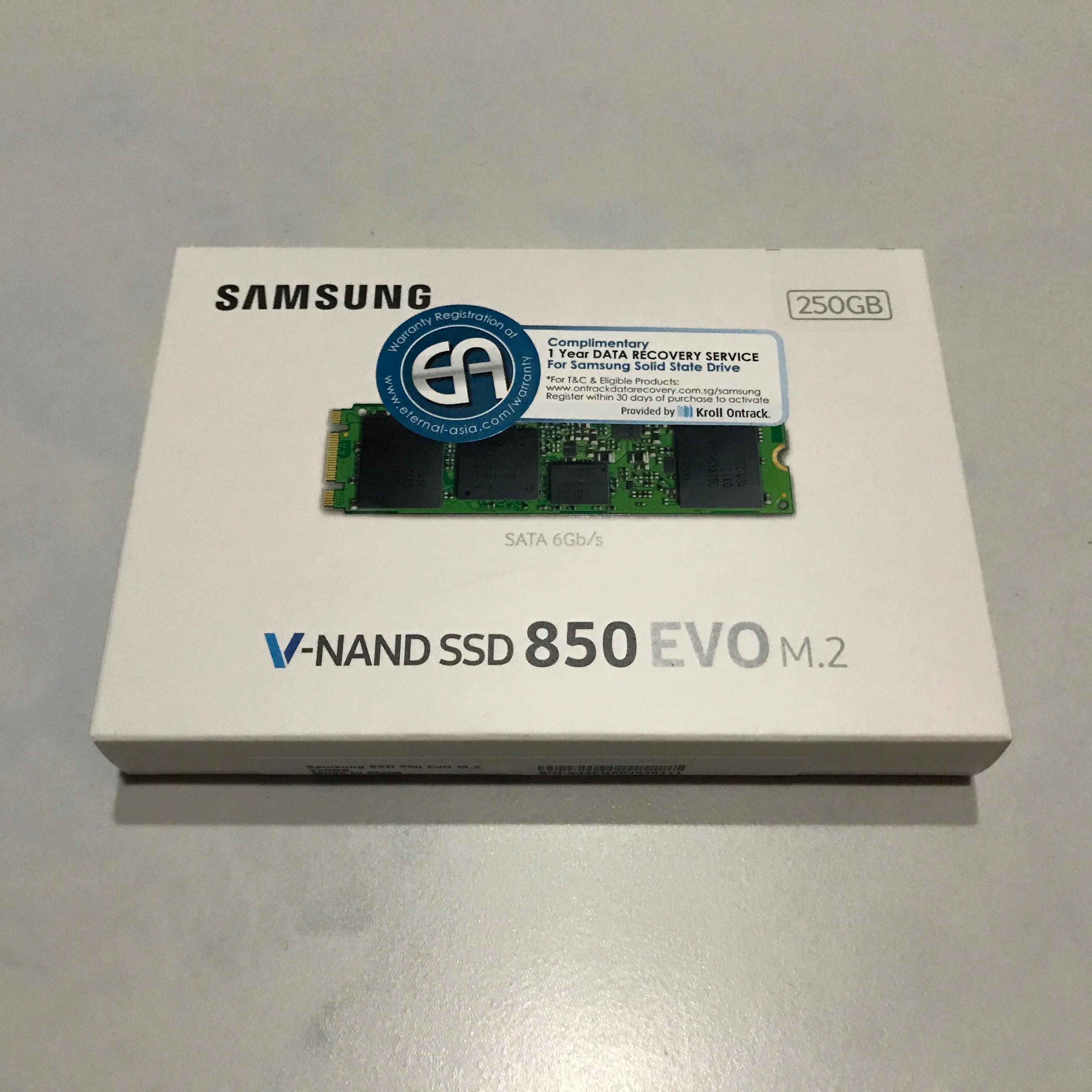 This setup allow the users to enhance performance and latency using SSD caching without occupying the front drive bays.
6) Setting up the M.2 SSD based cache is straightforward:
a. Install the M.2 SSD onto the SSD PCIe Caching Card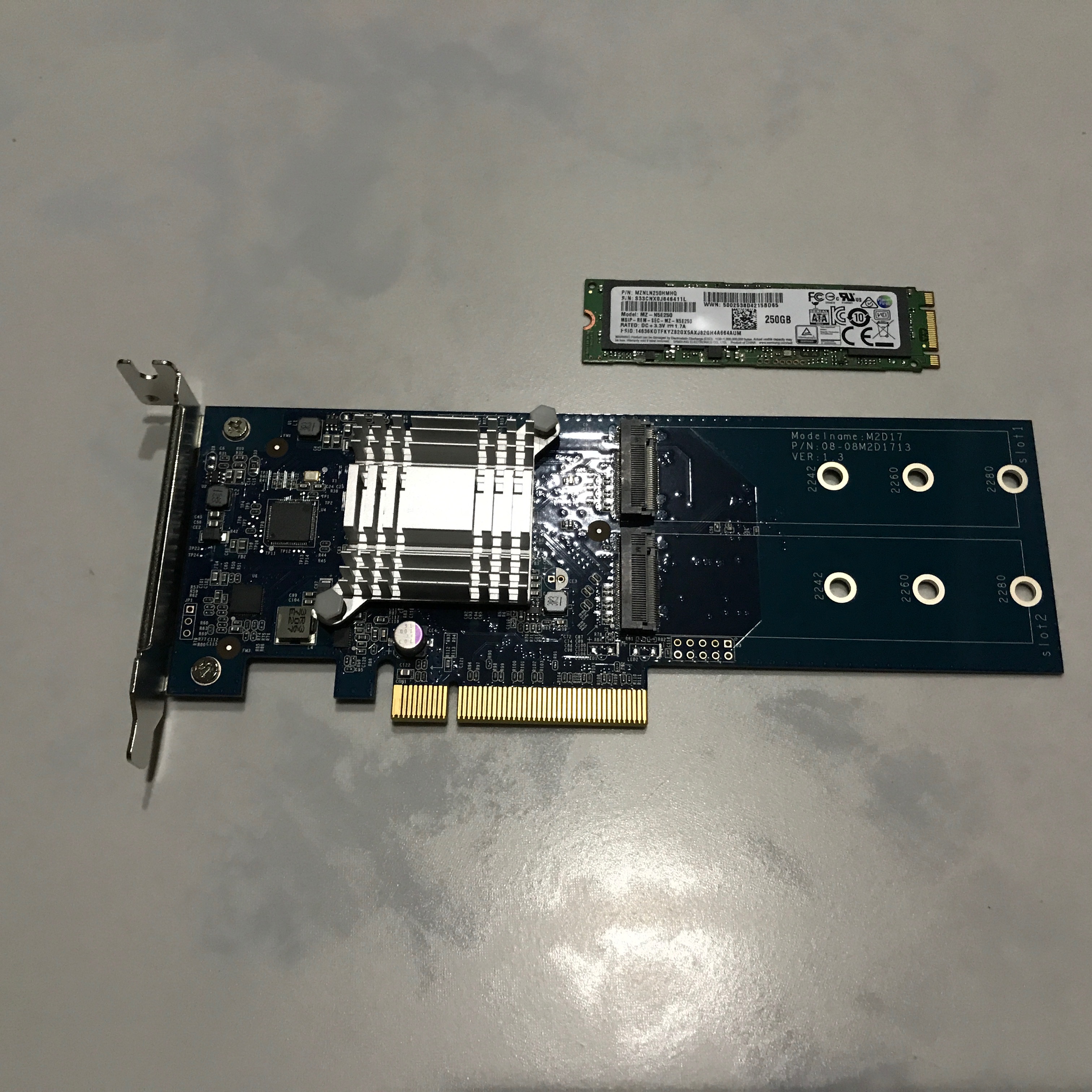 For x1 M.2 SSD mounted – only support read caching
For x2 M.2 SSD mounted – support both read & write caching
b. Mount the PCIe Caching Card into the DS1817+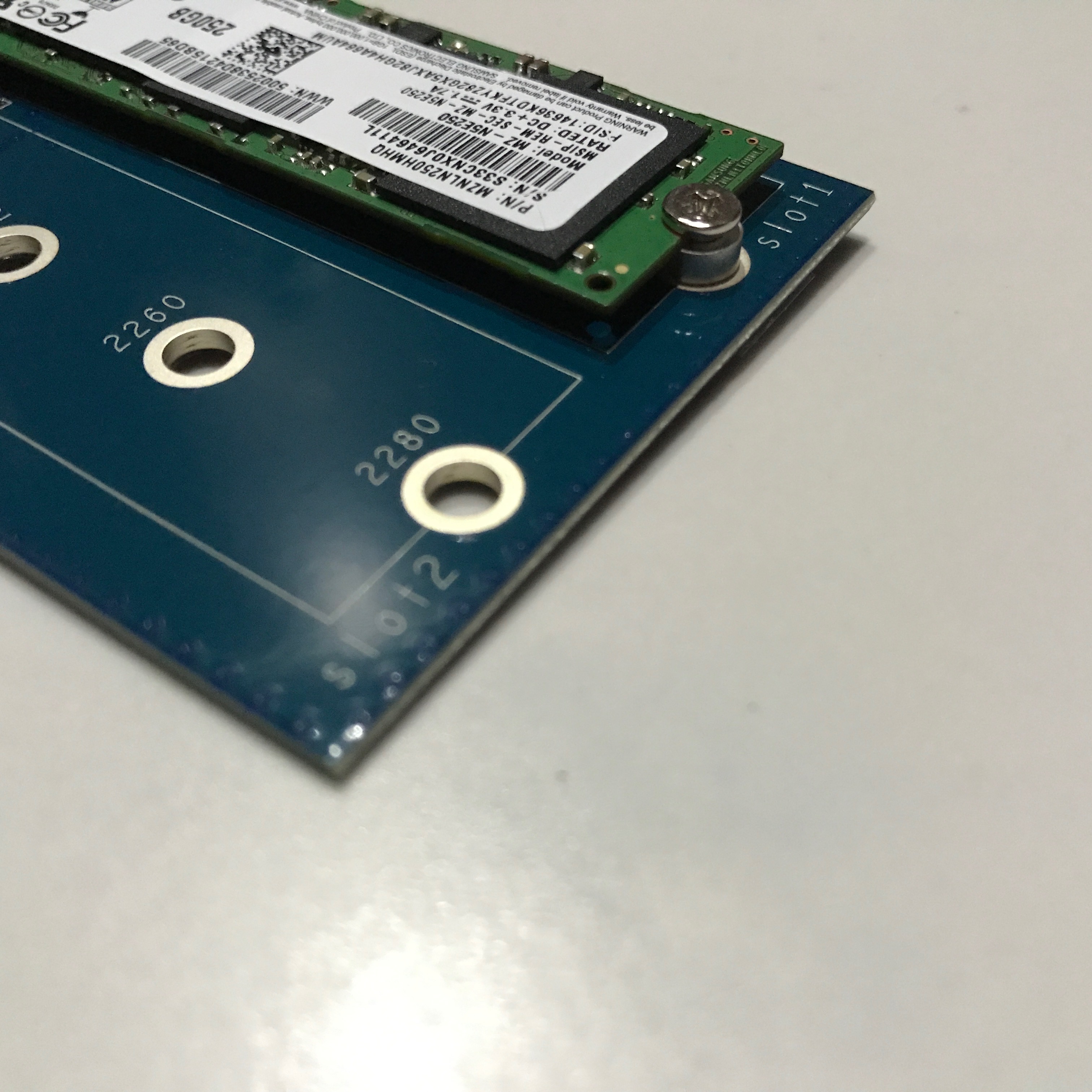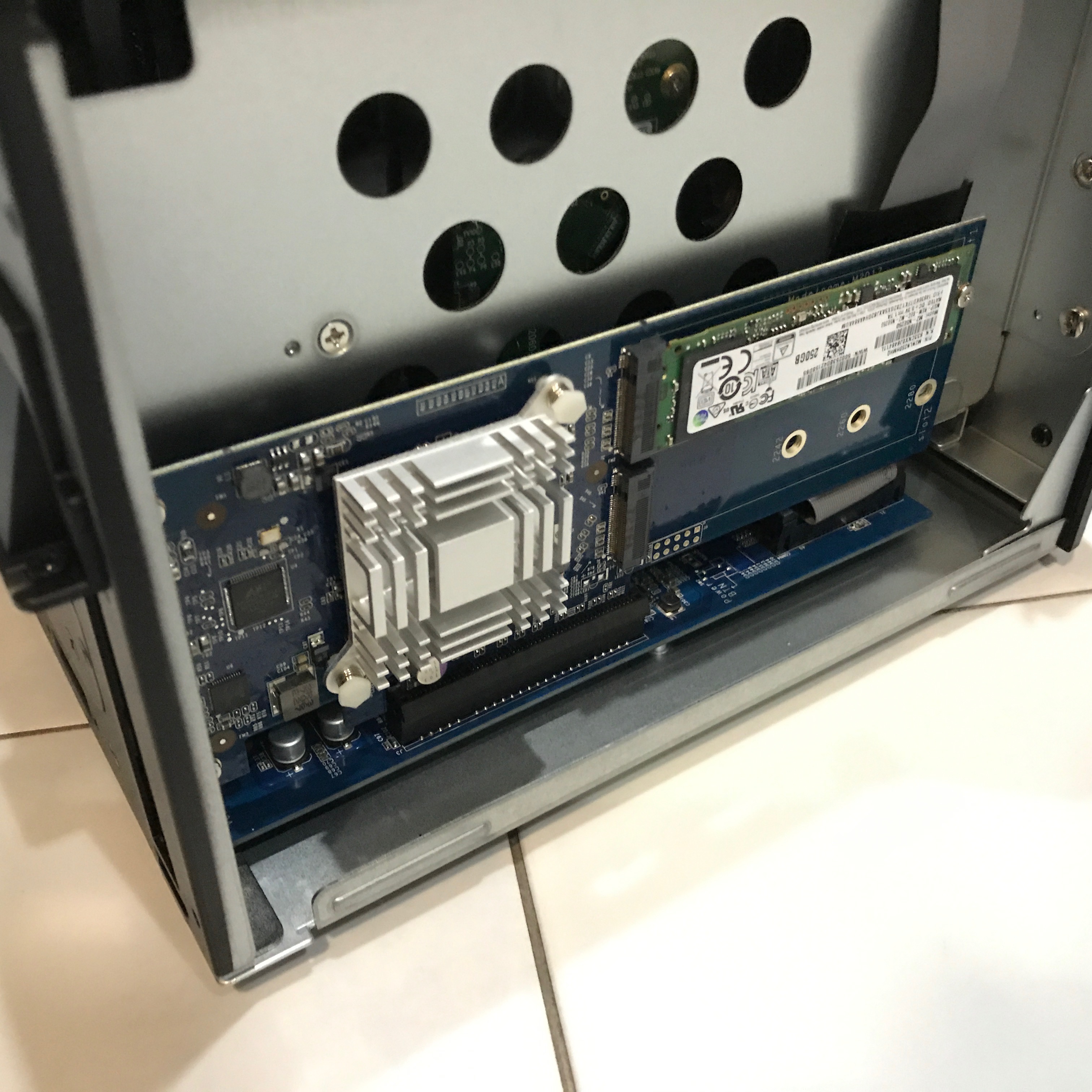 c. Initialise the SSD Cache volume with the existing desired storage volume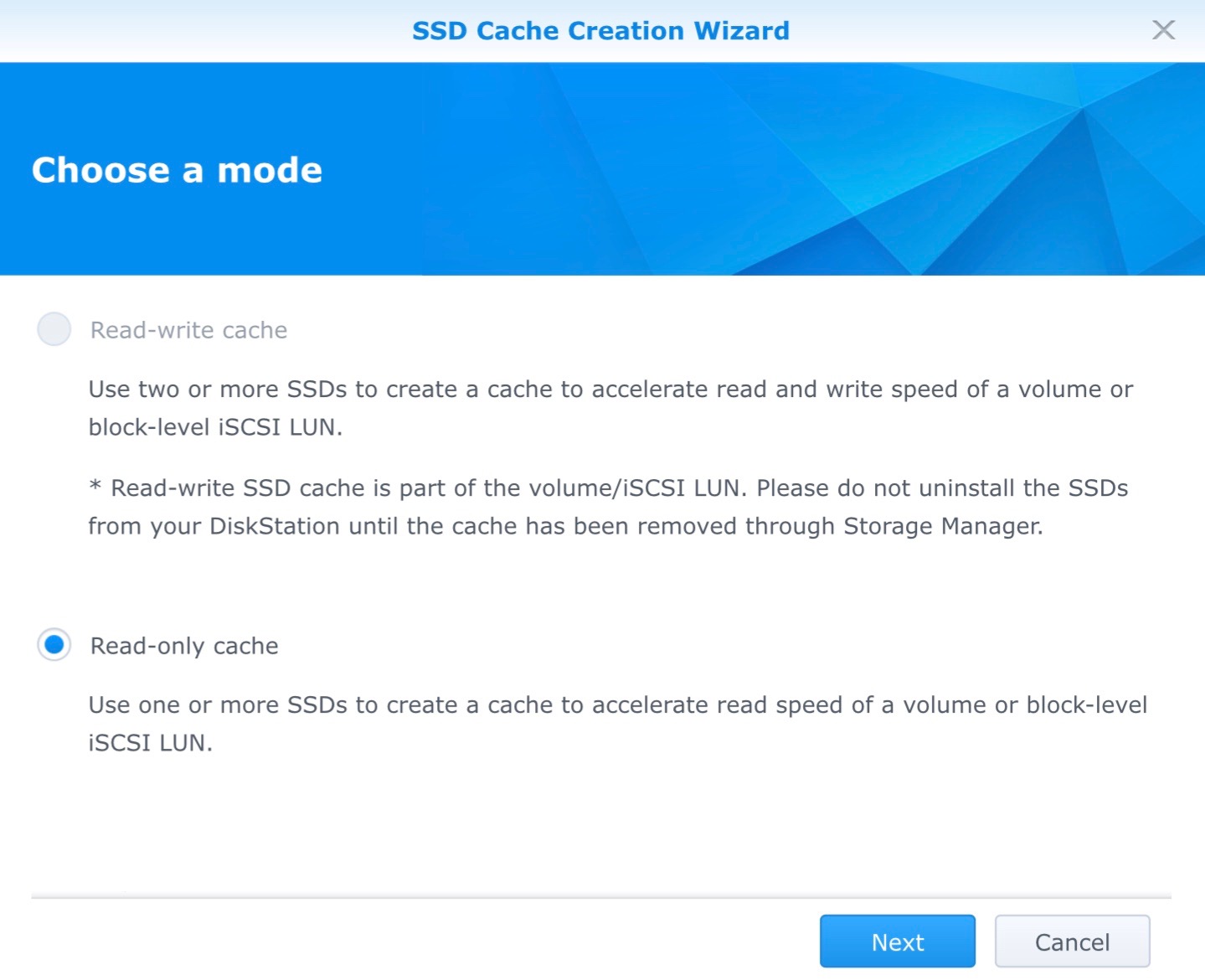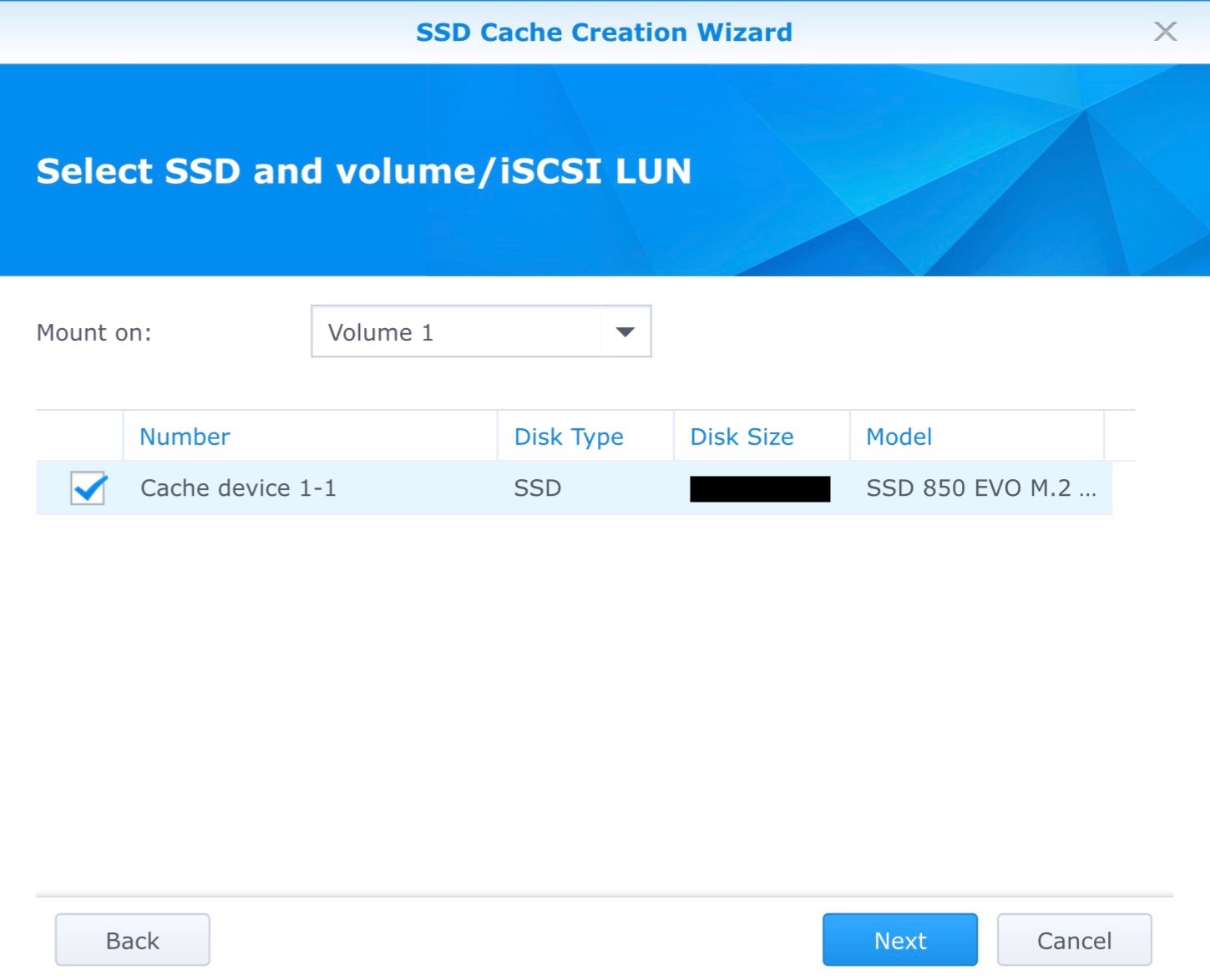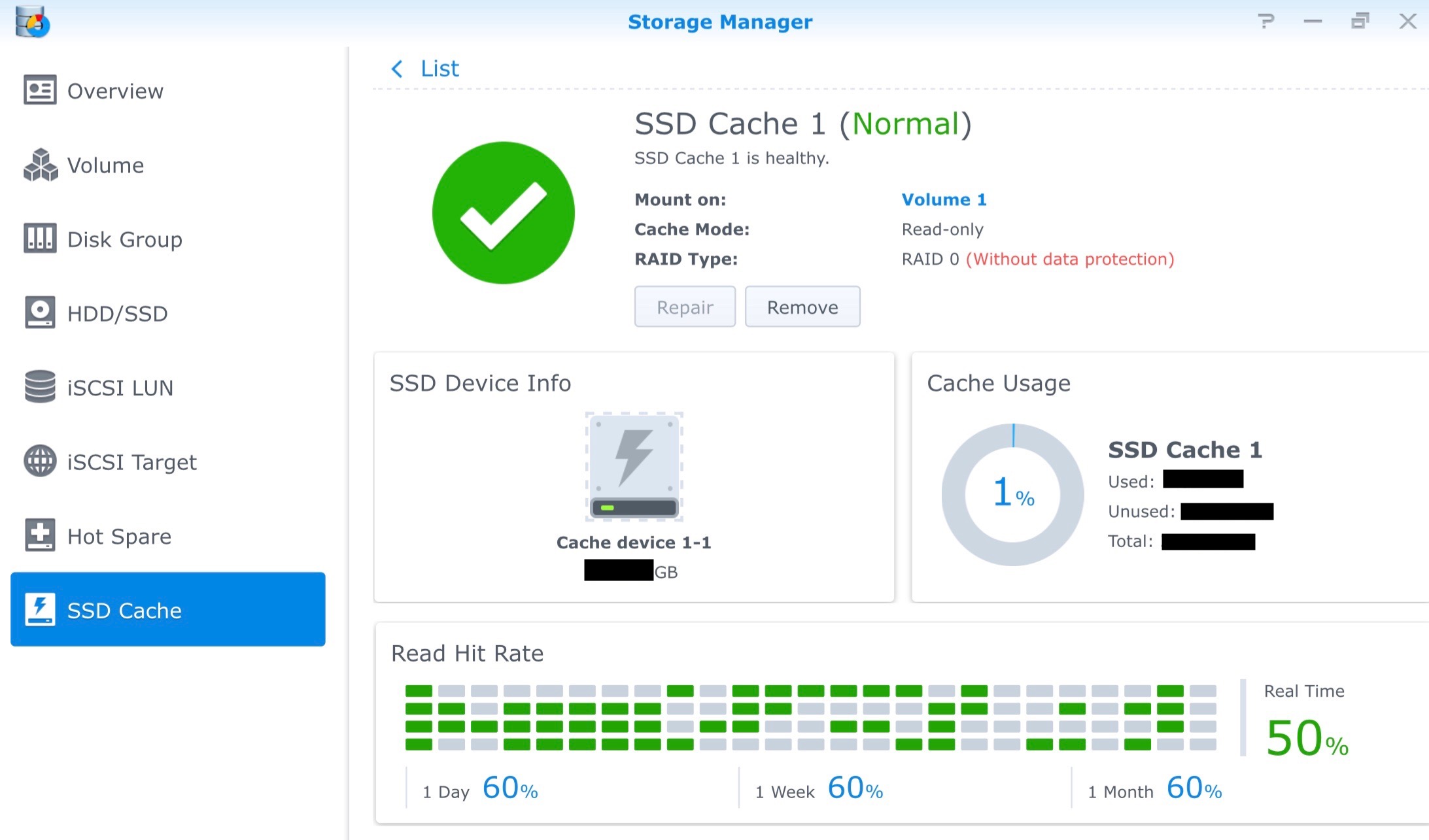 In addition, DS1817+ supports the new DX517 expansion units. These new 5-bay units allow the drive count to be pushed to 18 and capacity using 10TB drives to a very usable 180TB!
Among the good features of Synology NAS, though Synology DiskStation Manager (DSM), DS1817+ comes fully-equipped with applications and features designed speci cally for large-scale business:
• Windows® AD and LDAP support allow easy integration with existing business directory services without recreating user accounts.
• Windows ACL support provides fine-grained access control and effcient privilege settings, allowing DS1817+ to fit seamlessly into current infrastructure.
• Application privileges control access to applications and packages based on each individual account, user group, or IP address.
• MailPlus allows your business to set up a secure, reliable, and private mail server while giving your employees a modern mail client for receiving and sending messages
• Powerful collaboration suite with Synology Office, Calendar and Chat for secure and high-performance private communications and content organization that your organization can easily manage and control.
According to Synology's tests, the DS1817 can achieve 1,577.61MB/s reads and 739.75MB/s writes, making it quicker than even the DS1817+ at sequential throughput.
In the file serving function, the DS1817 can easily handle 16 or more very active users when using a 10GbE downlink to a switch that connects 1GbE clients.
DS1817+ also comes with 3-year limited warranty.
PROS
a. Good value
b. Fast NAS performer
c. Speedy hardware encryption support
d. Supports 10GbE network throughput
e. Built to last, solid materials used
f. Silent fan operation
CONS
a. Not the latest CPU & DDR3 memory series
b. The M.2 SSD cache support does not come cheap (PCIe card + x2 M.2 SSD)
Technical Specifications: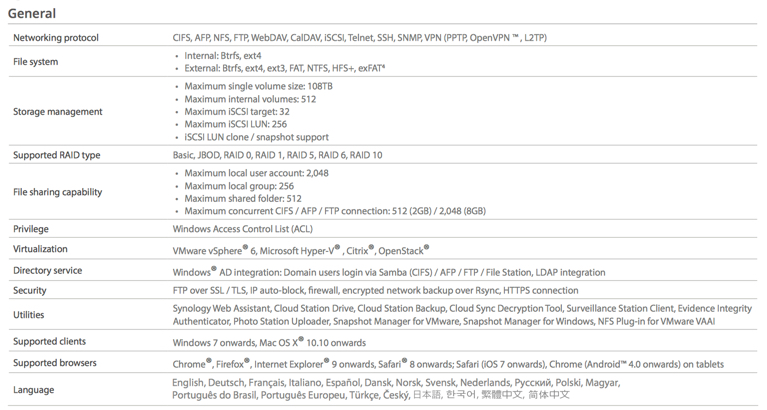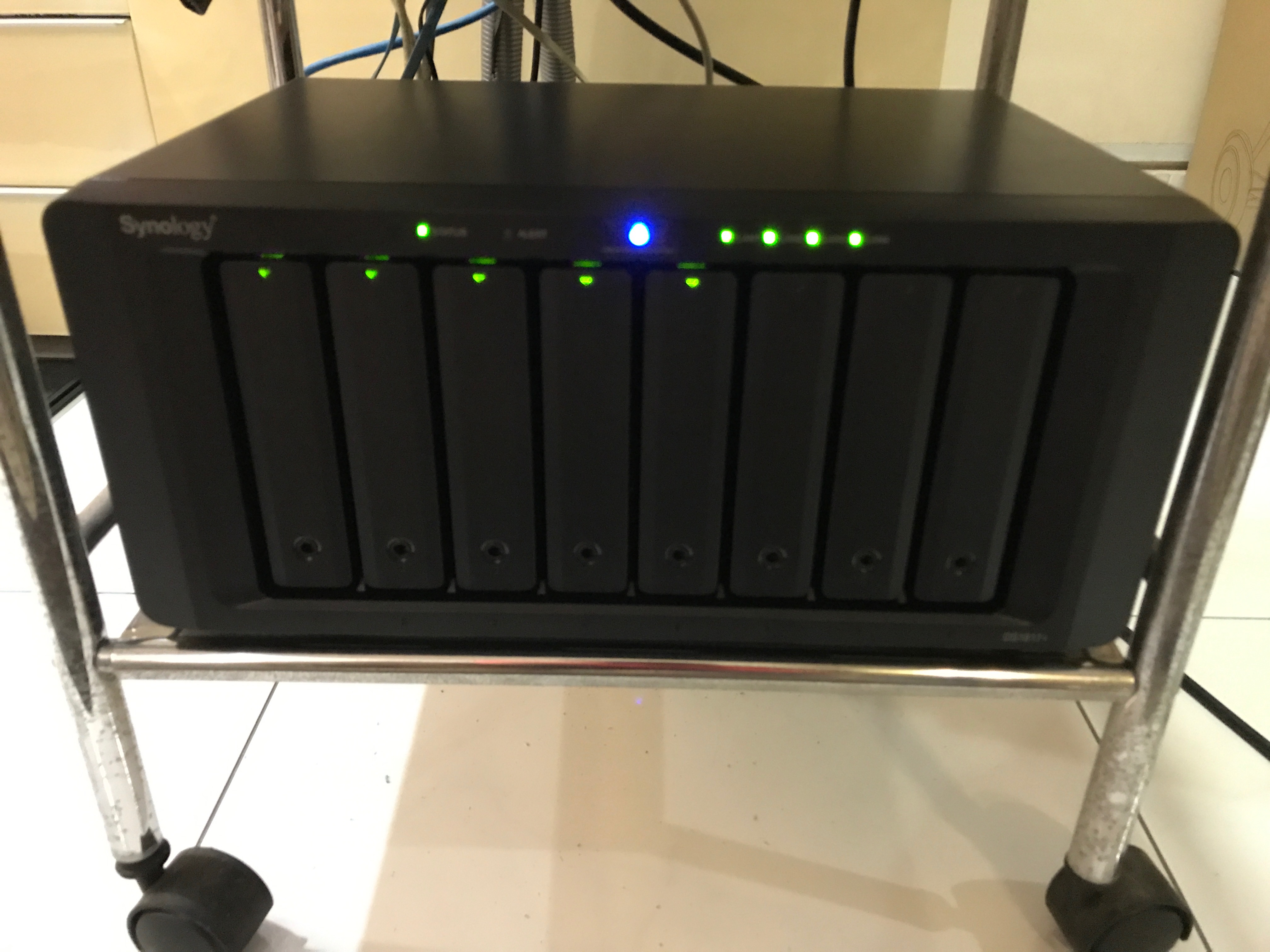 Overall, the Synology DS1817+ is easy to configure, deploy and use.
The inclusion of 10GbE ports with failover allows the huge bandwidth available in an eight drive array to be shared amongst a decent number of gigabit switch connected users, without creating a significant bandwidth bottleneck.
Read other related posts:
Follow us on:



Share this article on: