It reminds me of the calamitous 1995 Kobe earthquake. The Kobe quake killed 6,500 people and caused 10,000 billion yen of damage – about 2.5 percent of Japan's gross domestic product. Over the subsequent six months the country's stock market plunged 25 percent, even as big global markets moved higher.
Yet there are big differences between conditions now and 16 years ago. Japan's public finances are now in a far more worst state with Japan's gross government debt now stands at about 200 percent of GDP, twice the level in the mid-1990s. Given this debt burden, some economists reckon the government will be under pressure to spend less than the 3,000 billion yen it dedicated to reconstruction after the Kobe disaster.
In the aftermath of the Kobe quake, the yen appreciated by about 20 percent against the dollar within three months, as domestic investors repatriated overseas funds and insurance companies brought money home to pay claims. Analysts say the yen will not strengthen as much this time, partly because the finance ministry, already worried about the currency's strength, will be tempted to intervene. As of now, the Yen is already appreciated 3% vs USD. Technical-wise, Doji has emerged and poised for a good reversal for Yen index, might even reach previous highs in Nov 2010.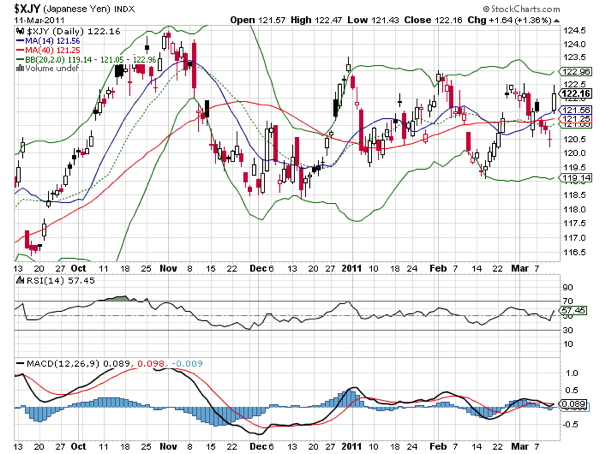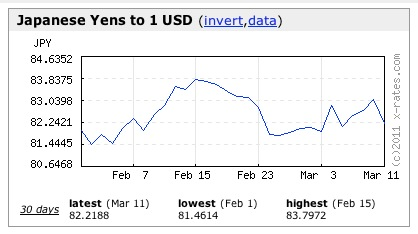 On Mon 14th Mar 2011, second day after the disaster, the Nikkei Stock Average (JP:NI225 9,620, -633.94, -6.18%)  plunged 6.2% to 9,620.49 in Tokyo for its worst one-day percentage loss since December 2008.
Leading the declines, shares of Tokyo Electric Power Co. (JP:9501 1,621, -500.00, -23.57%)   (TOELY 128.60, -0.28, -0.22%)  plummeted 23.6% after an explosion hit the No. 3 nuclear reactor building Monday at the company's Daiichi plant in Fukushima Prefecture, on top a similar explosion at No. 1 reactor over the weekend. Over the matter of 2 days, we have seen the Nikkei Stock Average plummet a total of approximately 12%, easily wiped out any good gains since the recent recovery. We could even see the Index approaching the 2 historical lows of sub 8000 region in 2003 & 2009.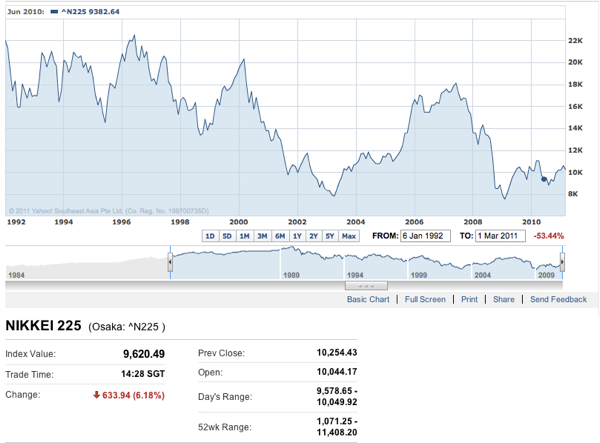 Intraday basis on 14th March Tuesday, there was not a single moment of recovery where there are selldowns on slightest upticks.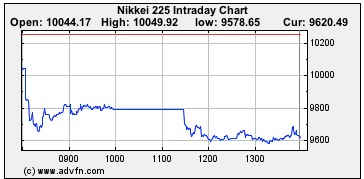 Elsewhere in the region, Australia's S&P/ASX 200 (AU:XJO 4,626, -18.43, -0.40%)  dropped 0.4% and Taiwan's Taiex fell 0.6%. But some other markets edged higher. China's Shanghai Composite (CN:SHCOMP 2,938, +3.83, +0.13%)  added 0.1%, Hong Kong's Hang Seng index (HK:HANGSENG 23,346, +96.10, +0.41%)  gained 0.4% and South Korea's Kospi rose 0.8%, while India's Sensex (XX:SENSEX 18,439, +265.39, +1.46%)  rose 0.9% in afternoon trading.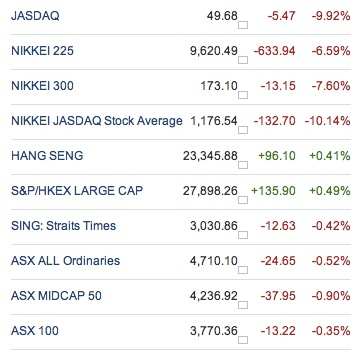 Read other related posts:
Follow us on:



Share this article on: