The Cisco-Linksys ad in IT Show 2011 caught my sight. What is the key difference between the mainstream E3000 and this new E4200 model?
The E4200's design is stylish, but doesn't depart radically from previous E-series models: it retains the desktop form factor (it can be wall mounted) and rear-mounted Gigabit LAN ports and Gigabit WAN port (there's no integrated DSL modem). A single USB port provides NAS functionality for attached storage devices, but the E4200 doesn't support 3G dongles, webcams or printers. IPv6 support is promised via a firmware upgrade later this year.Linksys E4200 router features a whopping six antennas (internal and external) to support the largest houses and has dual-band grunt to provide 300Mbps throughput at 2.4GHz or 450Mbps at 5GHz.
However, to take advantage of the higher 450Mbps speed, the wireless clients need to support this, too. For now, you'll need to have a laptop equipped with an Intel Centrino Ultimate-N 6300 or 5300 Wi-Fi adapter. In the future there will also be USB adapters and add-in cards that support this speed.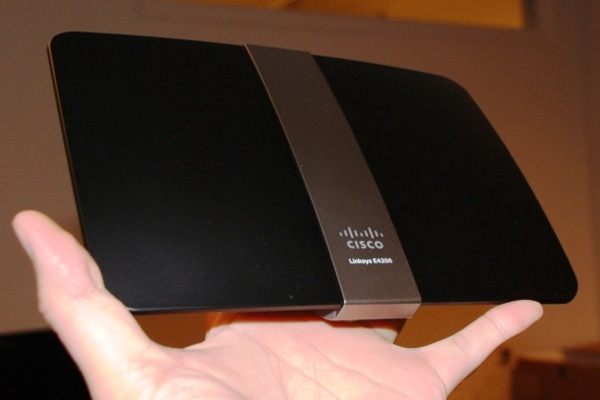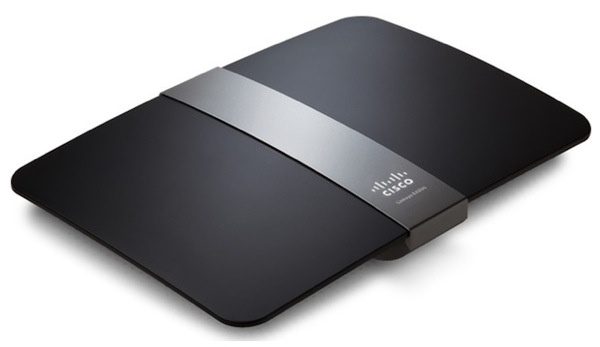 KEY COMPARISONS FOR ALL CISCO E Models:
E3000
E4200

Technology

Wireless-N, 2.4 GHz

Wireless-N, 2.4 or 5 GHz

Wireless-N, 2.4 GHz

Wireless-N, 2.4 and 5 GHz

Wireless-N, 2.4 and 5 GHz

Speed

300 Mbps

300 Mbps (both bands)

300 Mbps

300 Mbps (both bands)

300 Mbps in 2.4 GHz,
450 Mbps in 5GHz

Compatibility

Wireless-N, -B and -G

Wireless-N, -A, -B and -G

Wireless-N, -B and -G

Wireless-N, -A, -B and -G

Wireless-N, -A, -B and -G

Ethernet Ports

4 x 10/100

4 x Gigabit

4 x 10/100

4 x Gigabit

4 x Gigabit

USB Port Support

No

No

Storage

Storage

Storage

Wi-Fi Protected Setup

Yes

Yes

Yes

Yes

Yes

Supports UPnP

Yes

Yes

Yes

Yes

Yes

Built-In Media Server

No

No

Yes

Yes

Yes

Wireless Security

WEP, WPA and WPA2 Personal and Enterprise, RADIUS

WEP, WPA and WPA2 Personal and Enterprise, RADIUS

WEP, WPA and WPA2 Personal and Enterprise, RADIUS

WEP, WPA and WPA2 Personal and Enterprise, RADIUS

WEP, WPA and WPA2 Personal and Enterprise, RADIUS

Setup Software OS

Windows, Mac

Windows, Mac

Windows, Mac

Windows, Mac

Windows, Mac
Parental Control

Time-of-day access
Domain blocking

Time-of-day access
Domain blocking

No

Time-of-day access
Domain blocking

Time-of-day access
Domain blocking

Guest Access

Yes

Yes

Yes

Yes

Yes

Advanced Setting

Yes

Yes

Yes

Yes

Yes
Follow us on:



Share this article on: