I have been looking around for a good entry level DSLR. After simple hunt and speaking to a few professionals, basically, I can narrow down to 2 main models – Canon EOS 60D or Nikon D7000.
PROS for Canon EOS 60D:
The EOS 60D features two extra Megapixels, although you'll need decent optics to see even a minor benefit of this higher resolution. It also allows you to shoot Full HD 1080p movies at 24, 25 or 30fps, whereas the D7000 is limited to 24fps at this resolution; the 720p movies on the Canon are also offered at 50 and 60fps as oppose to 24, 25 and 30fps on the Nikon. The Canon EOS 60D also features a wider 3:2 screen which matches the shape of its images, while also twisting and flipping to allow easy composition at unusual angles. The articulated screen is the major benefit of the 60D over the D7000 and will be greatly appreciated by anyone using the cameras to film video. The 60D also offers greater control over audio levels with proper peak meters and fine adjustments, along with a live histogram in Live View.
PROS for the Nikon D7000:
The Nikon D7000 offers double the maximum sensitivity (25,600 ISO versus 12,800), slightly faster continuous shooting (6fps vs 5.3), a viewfinder with on-demand LCD markings and 100% coverage (versus 96%), broader AF with 39 points (versus 9 on the 60D), AF Fine Tune (to correct for front and back-focusing), continuous autofocus while filming video, and more sophisticated metering. The D7000 is also tougher with magnesium alloy top and rear plates, and additionally features dual memory card slots. The image quality was similar at lower sensitivities, but the D7000 enjoyed an edge at the highest ISOs.The D7000 certainly offers more to traditional photographers and the only area where it really falls short compared to the EOS 60D is a fixed screen. But if you're into video, the 60D's articulated screen along with its fine-tuneable audio levels and choice of frame rates for 1080p are key benefits. It's also important to look closely at the specifications and performance in practice as the 60D can keep shooting continuously for much longer bursts than the D7000, and we found its metering more consistent under bright conditions. The D7000 may have 30 more AF points, but both cameras share the same number of sensitive cross-type sensors: nine on each.
Promotions at IT Show 2011:
Discounting the free 50mm lens for Nikon, both prices are similar except a wider EF lenses for Canon EOS 60D.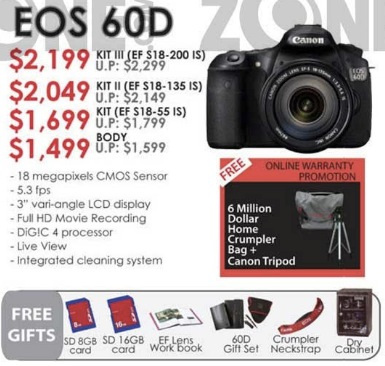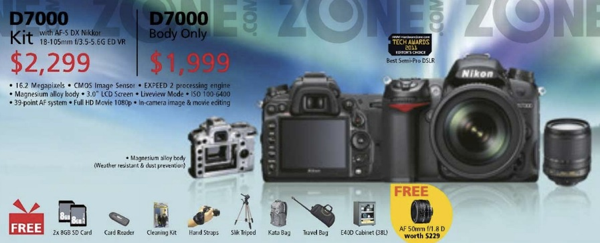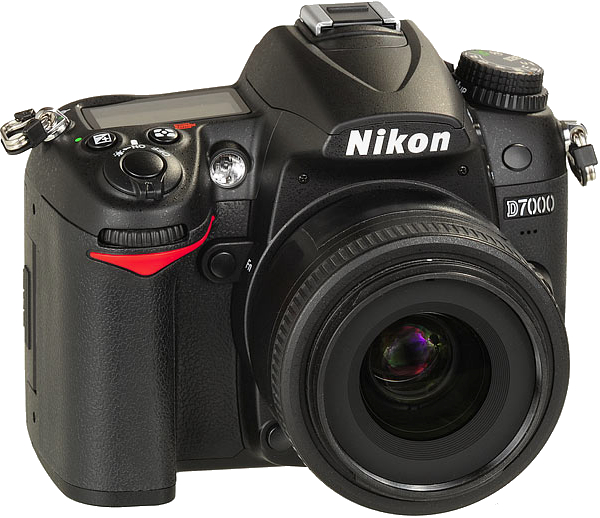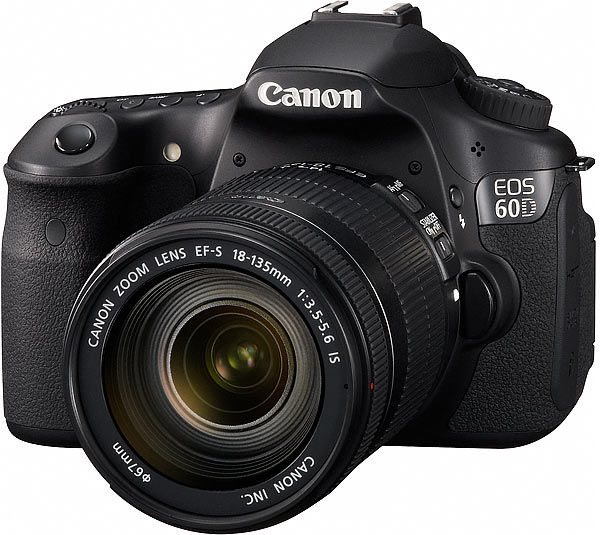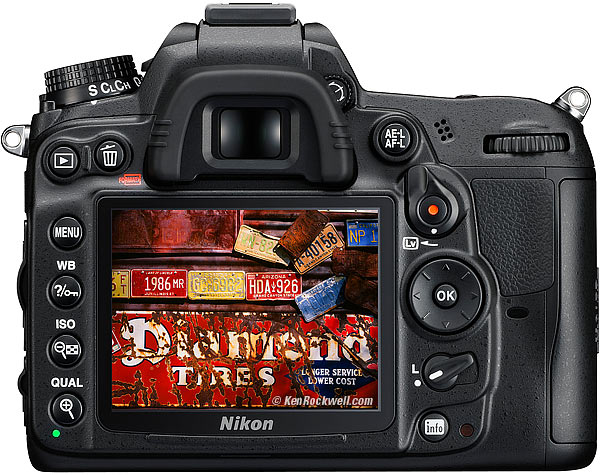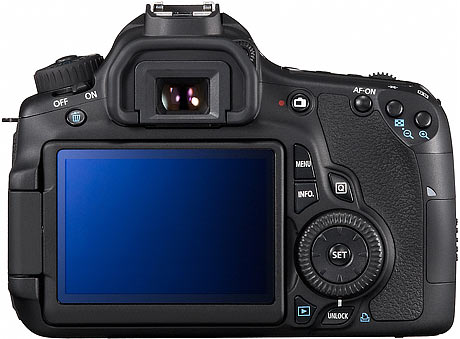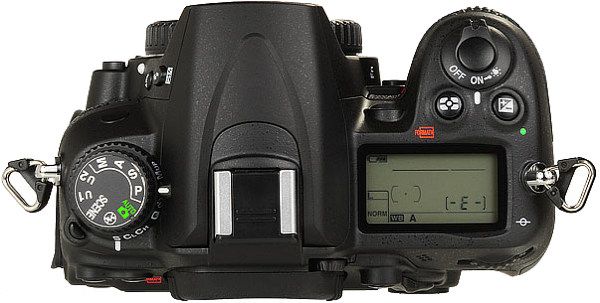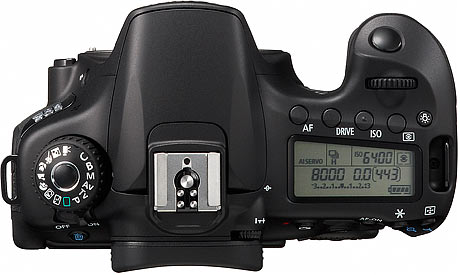 FULL SPECIFICATIONS FOR CANON EOS 60D (Canon Website):
Type
Type
Digital, single-lens reflex, AF / AE camera with built-in flash
Recording media
SD memory card, SDHC memory card, SDXC memory card
Image sensor size
22.3 x 14.9mm
Compatible lenses
Canon EF lenses (including EF-S lenses)
(35mm-equivalent focal length is approx. 1.6 times the lens focal length)
Lens mount
Canon EF mount
Image Sensor
Type
CMOS sensor
Effective pixels
Approx. 18.00 megapixels
Aspect ratio
3:2
Dust delete feature
Auto, Manual, Dust Delete Data appending
Recording System
Recording format
Design rule for Camera File System 2.0
Image type
JPEG, RAW (14-bit Canon original)
RAW + JPEG simultaneous recording possible
Recorded pixels
Large: 

Approx. 17.90 megapixels (5184 x 3456)
Medium:
Approx. 8.00 megapixels (3456 x 2304)
S1 (Small 1):
Approx. 4.50 megapixels (2592 x 1728)
S2 (Small 2):
Approx. 2.50 megapixels (1920 x 1280)
S3 (Small 3):
Approx. 350,000 pixels (720 x 480)
RAW:
Approx. 17.90 megapixels (5184 x 3456)
M-RAW:
Approx. 10.10 megapixels (3888 x 2592)
S-RAW:
Approx. 4.50 megapixels (2592 x 1728)
Create / Select a folder
Possible
Image Processing
Picture style
Standard, Portrait, Landscape, Neutral, Faithful, Monochrome, User Def. 1 – 3
Basic+
Shoot by ambience selection, Shoot by lighting or scene type
White balance
Auto, Preset (Daylight, Shade, Cloudy, Tungsten light, White fluorescent light, Flash), Custom, Colour temperature setting (Approx. 2500 – 10000K), 
white balance correction, and white balance bracketing possible

* Colour temperature information transmission enabled.
Noise reduction
Applicable to long exposures and high ISO speed shots
Automatic image brightness correction
Auto Lighting Optimizer
Highlight tone priority
Provided
Lens peripheral illumination correction
Provided
Viewfinder
Type
Eye-level pentaprism
Coverage
Vertical / Horizontal approx. 96% 
(with Eye point approx. 22mm)
Magnification
Approx. 0.95x (-1m-1 with 50mm lens at infinity)
Eye point
Approx. 22mm (From eyepiece lens center at -1m-1)
Built-in dioptric adjustment
-3.0 – +1.0m-1 diopter
Focusing screen
Interchangeable (Two types sold separately), Ef-A provided
Electronic level
Horizontal level displayed up to ±9° in ±1° increments 
(For horizontal shooting only)
Mirror
Quick-return type
Depth-of-field preview
Provided
Autofocus
Type
TTL secondary image-registration, phase detection
AF points
9 (All cross-type)
Metering range
EV -0.5 – 18 (at 23°C / 73°F, ISO 100)
Focusing modes
One-Shot AF, AI Servo AF, AI Focus AF, Manual focusing (MF)
AF-assist beam
Small series of flashes fired by built-in flash
Exposure Control
Metering modes
63-zone TTL full aperture metering
• Evaluative metering (linked to all AF points)
• Partial metering (Approx. 6.5% of viewfinder at center)
• Spot metering (Approx. 2.8% of viewfinder at center)
• Center-weighted average metering
Metering range
EV 0 – 20 (at 23°C / 73°F with EF50mm f/1.4 USM lens, ISO 100)
Exposure control
Program AE (Full Auto, Flash Off, Creative Auto, Portrait, Landscape, Close-up, Sports, Night Portrait, Program), shutter-priority AE, aperture-priority AE, manual exposure, bulb exposure
ISO speed 
(Recommended exposure index)
Basic Zone modes: 

ISO 100 – 3200 set automatically
Creative Zone modes:
ISO 100 – 6400 set manually 
(1/3-stop increments), 
ISO 100 – 6400 set automatically, 
or ISO expansion to "H" 
(equivalent to ISO 12800)
Exposure compensation
Manual: 

±5 stops in 1/3- or 1/2-stop increments
AEB:
±3 stops in 1/3- or 1/2-stop increments 
(Can be combined with manual exposure compensation)
AE lock
Auto: 

Applied in One-Shot AF mode with evaluative metering when focus is achieved
Manual:
By AE lock button
Shutter
Type
Electronically-controlled, focal-plane shutter
Shutter speeds
1/8000sec. to 1/60sec. (Full Auto mode), 
Flash X-sync at maximum 1/250sec. 
1/8000sec. to 30secs., bulb 
(Total shutter speed range. Available range varies by shooting mode.)
Flash
Built-in flash
Retractable, auto pop-up flash
Guide No.:
Approx. 13 / 43 (ISO 100, in meters / feet)
Flash coverage:
Approx. 17mm lens angle of view
Recycling time approx. 3secs.
Wireless master unit function provided
External flash
EX-series Speedlite (Flash functions settable with the camera)
Flash metering
E-TTL II autoflash
Flash exposure compensation
±3 stops in 1/3- or 1/2-stop increments
FE lock
Provided
PC terminal
None
Drive System
Drive modes
Single, High-speed continuous, Low-speed continuous, 10-sec. self-timer / remote control, 2-sec. self-timer / remote control
Continuous shooting speed
Max. approx. 5.3shots/sec.
Max. burst
JPEG Large / Fine: 

Approx. 58 shots
RAW:
Approx. 16 shots
RAW + JPEG Large / Fine:
Approx. 7 shots
* Figures are based on Canon's testing standards (ISO 100 and Standard Picture Style) and a 4GB card.
Live View Shooting
Aspect ratio settings
3:2, 4:3, 16:9, 1:1
Focusing
Live mode, Face detection Live mode (Contrast detection) 
Quick mode (Phase-difference detection) 
Manual focusing (Approx. 5x / 10x magnification possible)
Metering modes
Evaluative metering with the image sensor
Metering range
EV 0 – 20 (at 23°C / 73°F with EF50mm f/1.4 USM lens, ISO 100)
Silent shooting
Provided (Mode 1 and 2)
Grid display
Two types
Movie Shooting
Movie compression
MPEG-4 AVC / H. 264
Variable (average) bit rate
Audio recording format
Linear PCM
Recording format
MOV
Recording size and frame rate
1920 x 1080 (Full HD):
30p / 25p / 24p
1280 x 720 (HD):
60p / 50p
640 x 480 (SD):
60p / 50p
Crop 640 x 480 (SD):
60p / 50p
* 30p: 29.97fps, 25p: 25.00fps, 24p: 23.976fps, 
60p: 59.94fps, 50p: 50.00fps
File size
1920 x 1080 (30p / 25p / 24p):
Approx. 330MB/min.
1280 x 720 (60p / 50p):
Approx. 330MB/min.
640 x 480 (60p / 50p):
Approx. 165MB/min.
Crop 640 x 480 (60p / 50p):
Approx. 165MB/min.
Focusing
Same as focusing with Live View shooting
Metering modes
Center-weighted average and evaluative metering with the image sensor 
* Automatically set by the focusing mode.
Metering range
EV 0 – 20 (at 23°C / 73°F with EF50mm f/1.4 USM lens, ISO 100)
Exposure control
Program AE (exposure compensation possible) for movies, manual exposure
Exposure compensation
±3 stops in 1/3-stop increments (Still photos: ±5 stops)
ISO speed
(Recommended exposure index)
Automatically set within ISO 100 – 6400
With manual exposure, ISO 100 – 6400 set automatically / manually
Sound recording
Built-in monaural microphone 
External stereo microphone terminal provided 
Sound recording level adjustable, wind filter provided
Grid display
Two types
LCD Monitor
Type
TFT colour, liquid-crystal monitor
Monitor size and dots
Wide, 3.0-in. (3:2) with approx. 1.04 million dots
Coverage
Approx.100%
Angle adjustment
Possible
Brightness adjustment
Manual (7 levels)
Electronic level
Horizontal level displayed in 1° increments
Interface languages
25
Image Playback
Image display formats
Single image, Single image + Info (Basic info, detailed info, histogram), 
4-image index, 9-image index, image rotate possible
Zoom magnification
Approx. 1.5x – 10x
Image browsing methods
Single image, jump by 10 or 100 images, by shooting date, by folder, 
by movie, by stills, by rating
Highlight alert
Overexposed highlights blink
Slide show
All images, by date, by folder, movies, stills, or by rating 
Three transition effects selectable
Movie playback
Enabled (LCD monitor, video / audio OUT, HDMI OUT) 
Built-in speaker
Post-Processing of Images
In-camera RAW image processing
Brightness adjustment, white balance, Picture Style, Auto Lighting Optimizer, noise reduction at high ISO speeds, JPEG recording quality, colour space, peripheral illumination correction, distortion correction, and chromatic aberration correction
Creative filters
Grainy B&W, Soft focus, Toy camera effect, Miniature effect
Resize
Possible
Ratings
Provided
Direct Printing
Compatible printers
PictBridge-compatible printers
Printable images
JPEG and RAW images
Print ordering
DPOF Version 1.1 compatible
Custom Functions
Custom functions
20
Camera user settings
Register under Mode Dial's C
My Menu registration
Possible
Copyright information
Entry and inclusion enabled
Interface
Audio / Video OUT / Digital terminal
Analog video (Compatible with NTSC / PAL) / stereo audio output for personal computer communication and direct printing (Hi-Speed USB equivalent)
HDMI mini OUT terminal
Type C (Auto switching of resolution), CEC-compatible
External microphone IN terminal
3.5mm dia. stereo mini-jack
Remote control terminal
For Remote Switch RS-60E3
Wireless remote control
Remote Controller RC-6
Power
Battery
Battery Pack LP-E6 (Quantity 1)
* AC power can be supplied via AC Adapter Kit ACK-E6
* With Battery Grip BG-E9 attached, size-AA / LR6 batteries can be used
Battery information
Remaining capacity, Shutter count, and Recharge performance displayed
Battery life
(Based on CIPA testing standards)
With viewfinder shooting:
Approx. 1100 shots at 23°C / 73°F, 
approx. 1000 shots at 0°C / 32°F
With Live View shooting:
Approx. 320 shots at 23°C / 73°F, 
approx. 280 shots at 0°C / 32°F
Movie shooting time
Approx. 2 hours at 23°C / 73°F
Approx. 1hr. 40mins. at 0°C / 32°F
(With a fully-charged Battery Pack LP-E6)
Dimensions and Weight
Dimensions (W x H x D)
Approx. 144.5 x 105.8 x 78.6mm / 5.7 x 4.2 x 3.1in.
Weight
Approx. 755g / 26.6oz. (CIPA Guidelines)
Approx. 675g / 23.8oz. (Body only)
Operating Environment
Working temperature range
0°C – 40°C / 32°F – 104°F
Working humidity
85% or less
FULL SPECIFICATIONS FOR NIKON D7000 (Nikon Website):
| | |
| --- | --- |
| Type of Camera | Single-lens reflex digital camera |
| Effective Pixels | 16.2 million |
| Image Sensor | Nikon DX format (23.6 x 15.6 mm) CMOS sensor |
| Image Size (Pixels) | 4,928 x 3,264 [L], 3,696 × 2,448 [M], 2,464 × 1,632 [S]; D-movie:1920 x 1080 / 24p, 1280 x 720 / 30fps, 1280 x 720 / 25fps, 1280 x 720 / 24fps, 640 x 424 / 24fps |
| Sensitivity | ISO 100 to 6400 in steps of 1/3, 1/2, or 1 EV, plus HI-0.3, HI-0.5, HI-0.7, HI-1, HI-2 (ISO 25600) |
| File Format | NEF (12 or 14-bit lossless compressed or compressed RAW), JPEG (Baseline-compliant); MOV movie (H.264/MPEG-4 AVC compression format with Linear PCM sound; Stero sound with external microphone) |
| Storage Media | SD memory card (SDHC and SDXC compliant) |
| Shooting Modes | 1) Single frame shooting [S] mode, 2) Continuous low shooting [CL] mode: 1-5 fps, 3) Continuous high shooting [CH] mode: 6 fps, 4) Quiet shutter-release[Q], 5) Self-timer mode, 6)Remote Control 7) Mirror-up mode |
| White Balance | Auto (TTL white-balance with main image sensor and 2016-pixel RGB sensor), Incandescent, Fluorescent, Direct Sunlight, Flash, Cloudy, Shade, preset manua, choose color temperature |
| LCD Monitor | 3.0″, 921,000-dot, low-temperature polysilicon TFT LCD, allows up to 170-degree viewing angle, 100% frame coverage, and brightness adjustment |
| Playback Function | 1) Full-frame, 2) Movie Playback, 3) Thumbnail (4/9/72, calendar) playback, 4) playback zoom, 5) Faces detected during zoom, 6)Slide show 7)Histogram display 8)Highlights, 9) Auto image rotation, 10) Image comment |
| Delete Function | Single image, Selected images, images taken on a selected date, All images (except protected images) |
| Interface | USB 2.0 (High-speed), Video output, HDMI output (Type C mini-pin connector),Accessory terminal, Stereo mini-pin audio input |
| Picture Angle (in 35mm [135] format equivalent) | Approx. 1.5x lens focal length |
| Viewfinder | Fixed eye-level pentaprism; built-in diopter adjustment (-3 to +1.0 m-¹) |
| Focusing Screen | Type B BriteView Clear Matte Mark II screen with AF area brackets |
| Viewfinder Frame Coverage/Magnification (with 50mm lens at infinity; -1.0 m-1) | Approx. 100%/ Approx. 0.94x |
| Autofocus | TTL phase detection, 39 focus points (9 cross-sensors) by Nikon Multi-CAM 4800DX autofocus module; Detection range: -1 to +19 EV (ISO 100 at 20°C/68°F) |
| Focus Modes | 1) Autofocus (AF): Single-servo AF (AF-S); Continuous servo AF (AF-C); Auto AF-S/AF-C selection (AF-A), predictive focus tracking activated automatically according to subject status 2) Manual focus (MF): Electronic rangefinder can be used |
| Exposure Metering System | 1) 3D color matrix metering Ⅱ (type G and D lenses), color matrix metering II (other CPU lenses), 2) Center-weighted (weight of 75% given to 8-mm circle in center of frame), 3) Spot metering (meters 3.5-mm circle centered on selected focus point) |
| Exposure Metering Range (at normal temperature [68°F/20°C], ISO 100 equivalent, f/1.4 lens) | 1) 0 to 20 EV (3D-Color Matrix or Center-weighted metering), 2) 2 to 20 EV (Spot metering) |
| Exposure Control | 1) Digital Vari-Program (Auto, Auto [Flash Off], 2) Scene ( portrait; landscape; child; sports; close up; night portrait; night landscape; party/indoor; beach/snow; sunset; dusk/dawn; pet portrait; candlelight; blossom; autumn colors; food; silhouette; high key; low key); , 3) Programmed Auto [P], 4) Shutter-Priority Auto [S], 5) Aperture Priority Auto [A], 6) Manual [M], 7) U1 (user settings 1) ,8) U2 (user settings 2) |
| Auto Exposure Bracketing | 2 to 3 exposures in increments of 0.3, 0.7, 1.0, 1.3, 1.7, or 2.0 steps to (+-) 2.0 EV |
| Shutter | Electronically controlled vertical-travel focal plane shutter; 30 to 1/8000sec in steps of 1/3, 1/2 or 1 EV plus bulb time(with ML-L3) and X250 |
| Sync Contact | X-contact only; flash synchronization at up to 1/250 sec |
| Flash Control | 1) TTL: i-TTL balanced fill-flash and standard i-TTL flash for digital SLR using 2,016-pixel RGB sensor are available with built-in flash and SB-900, SB-800,SB-700, SB-600, or SB-400, 2) Auto aperture: Available with SB-900 or SB-800 and CPU lens, 3) Non-TTL auto: Supported flash units include SB-900, SB-800, SB-28, SB-27, and SB-22S, 4) Distance-priority manual: Available with SB-900, SB-800 and SB-700 |
| Flash Sync Modes | 1) Front-curtain sync, 2) Red-eye reduction, 3) Slow sync with red-eye reduction, 4) Slow sync, 5) rear-curtain sync |
| Self-Timer | Electronically controlled timer with duration of 2 s, 5 s, 10 s, 20 s; 1–9 exposures at intervals of 0.5, 1, 2, or 3 s |
| Depth of Field Preview Button | Yes |
| Remote Control | Via Wireless Remote Control ML-L3 (optional) |
| GPS | via GP-1 GPS Unit (optional) |
| Supported Languages | Total of 22 languages: Arabic, Chinese (Simplified and Traditional), Czech, Danish, Dutch, English, Finnish, French, German, Indonesian, Italian, Japanese, Korean, Norwegian, Polish, Portuguese, Russian, Spanish, Swedish, Thai, Turkish |
| Power Requirements | Rechargeable EN-EL15 Li-ion battery, EH-5a AC adapter (available separately; requires optional EP-5A power connector ) |
| Battery Life (on a fully charged battery) | Approx 1,050 shots |
| Tripod Socket | 1/4 in. (ISO1222) |
| Dimensions | Approx. 132 × 105 × 77 mm |
| Weight (without battery, memory card or body cap) | Approx. 690g |
| Supplied Accessories (may differ by country or area) | Rechargeable Li-ion battery EN-EL15, Quick charger MH-25, Rubber Eyecup DK-21, Camera strap AN-DC1, Body cap BF-1B, Eyepiece cap DK-5, Accessory shoe cover BS-1, USB Cable UC-E4, Video Cable EG-D2, View NX 2 CD |
| Other Features | Expeed 2 Image Processing Engine, D-Movie (Full HD recording; external stereo microphone input; in-camera movie editing), Full-time servo AF (AF-F) movie recording, Dual card slots for SD memory cards |
Follow us on:



Share this article on: