DJI has launched two versions of the Mavic 2, the Pro and Zoom. Mavic Pro became tremendously popular with the impressive foldable propellers – a godsend for any photography during travels. The Mavic 2 Pro includes a camera with a 1″-type sensor while the Mavic 2 Zoom ships with a 2x optical (4x digital) zoom lens.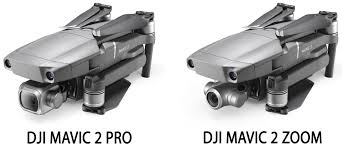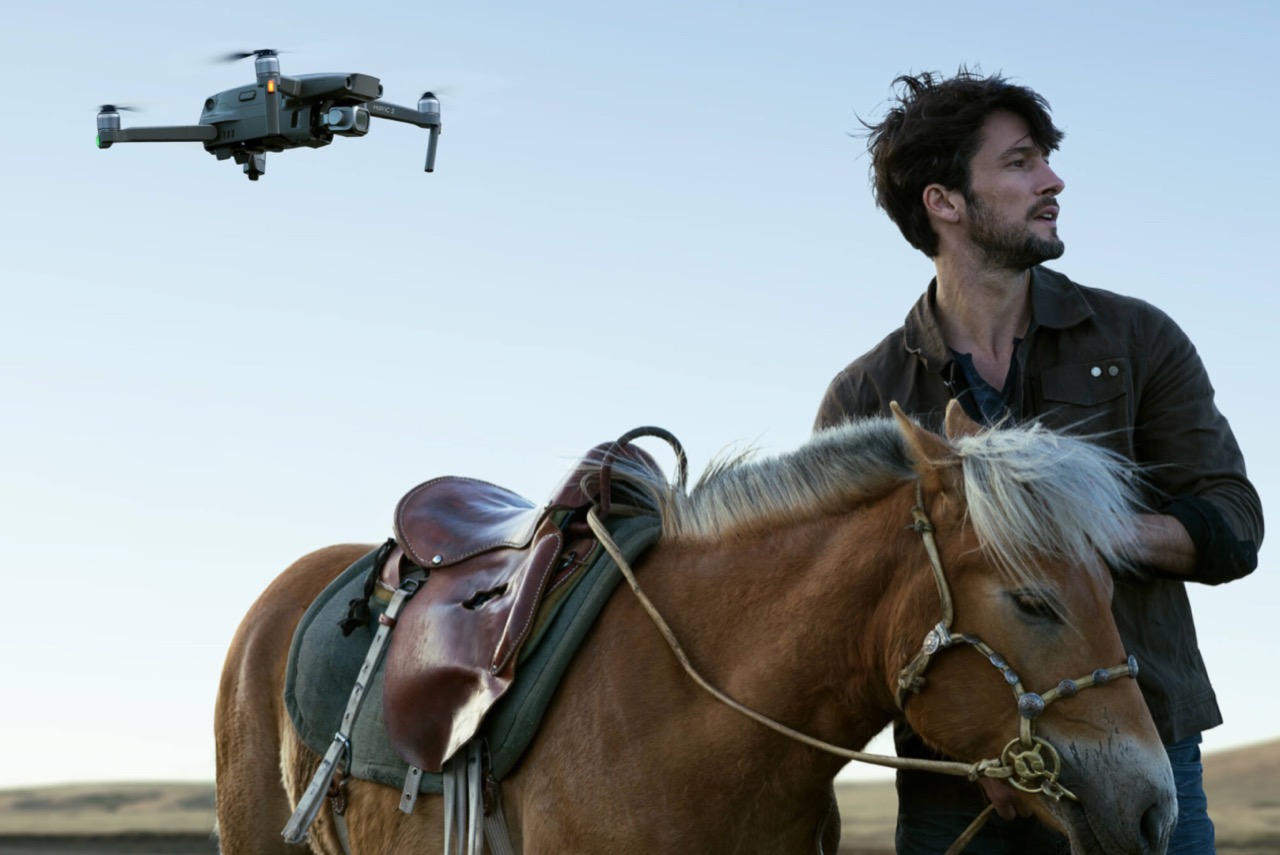 Mavic 2 (new model) vs Mavic Pro (previous model)
Although DJI's original Mavic drone is two years old now, it's still hovering at the top of its class.
Key new features for Mavic 2:
10 sensors for omni-directional obstacle avoidance
1080p video transmission up to 8km
31 minutes' flight time
45mph max. speed
Quieter than Mavic 1
Omnidirectional object sensing
This means the Mavic 2 gains sensors on the sides, rear and top, allowing it to sense and avoid obstacles in any direction. The original Mavic had forward-facing and downward-facing sensors, but no rear ones.
There are also LEDs underneath to assist in landing in low-light.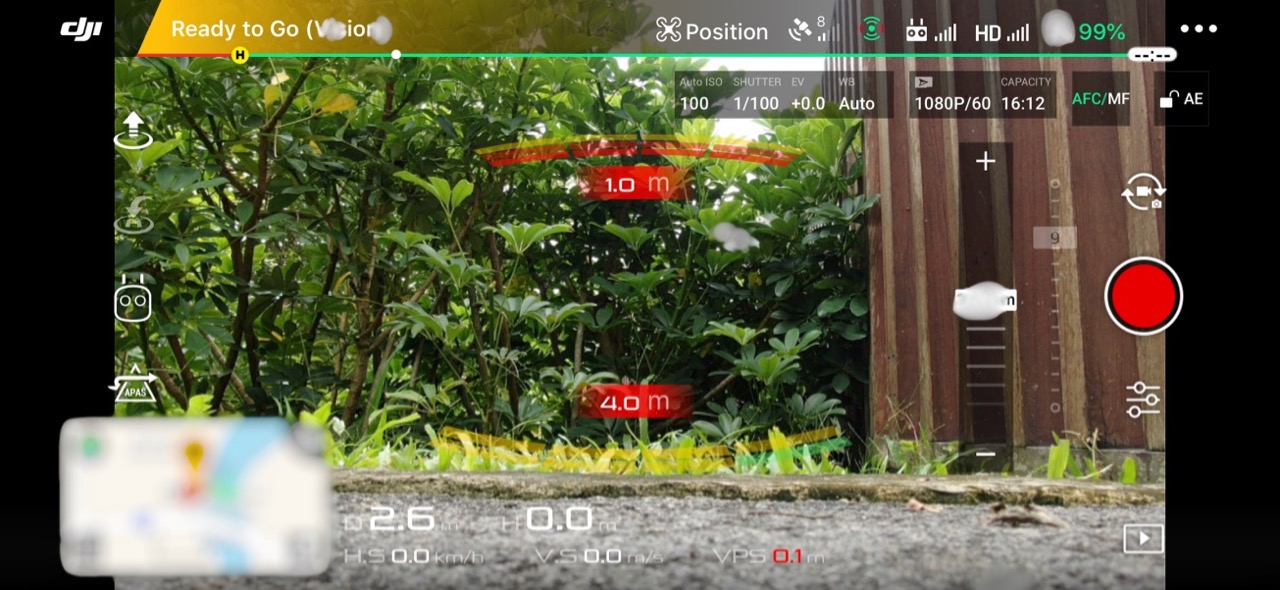 In the DJI Go 4 app you'll find that another update for the Mavic 2 is hyperlapse video. This is possible thanks to the more powerful central processor and lets you shoot aerial hyperlapses using these four modes:
Free – pilots the drone manually while shooting a Hyperlapse video.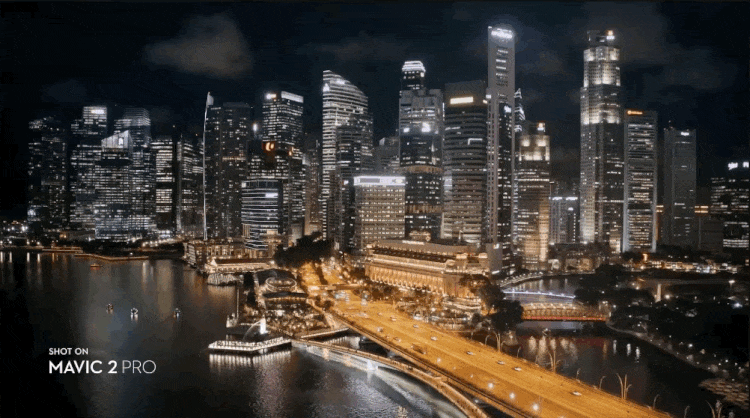 Circle – automatically flies the drone in a circular pattern around a subject you select to create a timelapse video that captures the action.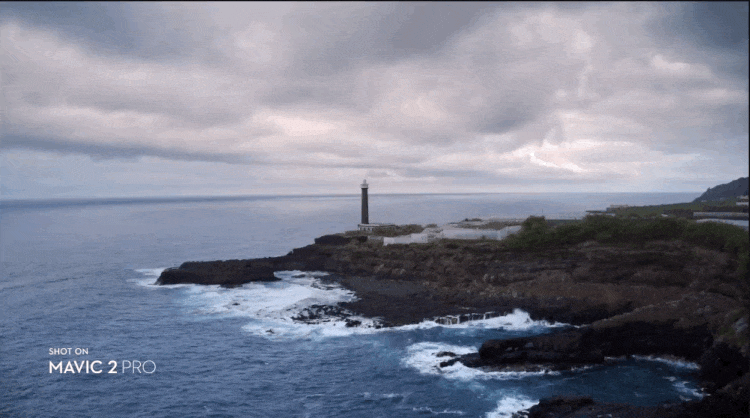 Course Lock – keeps the camera fixed on shooting subject while the drone flies in a straight direction to create a unique perspective.
Waypoint – plans a complex flight path based on both altitude and GPS coordinates to capture complex shots.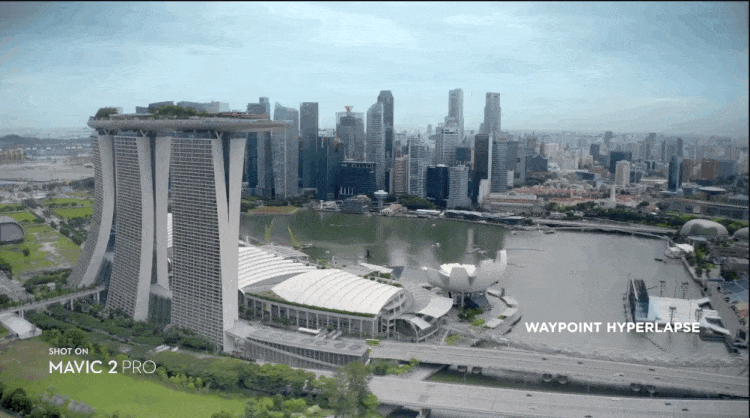 ActiveTrack 2.0 – the newest version of its autonomous subject tracking system
ActiveTrack 2.0 uses the main camera and front dual vision cameras to create a 3D map of the area in front of the aircraft, and it analyzes motion to predict the path of a subject up to three seconds in advance, which should improve tracking accuracy. DJI claims the system will even continue to follow your subject if it's temporarily blocked from view by something else in the frame.
Sleeker and more aerodynamic design compared to the original Mavic Pro.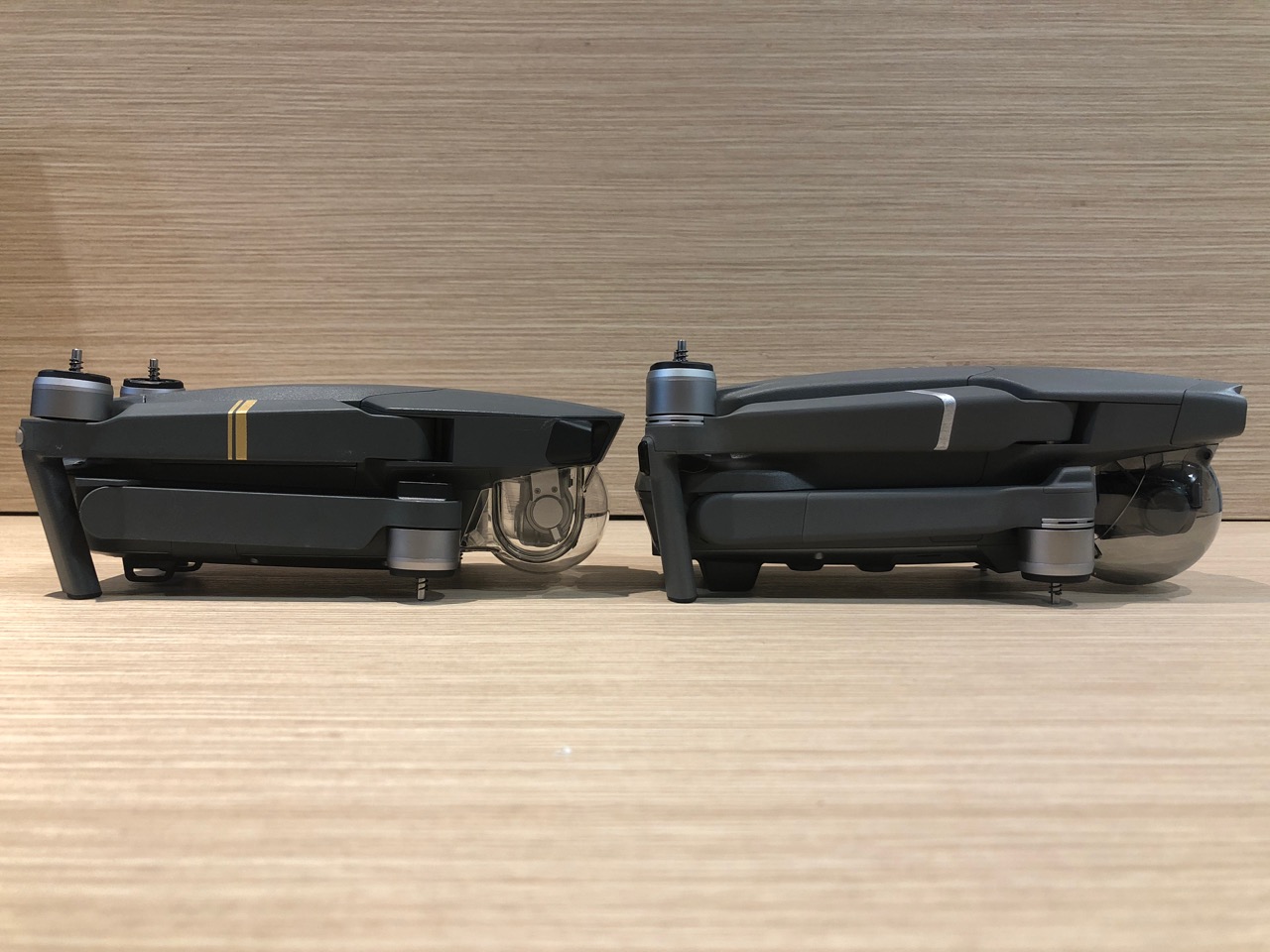 (Right : Mavic 2 Zoom, Left : Mavic Pro)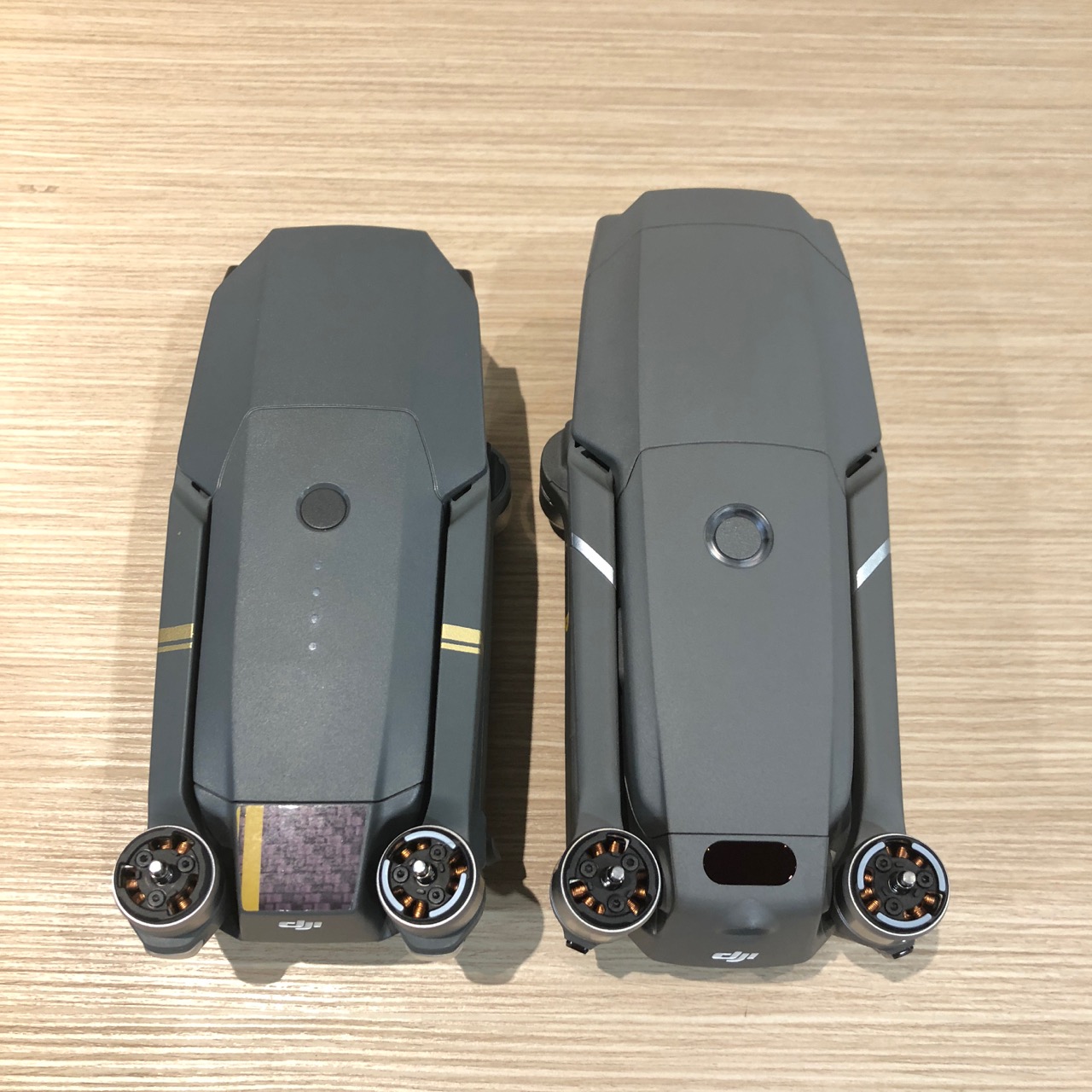 (Right : Mavic 2 Zoom, Left : Mavic Pro)
The only major distinctions are the LED light placement on the two back arms that makes the Mavic 2 easier to fly when far away, and the super bright LED light on the bottom of the Mavic 2 Pro model.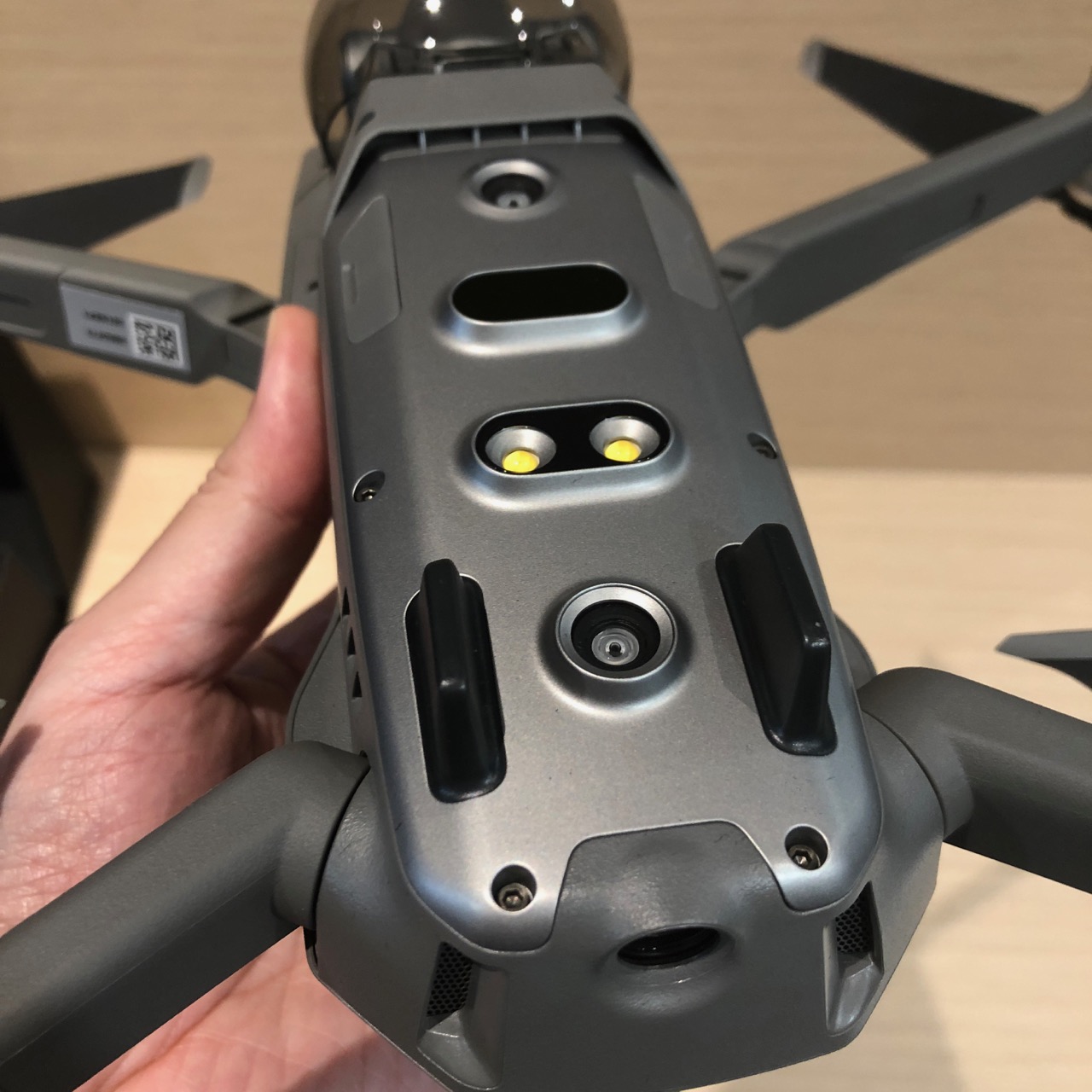 Mavic 2: Pro or Zoom?
Largely, their main difference is the camera and the accompanying features.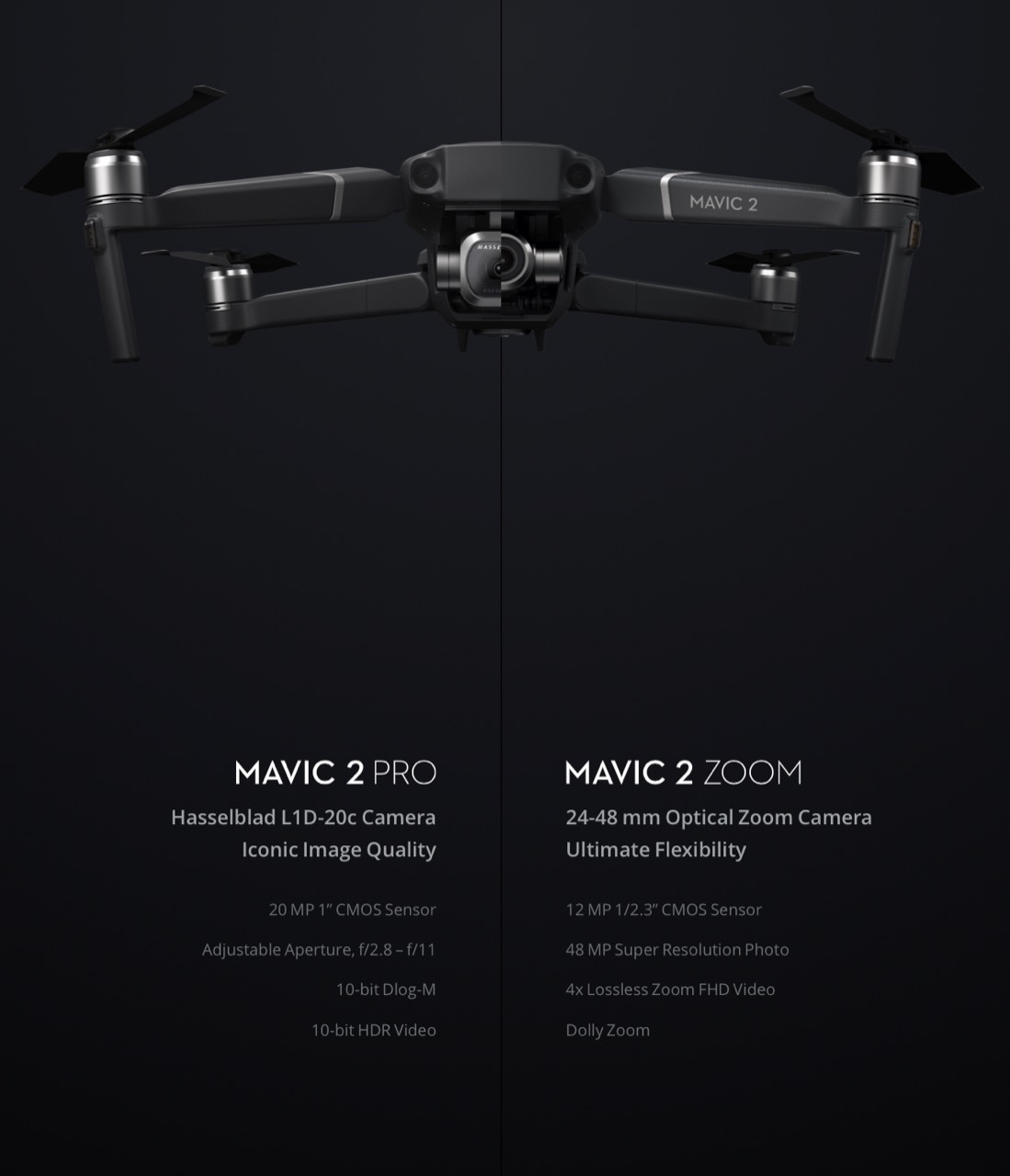 A. Mavic 2 Pro
The Mavic 2 Pro will appeal to those who want a portable drone, but who have been waiting for a camera with a larger sensor.
The Pro model has a 1in sensor (like the Phantom 4 Pro) and had been developed in conjunction with renowned camera maker Hasselblad.

The Pro is capable of shooting 4K at up to 30fps and 60fps at 2.7K. It should be a great choice for aerial photography, as well as video.
Hasselblad cameras are renowned for their iconic ergonomic design, uncompromising image quality, and Swedish craftsmanship.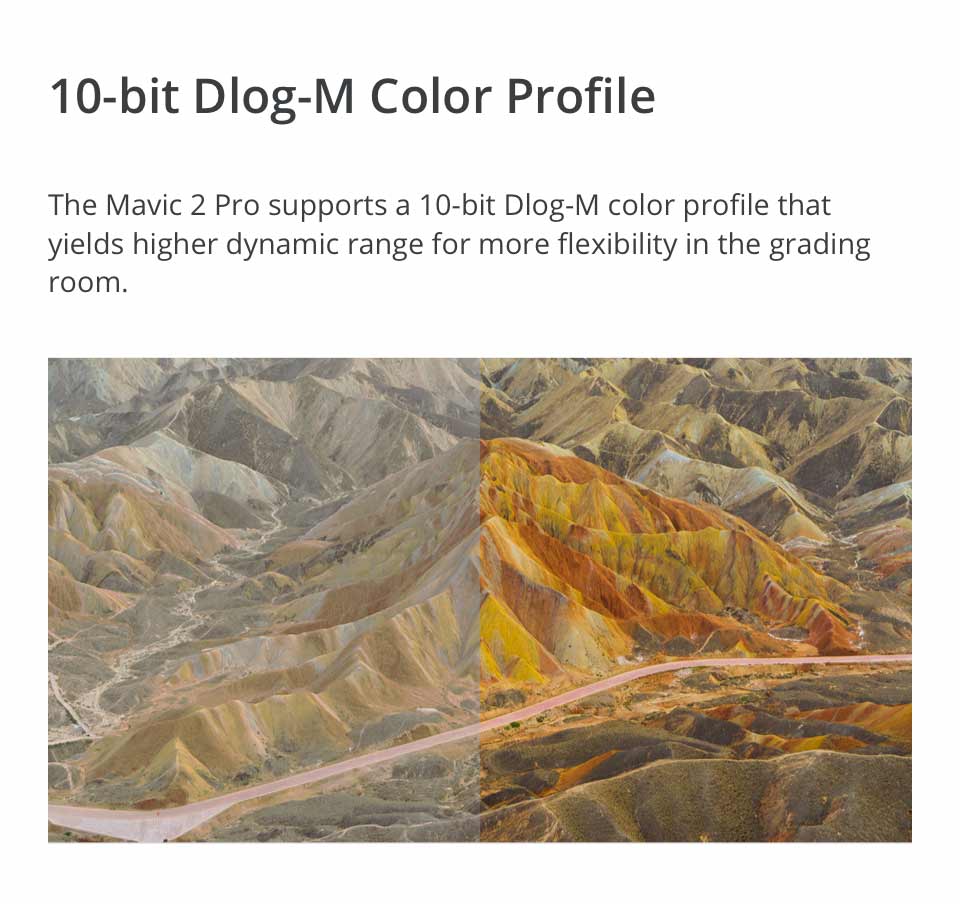 Mavic 2 Pro comes equipped with the all-new Hasselblad L1D-20c camera. The L1D-20c possesses Hasselblad's unique Hasselblad Natural Colour Solution (HNCS) technology, 5 helping users to capture gorgeous 20-megapixel aerial shots in stunning color detail.
The Mavic 2 Pro supports a 10-bit Dlog-M color profile that yields higher dynamic range for more flexibility in the grading room. The system records over 1 billion colors (compared to the 16 million colors from traditional 8-bit color coding technologies) and retains more in-depth details in both highlights and shadows.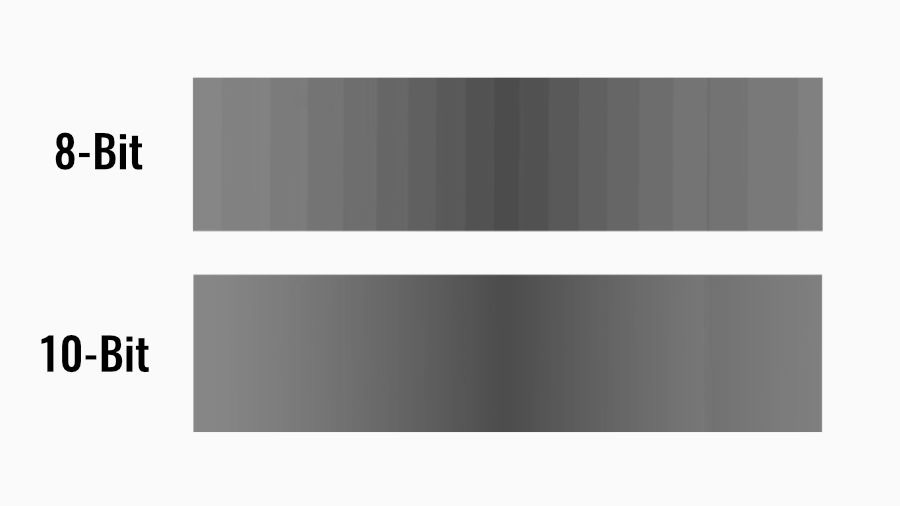 B. Mavic 2 Zoom
The Mavic 2 Zoom uses a 12MP, 1/2.3″ CMOS sensor similar to the original Mavic Pro, but adds a 2x optical zoom lens with an equivalent range of 24-48mm.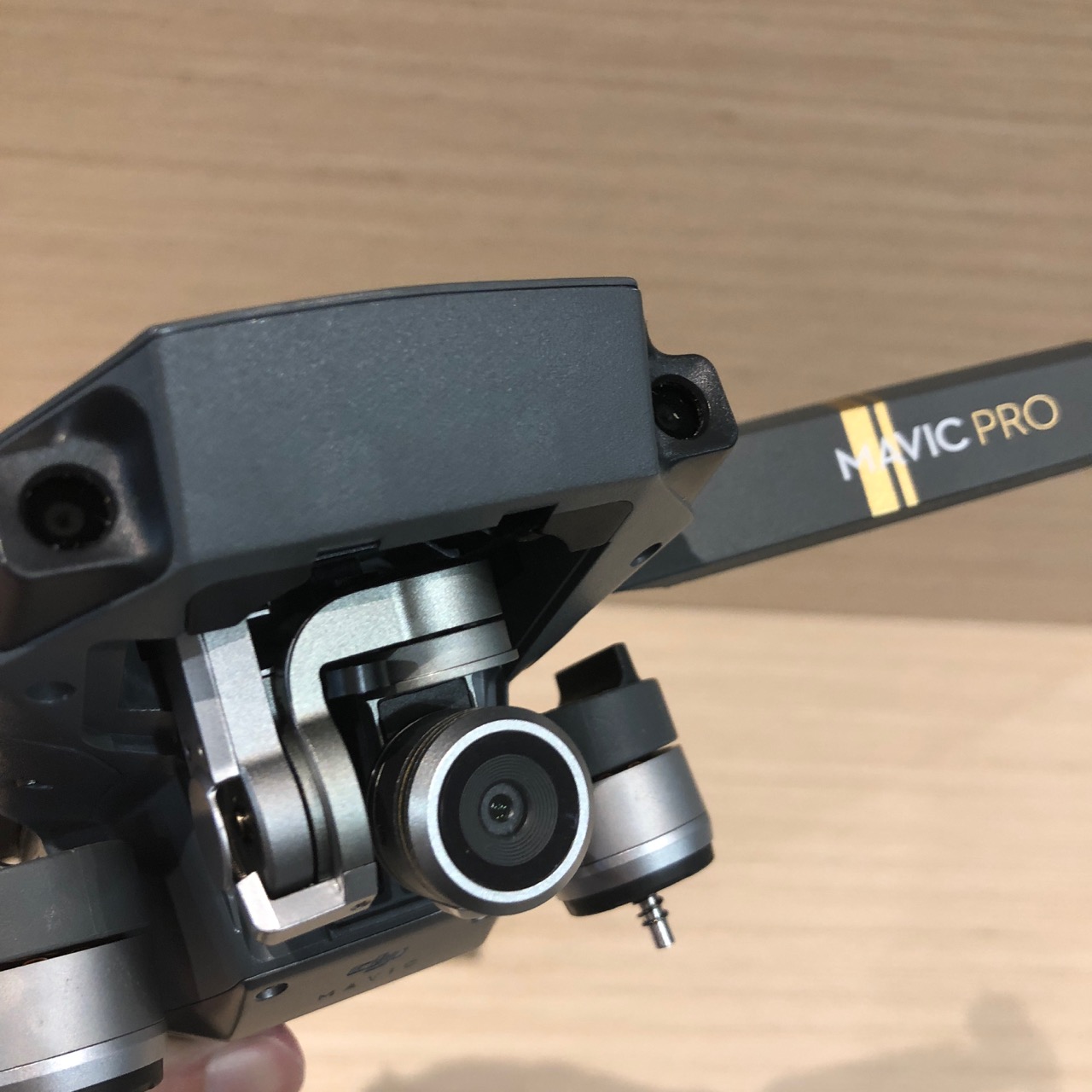 The f/2.8-f/11 adjustable aperture delivers outstanding image quality both in high and low-light environments. When shooting in low light, set the aperture to f/2.8 to allow more light in and to capture bright and clear photos. When shooting in well-lit environments, set the aperture to f/11 to lower the shutter speed and make your videos smoother.
The improvements in its hybrid AF system (phase detect + contrast detect) allow this model to focus up to 40% faster than previous models while still benefiting from improved focus accuracy.
Powered by a 1/2.3-inch 12-megapixel sensor with up to 4x zoom, including a 2x optical zoom (24–48 mm).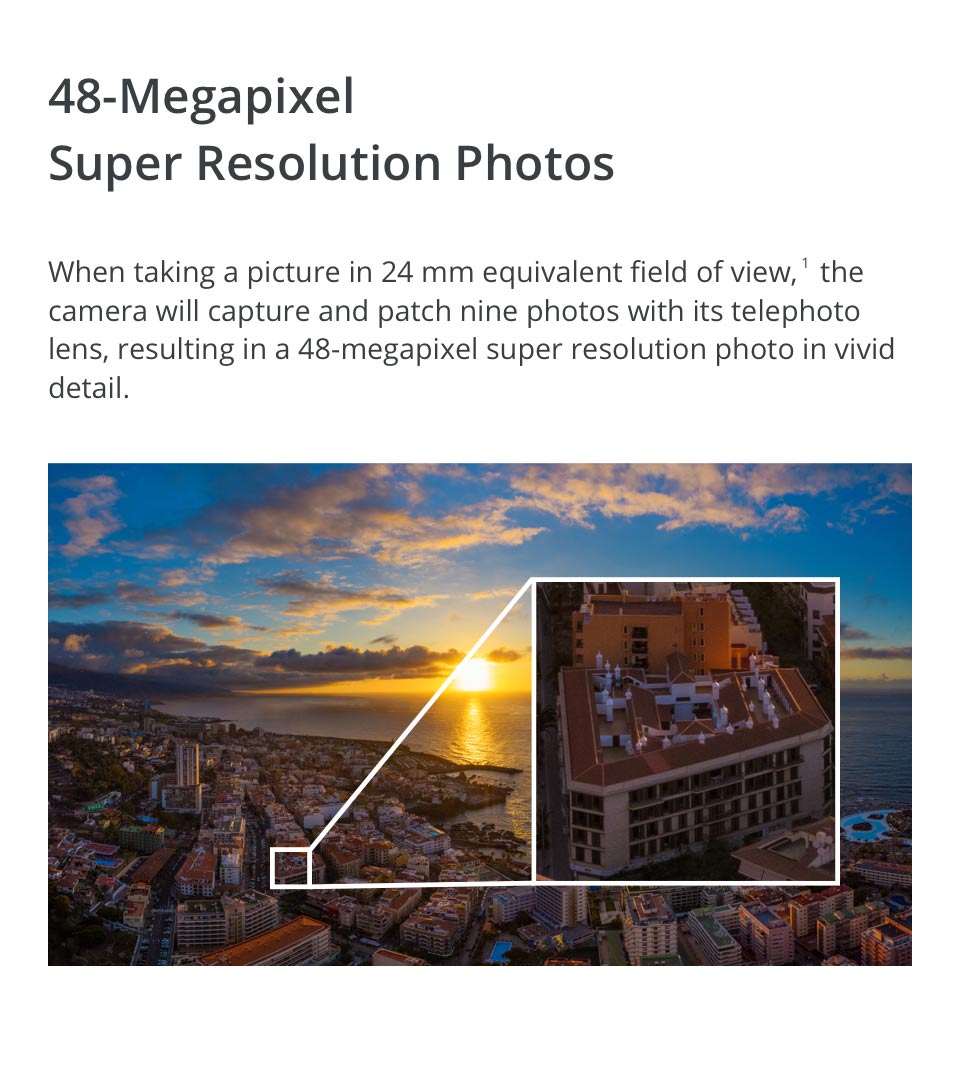 Compared to a 24mm wide angle lens, the 48mm telephoto lens compresses your perspective, enhancing the parallax effect for a classic cinematic look.
Dolly Zoom is a new QuickShot for the Mavic 2 Zoom, offering an otherworldly perspective in a fully-integrated drone. Dolly Zoom automatically adjusts focus when flying, adding an intense, warping visual effect to your video.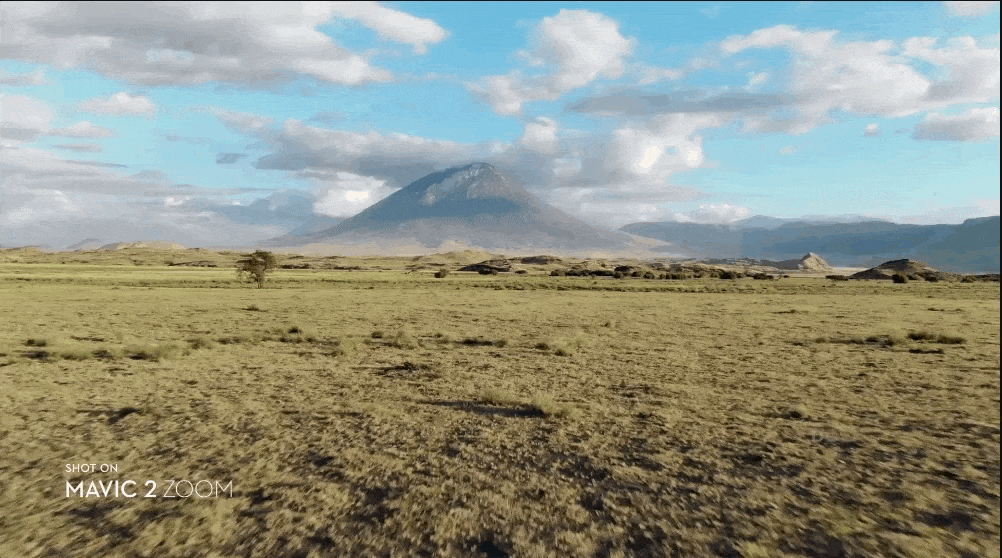 The Mavic 2 Zoom also has a brand new Super Resolution feature – an asset when capturing the vivid details your landscape photography deserves. When taking a picture with a 24 mm equivalent field-of-view, 4 the camera will capture and patch nine photos with its telephoto lens, resulting in a 48-megapixel super resolution photo.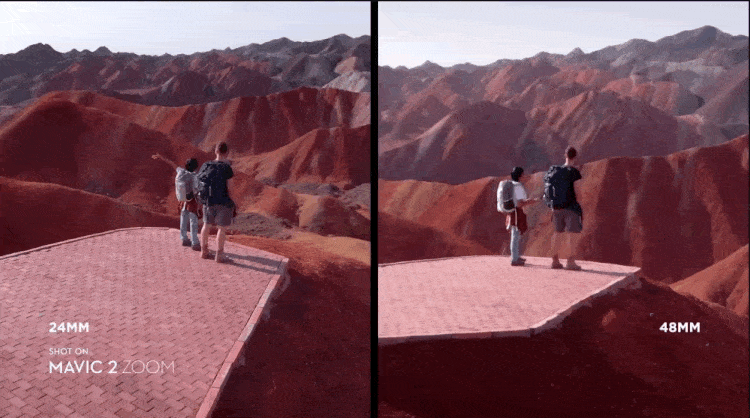 This is DJI's first consumer drone to have a zoom lens and it's the only consumer drone that shoots 4K with optical zoom.
Unboxing the new Mavic 2 Zoom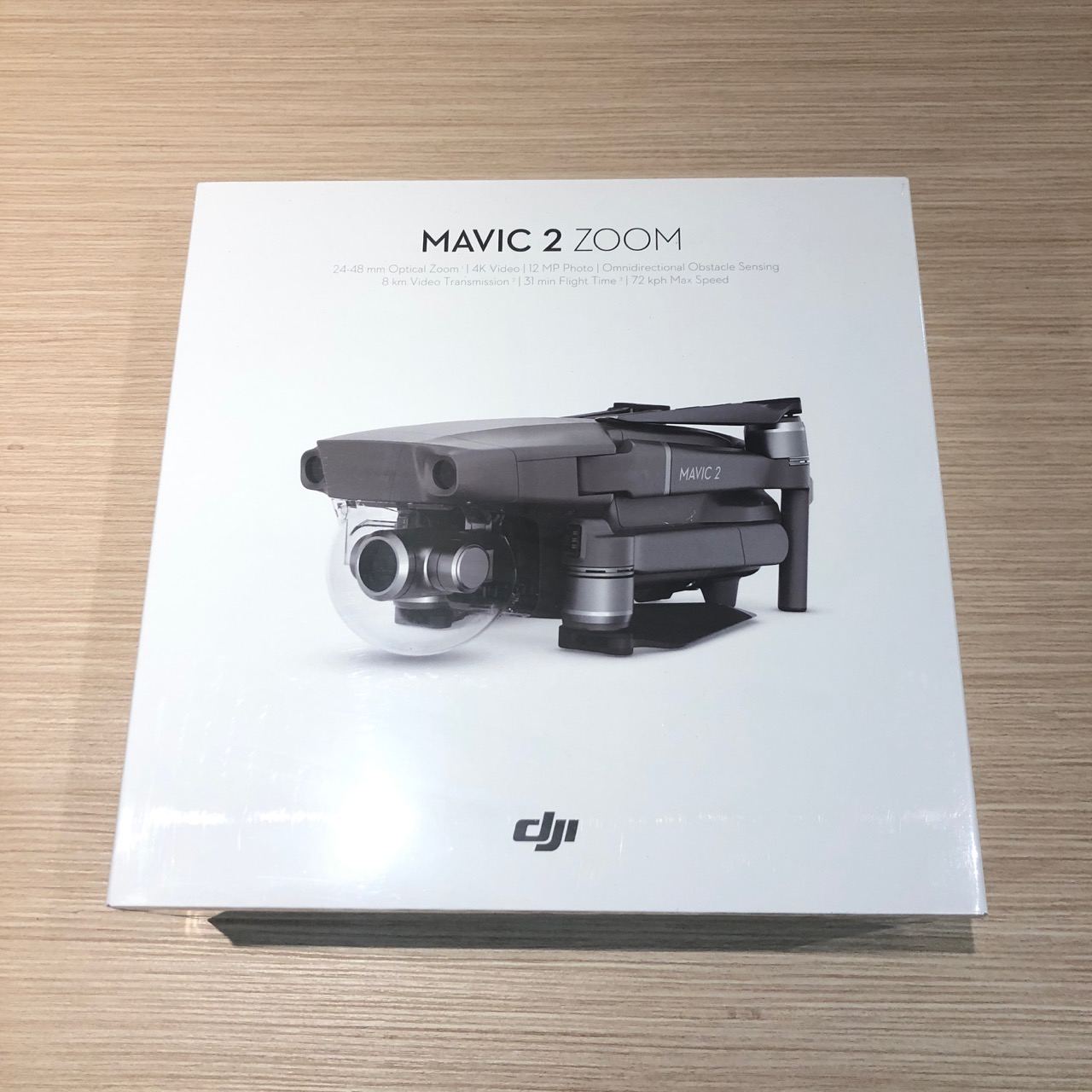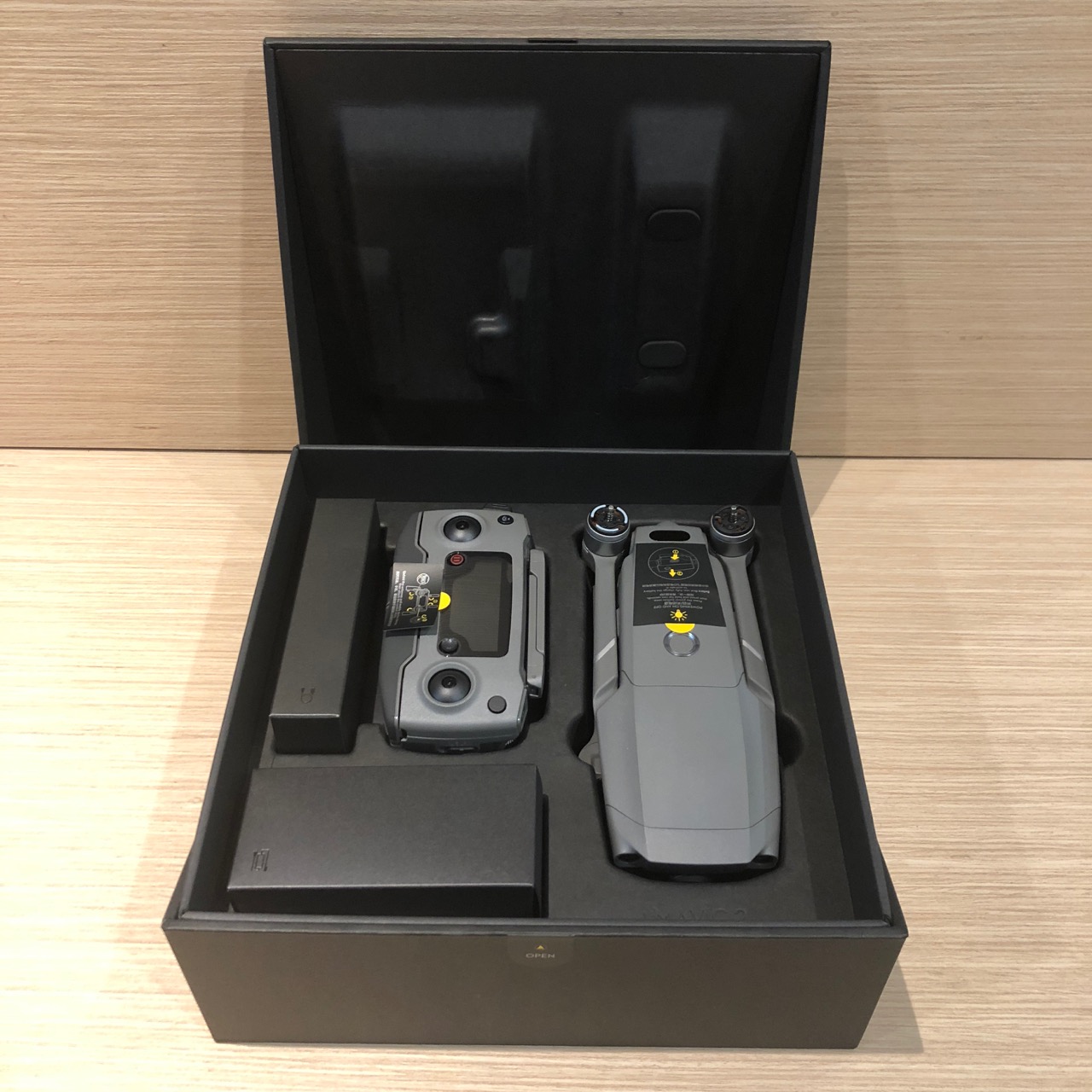 1. The Mavic 2 comes with everything you'll need to get in the air quickly and conveniently. Inside the box you'll find the following items:
Mavic 2 Pro (or Zoom) Aircraft × 1
Intelligent Flight Battery × 1
Gimbal Protector × 1
Remote Controller × 1
Propellers (Pair) × 3
Battery Charger × 1
Power Cable × 1
Communication Cable (USB3.0 Type-C) × 1
USB Adapter × 1
Spare Control Sticks (Pair) × 1
RC Cable (Lightning connector) × 1
RC Cable (Standard Micro USB connector) × 1 RC
RC Cable (USB Type-C connector) × 1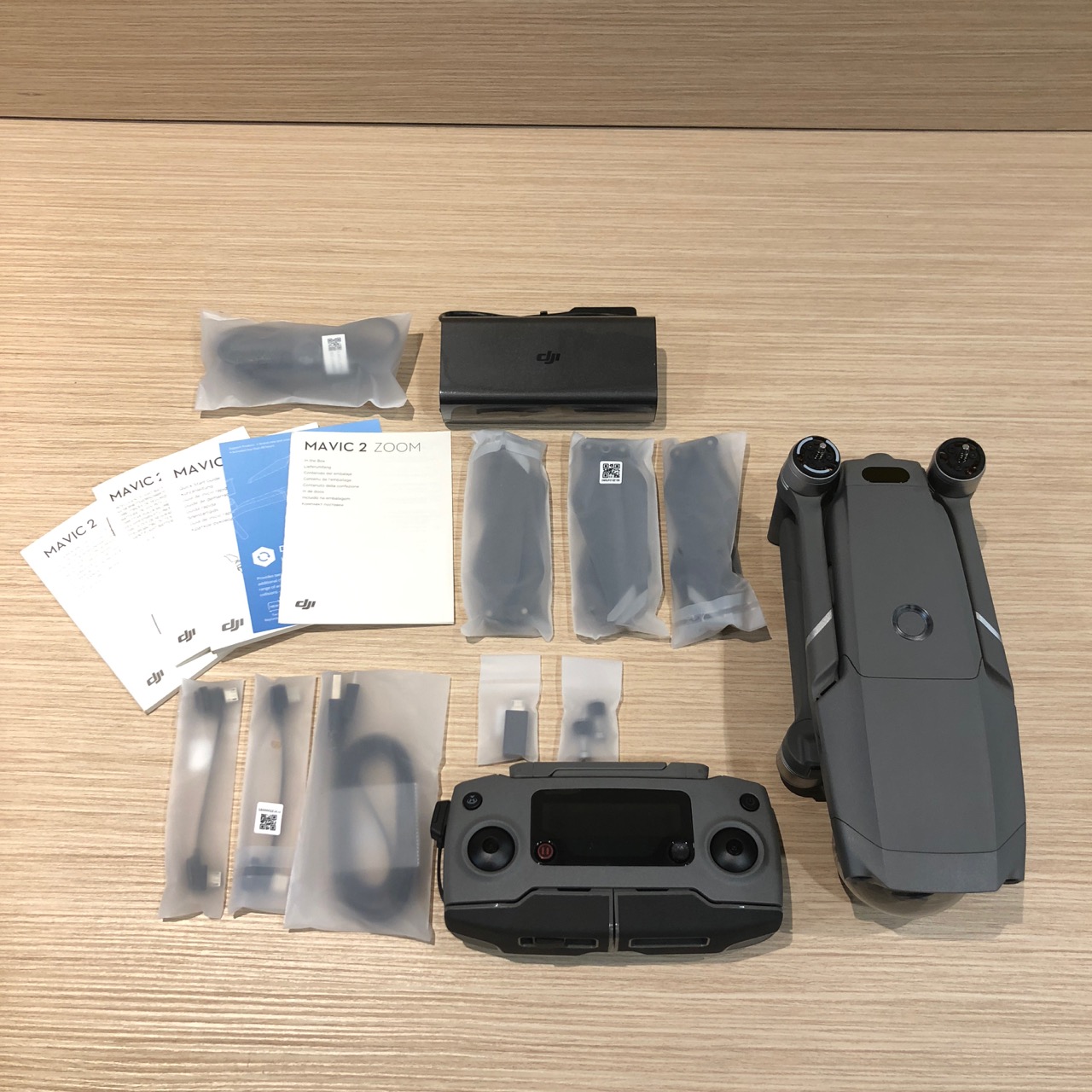 Along with the above items, you'll find printed instructions including an In the Box, Quick Start Guide, Disclaimer and Safety Guidelines, and Intelligent Flight Battery Safety Guidelines.
2. Appearance
The Mavic 2 comes in a matte gray color that's slightly lighter than the classic Mavic Pro. The shape has also undergone a subtle update, with a more aerodynamic body and rounded edges.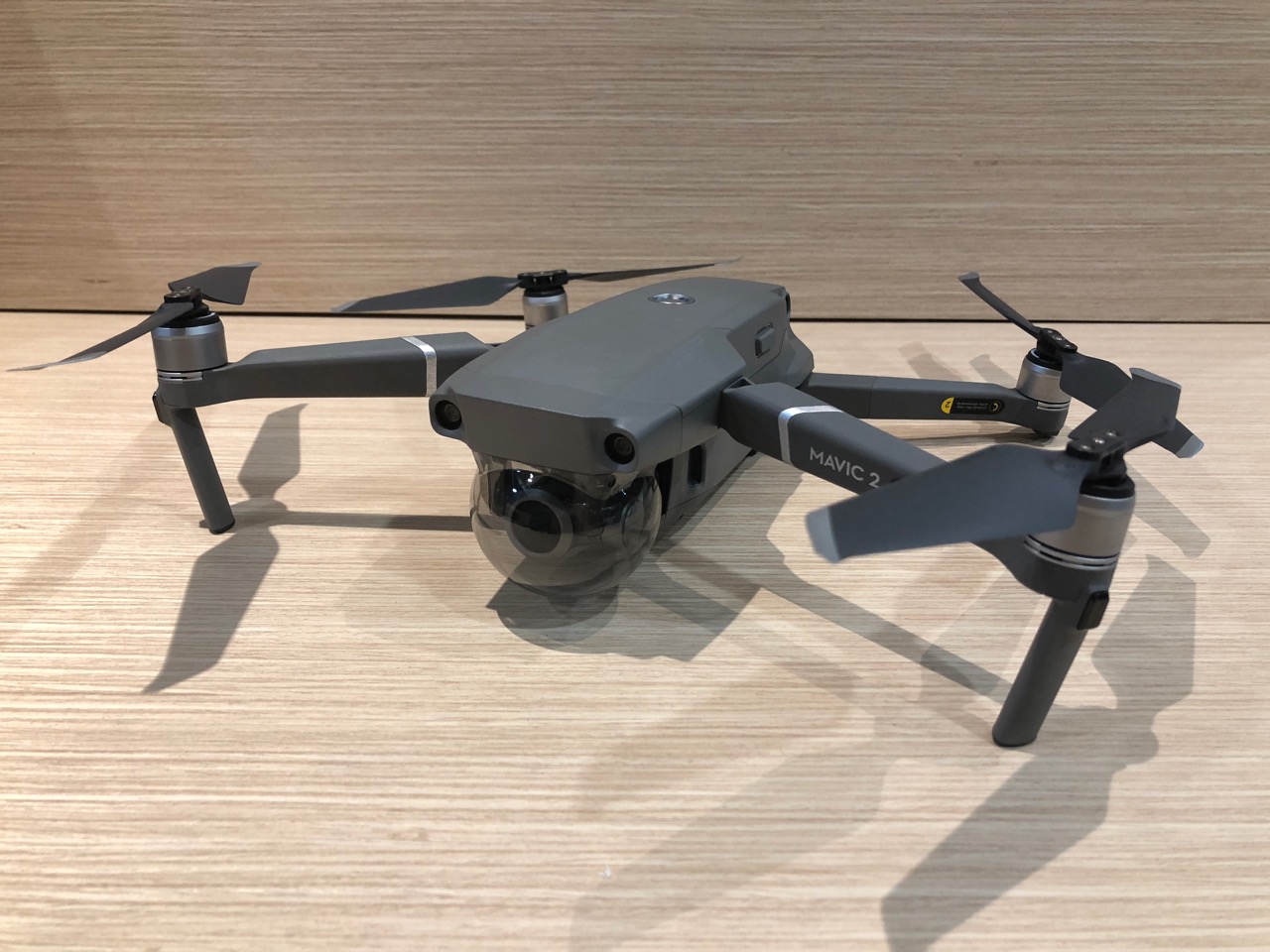 The ports have upgraded covers — a small (but very welcome) design improvement. I found that over time the covers for the SD card or micro USB ports on the side of my first-generation Mavic Pro would pop off. These new port covers swing open and shut and feel a lot more stable.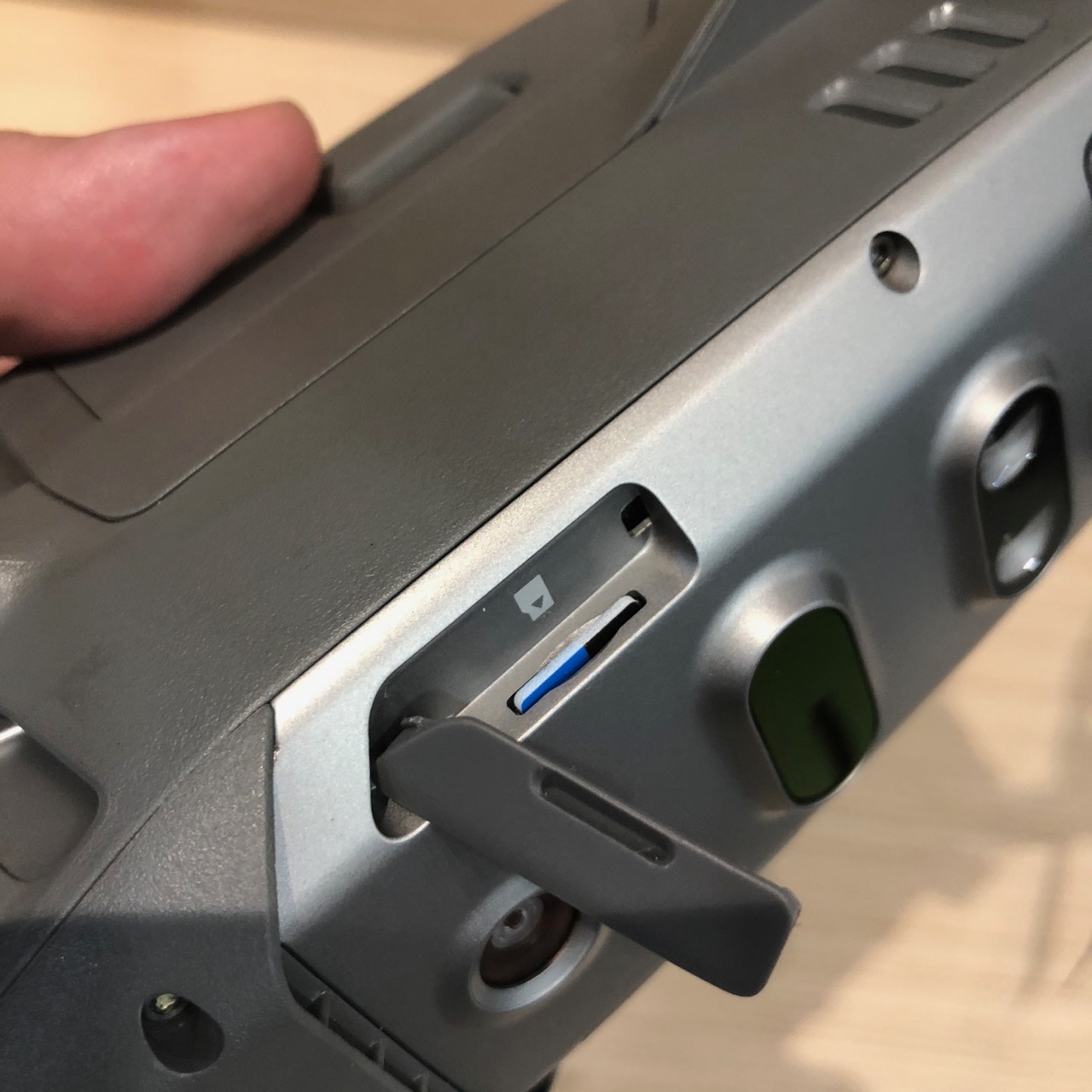 Here's how their specs compare: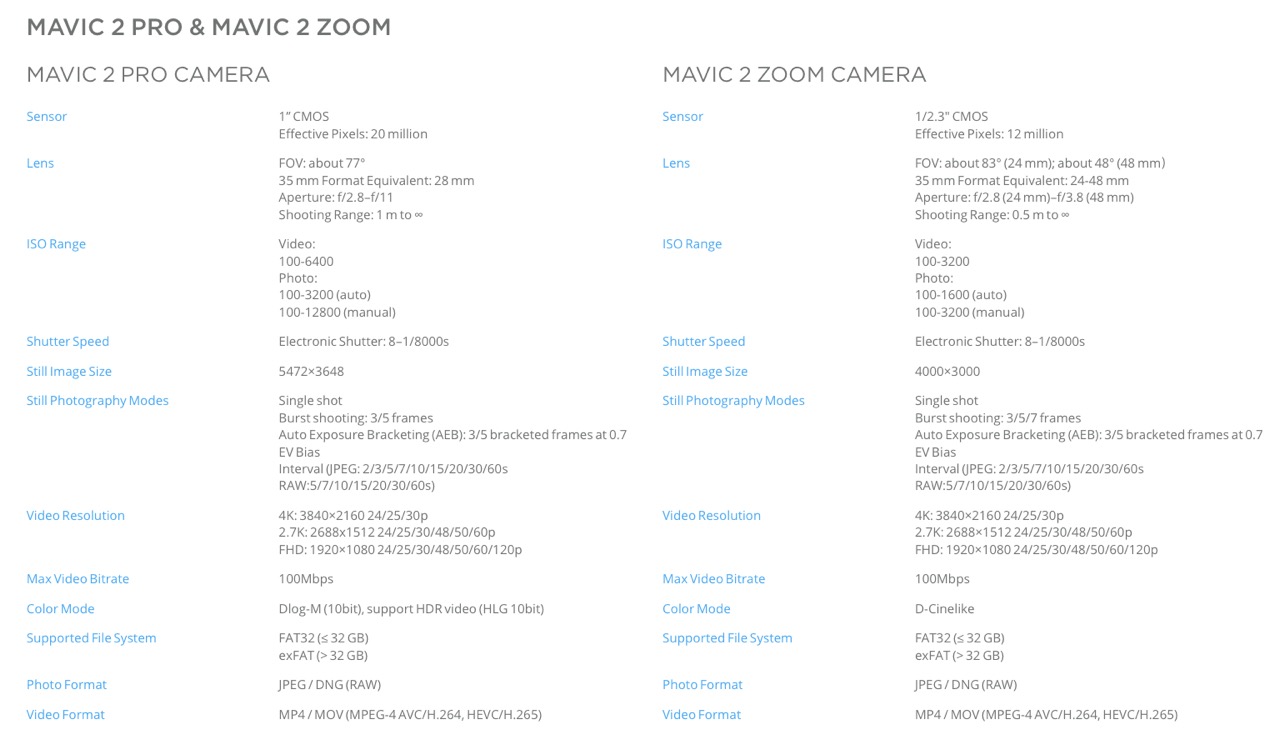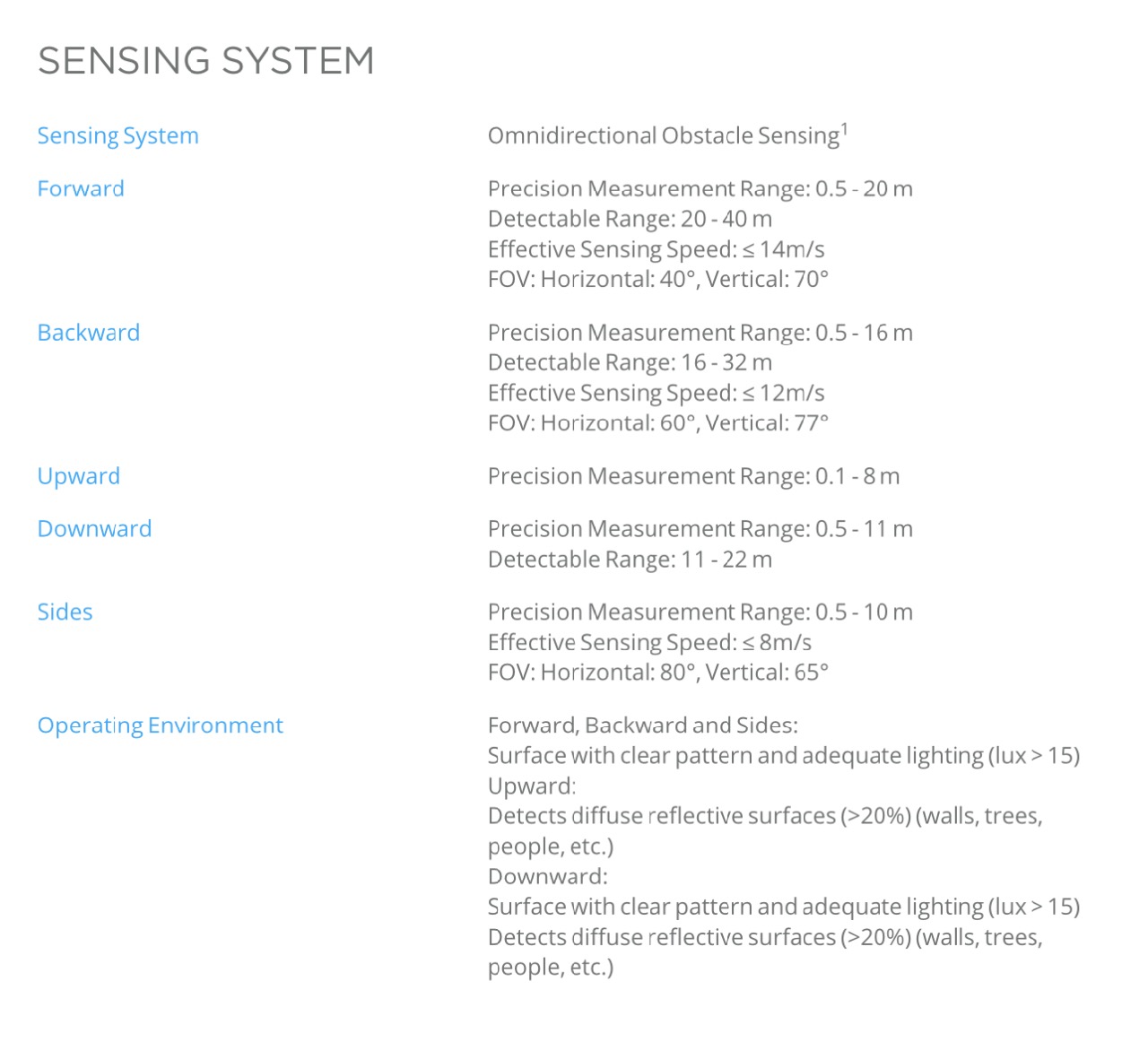 Both editions record 4K video at higher bitrates with advanced H.265 compression. 8 Videos in H.265/HEVC codec maintain 50% more information than videos in H.264/AVC, creating high-quality videos with better-preserved details.
So how much of an improvement are they over the older DJI drones?
A. Size

B. Weight

C. Flight time

D. Flight Range

E. Flight Top Speed

F. Vision Sensors

G. Camera

H. Flight Modes

I. Price (in USD)

It's no surprise that the brand new Mavic 2s are the priciest. For a more casual drone pilot or Instagrammer, the Mavic Air is a steal at $799.
What stands out for Mavic 2 vs the other models:
OcuSync 2.0 on the Mavic 2
Its main selling point is the upgraded range of 5 miles (up from 4.3 miles) but boasts a few other improvements such as latency as low as 120m/s, file download speeds up to 40Mbps, and real-time auto-switching between 2.4ghz and 5.8ghz frequencies.
Even at 3 miles away the video feed is coming back to my mobile device at full 1080p, alleviating the stresses of long-distance flying.
Auxiliary lighting
This is put in place to help the bottom sensors work more efficiently in low light, but I have been using them for much more than that as I keep them on during the flight to easily spot my drone in the night sky.
Tripod mode switch
Most of the newer DJI drones feature an intelligent flight mode called tripod mode which slows down the movement of the drone, making it easier to fly in tight spaces. most of them use tripod mode on a regular basis which makes this brand new switch a huge time saver.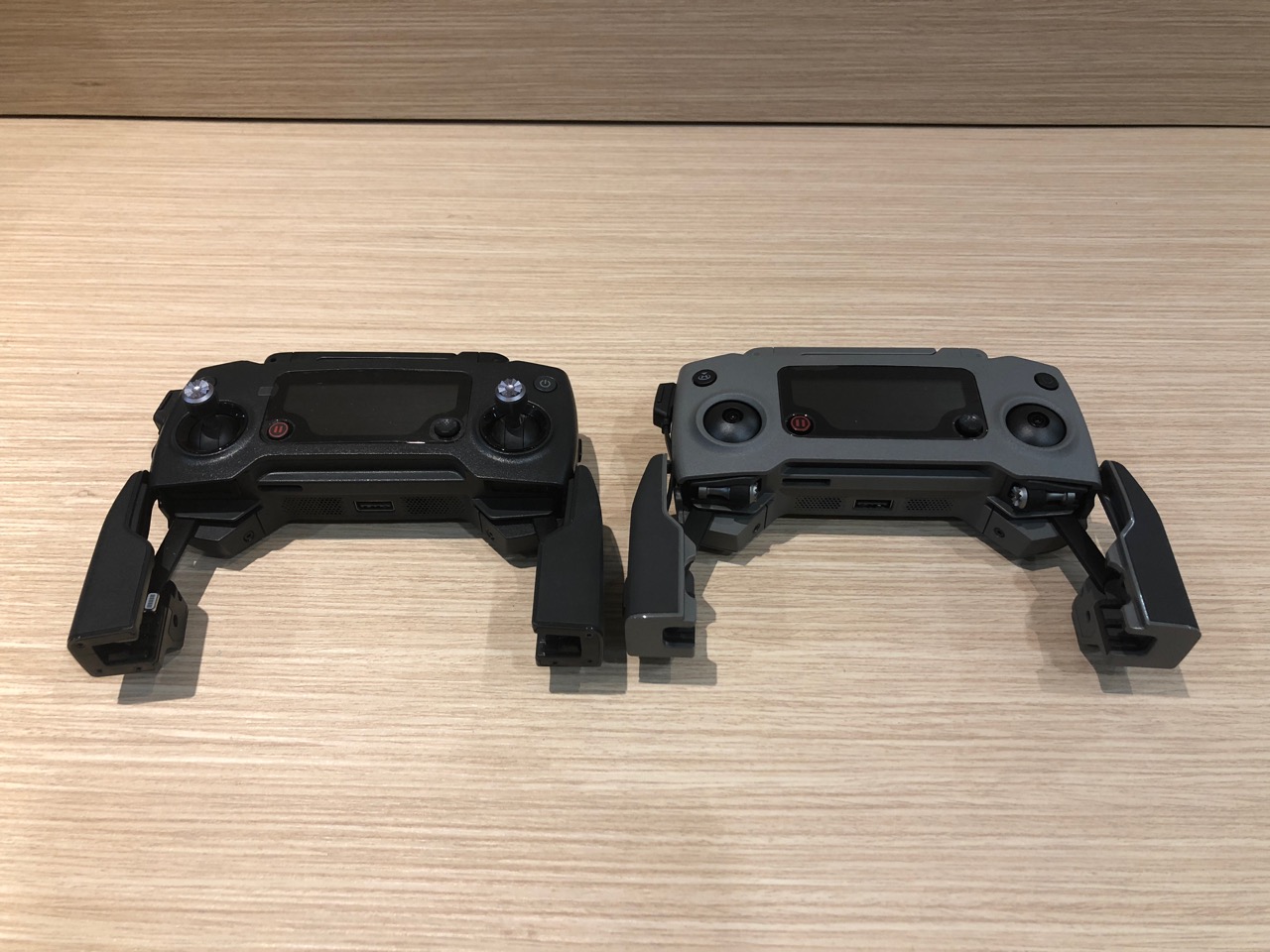 (Right : Mavic 2 Zoom, Left : Mavic Pro)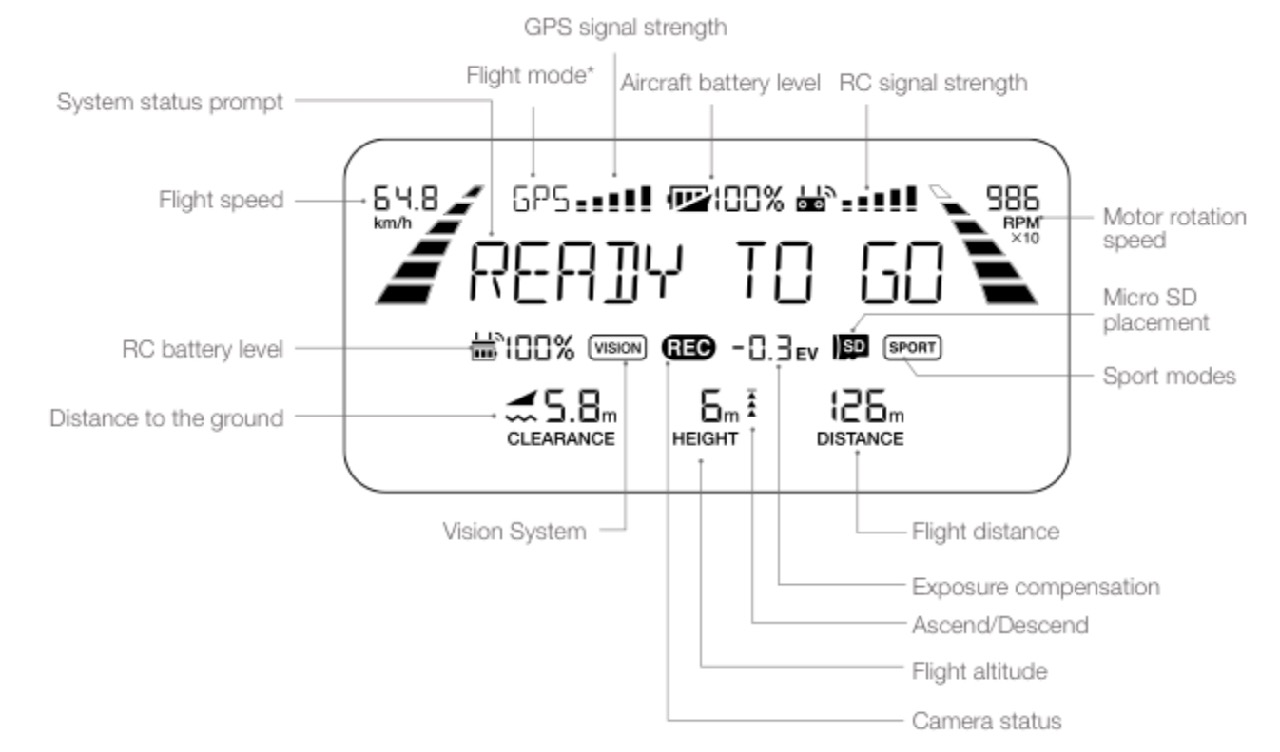 Improved gimbal design
the original Mavic Pro, you know the frustration of dealing with its small, flimsy gimbal that didn't perform well in high winds and was bound to break in the event of a crash.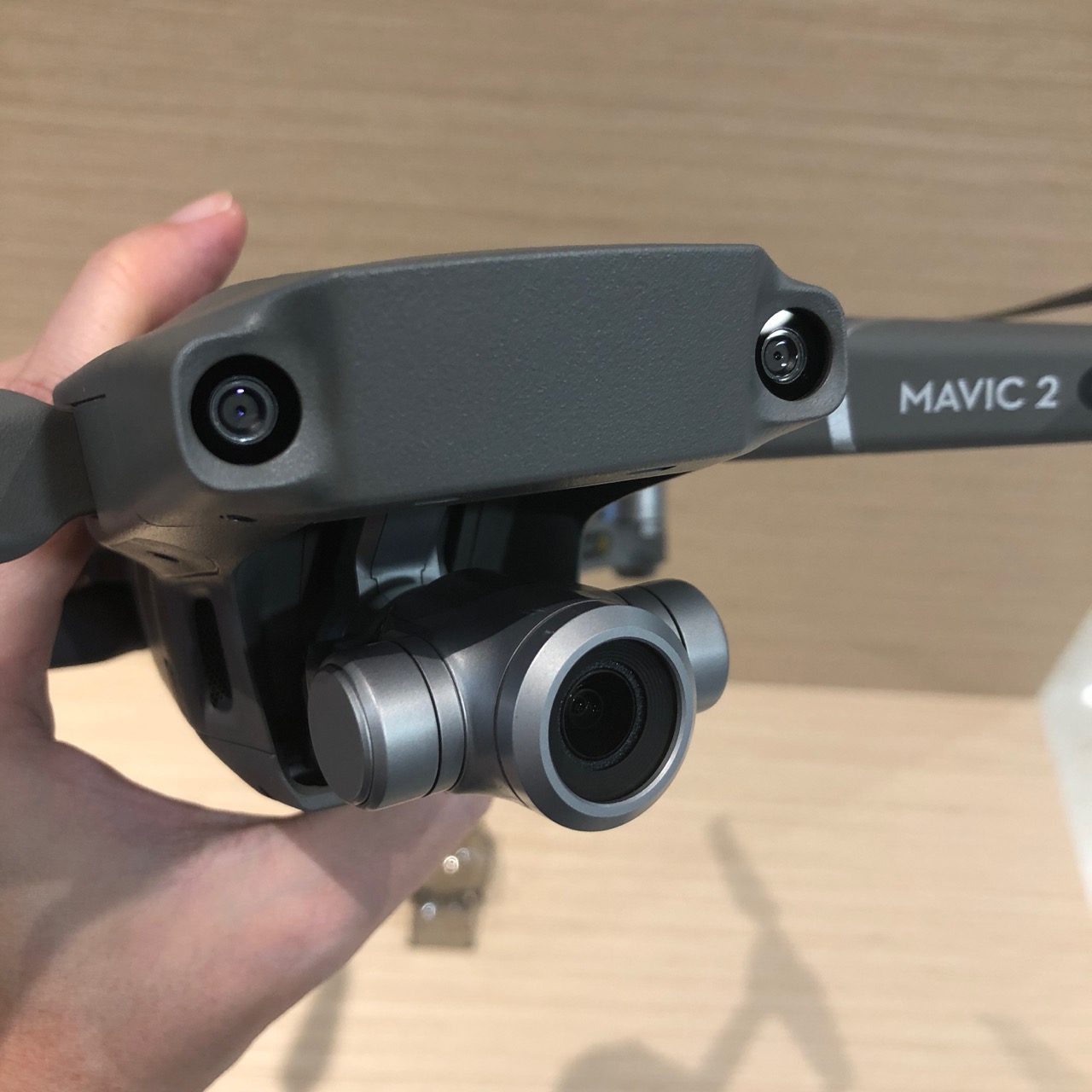 Now, two arms hold each camera on either side and the design is much more robust which handles gusts of wind and unfortunate crashes quite nicely.
Internal storage
Although it is only 8gb, it holds about a full flights worth of 4K footage and between 300-400 RAW photos
Summary
While DJI already dominates the global commercial drone market with a number of impressive models for both consumers and professionals, the company has managed to deliver two new models with never-before-seen features. With the new generation Active Track 2.0, DJI claims that these two models will track your subject better than any DJI product before.
These two models allow you to capture creative footage from new angles, at higher speeds, and from farther distances, so you can see the bigger picture.
You can pre-order the Mavic 2 Pro and Mavic 2 Zoom over here: Online store to buy the DJI Mavic 2 Pro or Mavic 2 Zoom.
Official user manual for Mavic 2 can be found : Mavic 2 Pro Zoom User Manual_v1.0
Follow us on:



Share this article on: