Search Analytics for your site is the latest eBook which I last bought. Operating a online website has its advantage above traditional brick&mortar setup – Measurability. Any organization that has a searchable web site or intranet is sitting on top of hugely valuable and usually under-exploited data: logs that capture what users are searching for, how often each query was searched, and how many results each query retrieved.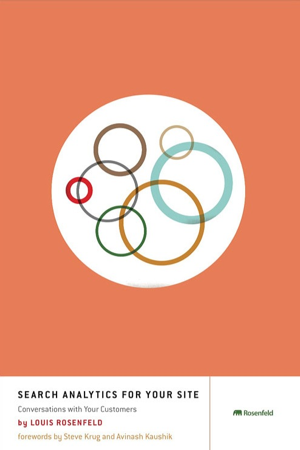 Search queries are gold: they are real data that show us exactly what users are searching for in their own words. This book shows you how to use search analytics to carry on a conversation with your customers: listen to and understand their needs, and improve your content, navigation and search performance to meet those needs.
Table of Contents:
CHAPTER 1 – How Site Search Analytics Can Save Your Butt
CHAPTER 2 – Site Search Analytics in a Nutshell
CHAPTER 3 – Pattern Analysis
CHAPTER 4 – Failure Analysis
CHAPTER 5 – Session Analysis
CHAPTER 6 – Audience Analysis
CHAPTER 7 – Goal-Based Analysis
CHAPTER 8 – Practical Tips for Improving Search
CHAPTER 9 – Practical Tips for Improving Site Navigation and Metadata
CHAPTER 10 – Practical Tips for Improving Content
CHAPTER 11 – Bridging Web Analytics and User Experience
Other Book Information:
Title: Search Analytics for Your Site
By: Louis Rosenfeld
Publisher: Rosenfeld Media
Pages : 224
Ebook ISBN: 978-1-933820-04-0
Read other related posts:
No related posts at the moment.
Follow us on:



Share this article on: