Come 30 September, Singapore Retailers Association (SRA) will launch Singapore Golden Week (SGW) 2016 – a brand new lifestyle event to be held over three weekends from 30 September to 16 October, with global payment network UnionPay as the Official Card. With the aim of heightening the appeal of Singapore as a choice lifestyle destination for locals and tourists, the inaugural SGW 2016 will feature a suite of golden retail privileges, sure-win rewards and pampering experiences for consumers to indulge in.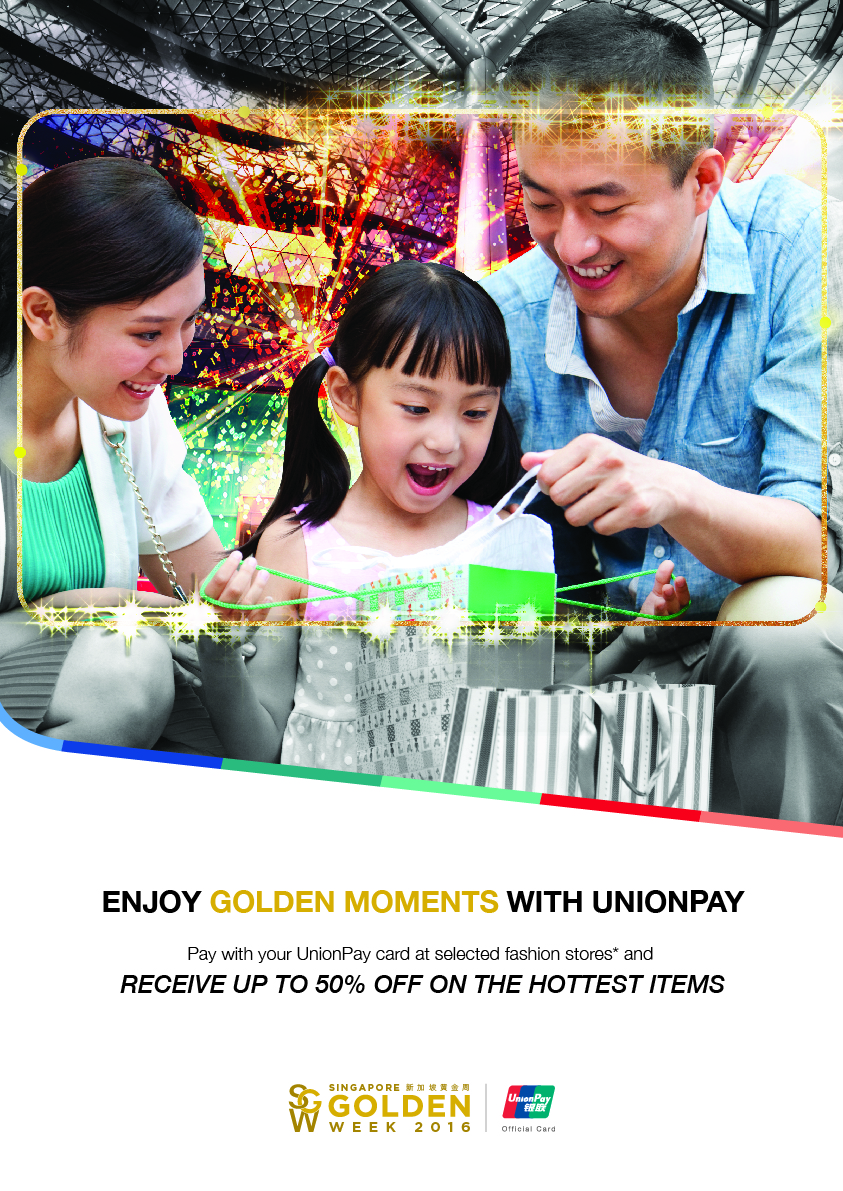 GOLDEN "RETAIL" PRIVILEGES
Over 200 participating outlets across retail, food and beverage (F&B), beauty and wellness, as well as hotels and attractions categories among others, will be giving UnionPay Cardholders more reasons to spend with exclusive "Golden Retail Privileges" at SGW 2016.
Cardholders can enjoy exclusive discounts as well as gifts with purchase when they shop at participating merchants with their UnionPay cards at SGW 2016. Popular participating merchants include department stores Isetan Scotts, Metro and Robinsons; clothing labels Dockers, Dorothy Perkins, Karen Millen, Levi's, T.M.Lewin, Topshop, Topman, Warehouse; local attraction Alive Museum and many more.
(For the full list of participating merchants till date, please refer to Annex A.)
GOLDEN "SURE-WIN" REWARDS
During SGW 2016, Cardholders who make a minimum purchase of S$50* with their UnionPay card anywhere in Singapore can take part in the "Golden Sure-Win Rewards" game located at ION Orchard's Level 1 Atrium. In addition, shoppers who make purchases within ION Orchard can enjoy double chances of winning. Shoppers who spend $688 and above at selected Premier Tax Free merchants are entitled to a free limousine ride*. With over S$10,000 worth of shopping vouchers and prizes up for grabs in the "Golden Sure-Win Rewards" game, everyone can be a winner at SGW 2016!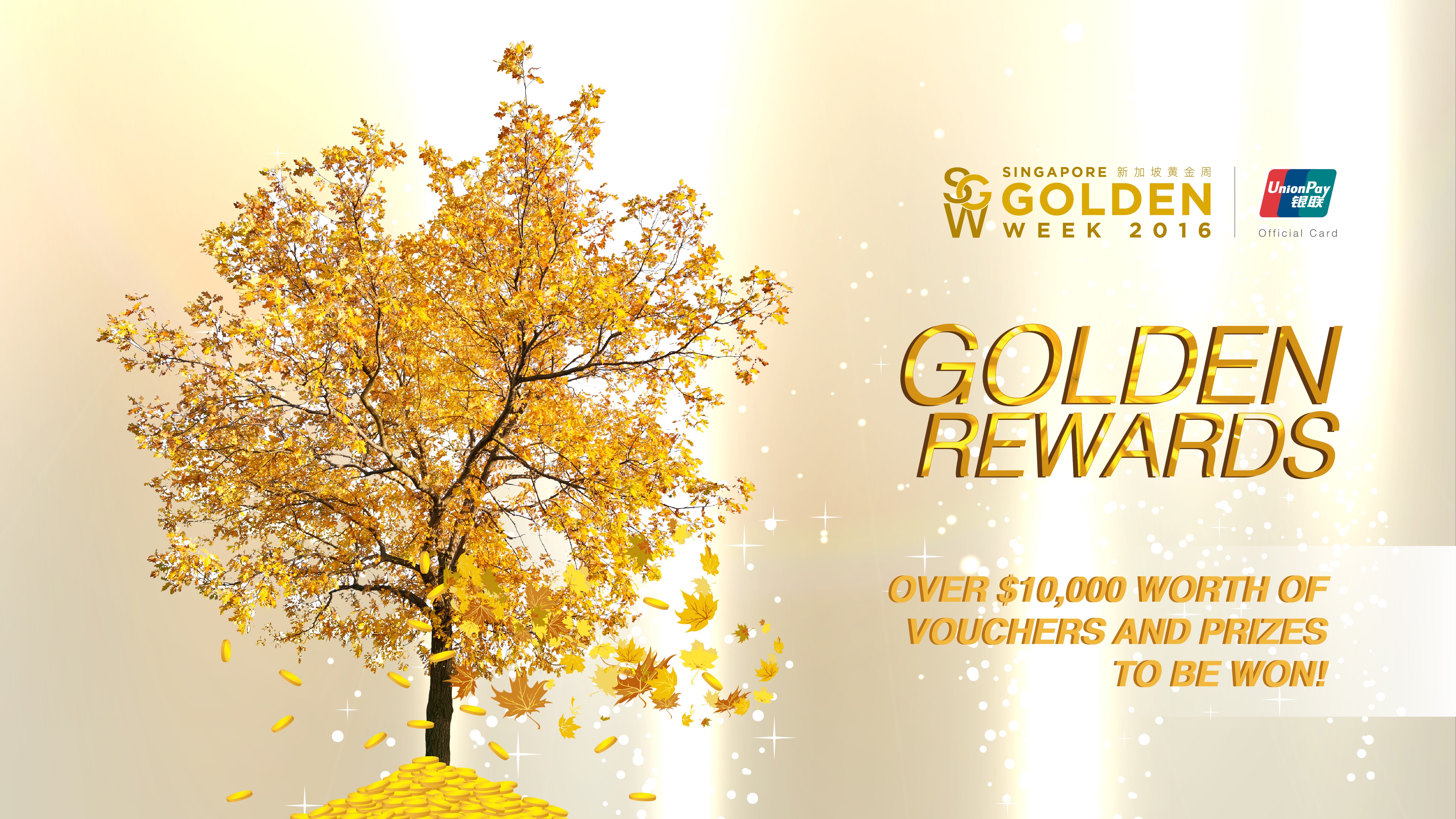 GOLDEN "PAMPERING" EXPERIENCES AT THE UNIONPAY GOLDEN LOUNGE
In addition to the golden retail privileges and sure-win rewards, SGW 2016 promises pampering experiences for all locals and tourists, including non UnionPay Cardholders. Simply pop by the exclusive UnionPay "Golden Pampering Lounge" located at ION Orchard's Level 1 Atrium, to enjoy a fresh cup of gourmet coffee, free flow gourmet cookies and take a break from the busy downtown shopping environment.
UnionPay Cardholders can also present their UnionPay card to gain access to the exclusive VIP area, decked out with OSIM massage chairs for an even more luxurious experience. Plus, Cardholders can enjoy a special cup of gourmet "Gold Brew" coffee sprinkled with edible gold dust for the additional gold rush. With mobile charging ports available for the power-hungry and some of Singapore's favourite brands and foods on show, there will not be a single dull moment at the "Golden Pampering Lounge".
"UnionPay is delighted to be named as the Official Card for Singapore Golden Week 2016. As a brand new lifestyle event to be held over three weekends in September and October, we hope that this will light up the local retail scene, and offer new lifestyle experiences for both local and overseas UnionPay Cardholders to enjoy. And as we continue to build on the momentum to provide better products and services for consumers here in Singapore, we also hope to be able to, at the same time, bring fresh experiences, more choices and excitement to everyone," said Mr. Wenhui Yang, General Manager of UnionPay International Southeast Asia.
"Singapore Retailers Association is pleased to partner UnionPay again to bring consumers yet another event to look forward to and a new golden opportunity for the industry to leverage on. With a base of over 5.4 billion UnionPay Cards issued worldwide, Singapore Golden Week aims to create a new opportunity for retailers to drive spending among the overseas UnionPay Cardholders who will be here, as well as UnionPay Cardholders in Singapore. We are excited about the new business opportunities that SGW presents and the benefits that our partnership with UnionPay can potentially bring to participating merchants," said Mr. Anthony Gan, Executive Director, Singapore Retailers Association.
"ION Orchard is a favourite mall among locals and Chinese tourists and is the ideal location for UnionPay's first Singapore Golden Week campaign. We are especially delighted to be the official mall that houses UnionPay's Golden Pampering Lounge for their campaign for all redemptions. The central location along Orchard Road will certainly make shopping more convenient – and for purchases made at ION Orchard, shoppers will enjoy double chances when playing the 'Golden Sure-Win Rewards' game at the lounge, making it a truly rewarding shopping experience," said Mr. Chris Chong, CEO Orchard Turn Developments.
UnionPay International focuses on supporting the growth of UnionPay's global payments business. With an acceptance footprint covering 160 countries and regions globally, UnionPay serves the world's largest cardholder base by providing quality, cost-effective and secure payment services to over 5.4 billion Cardholders worldwide.
In Singapore, UnionPay enables efficient and cost-effective payment services that are tailored to the needs of local businesses and consumers. UnionPay cards are issued by Bank of China (BOC), DBS Bank (DBS), Industrial and Commercial Bank of China (ICBC) and United Overseas Bank (UOB) in Singapore, and are accepted at over 80 percent of retail, lifestyle and food and beverage establishments locally, as well as at almost all automated teller machines (ATMs) across the island.
For more information on Singapore Golden Week, visit www.singaporegoldenweek.com.sg and follow Singapore Golden Week on Facebook. For more information on UnionPay International, visit http://www.unionpayintl.com/.
*Terms & Conditions apply.
Read other related posts:
No related posts at the moment.
Follow us on:



Share this article on: