Finally the long awaited Google Pixel series was launched on 20th Oct 2016, that was after long six years of partnering up with device makers to create its Nexus phones. The Pixel and Pixel XL are the latest additions to its line of in-house products.Naturally, they are also the first Daydream-ready phones.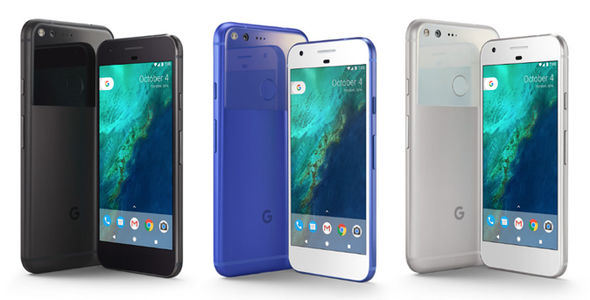 The Pixel is the smaller of the two new devices, while the Pixel XL is the larger version. The Pixel comes in with 143.8 x 69.5 x 8.6mm and weighs 143g, while the Pixel XL comes in with 154.7 x 75.7 x 8.6mm and weighs 168g.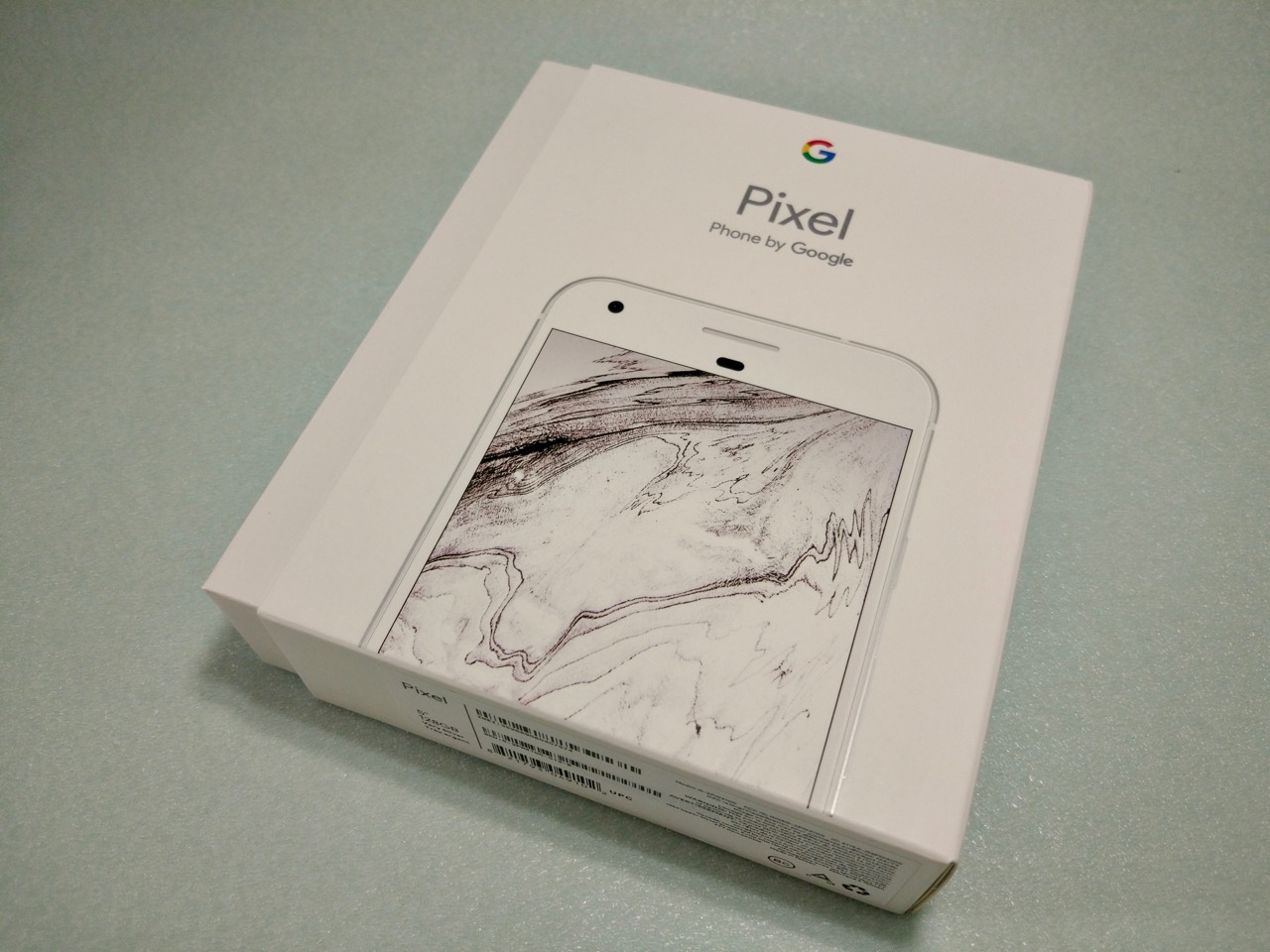 Exterior of Pixel Phone: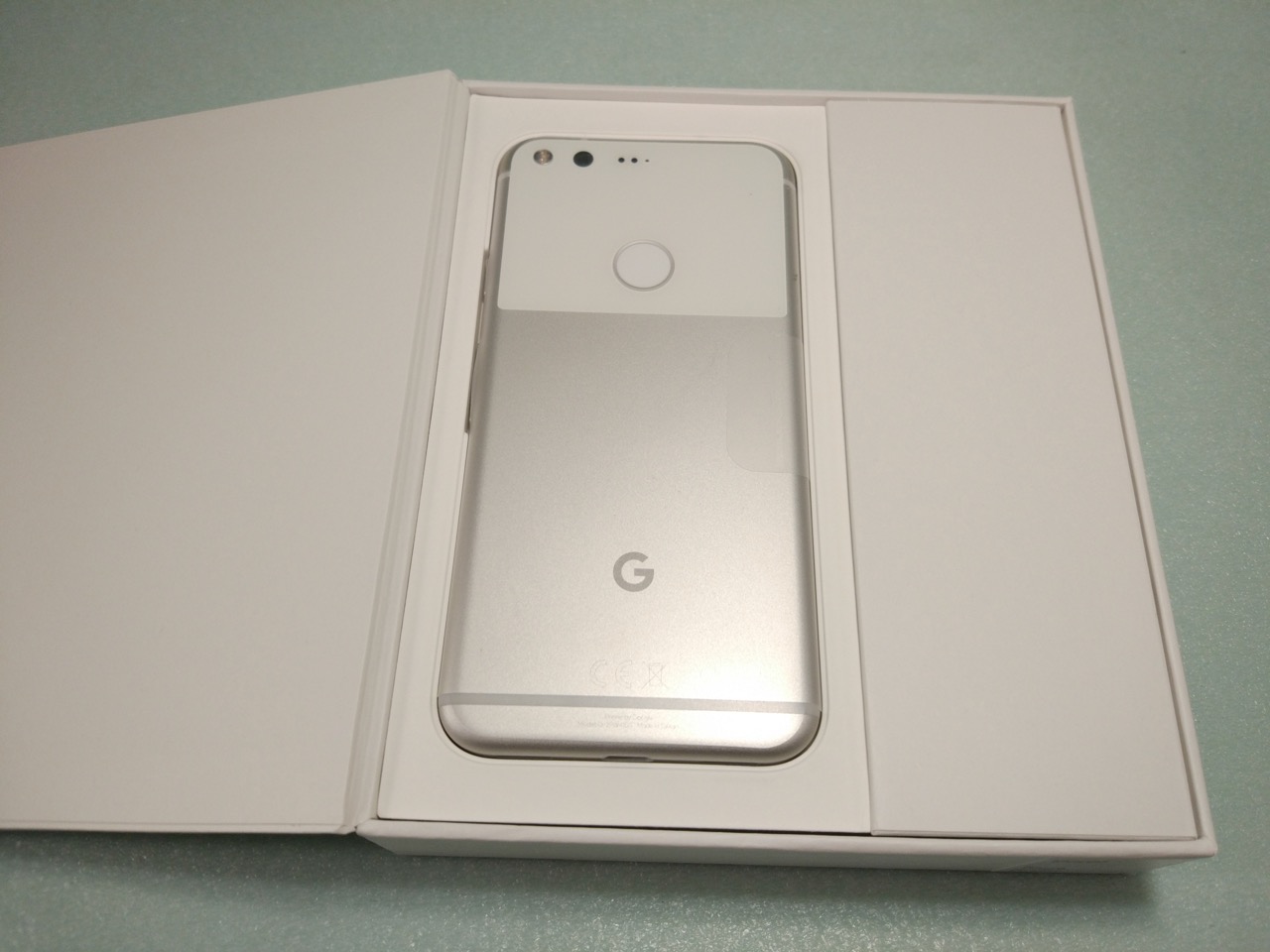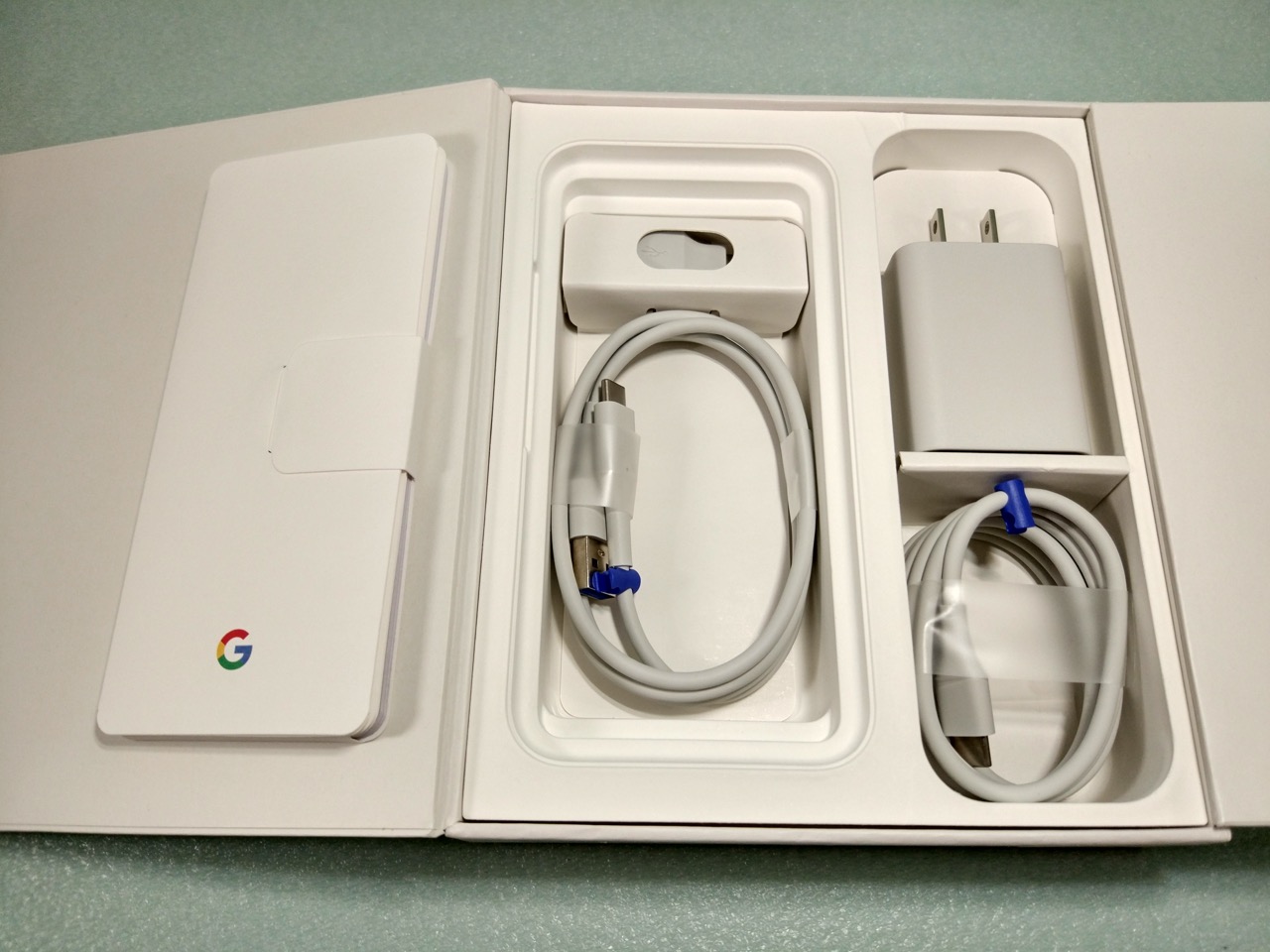 Both Pixel and Pixel XL could be the Android with the closest feel running in iPhone-like body. Nothing too spectacular on the front with exception of a bottom chin beneath the display – to me it is one wasted space.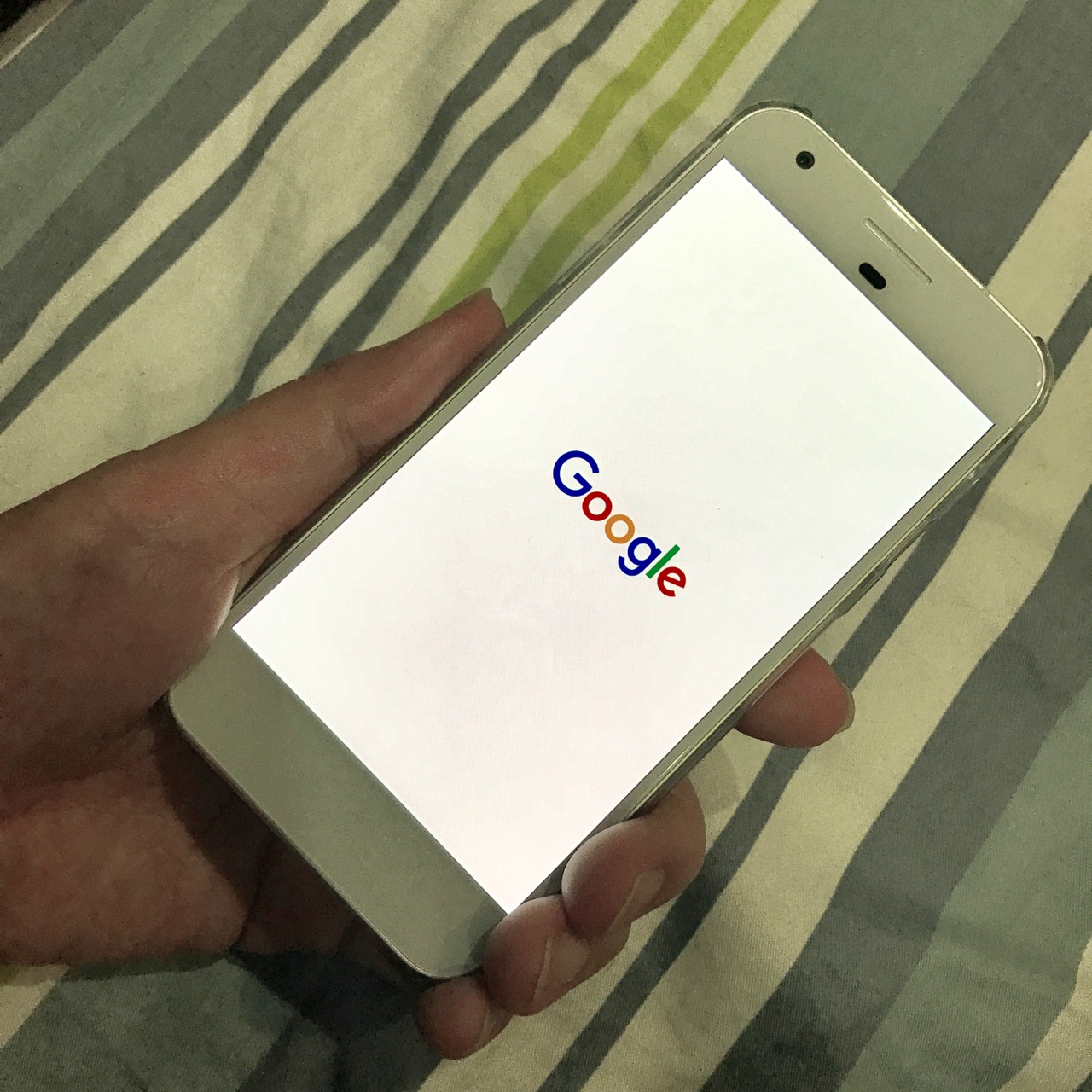 On the back, there's a combination of a matte metal finish and a glossy plastic finish in the upper half of the back. The back also houses the fingerprint sensor and the distinctive Google's G logo. The fingerprint sensor is lightly larger than most fingerprint sensors used on other Android smartphones. Personally, I would prefer the fingerprint sensor to be located on the front panel for ease of accessibility.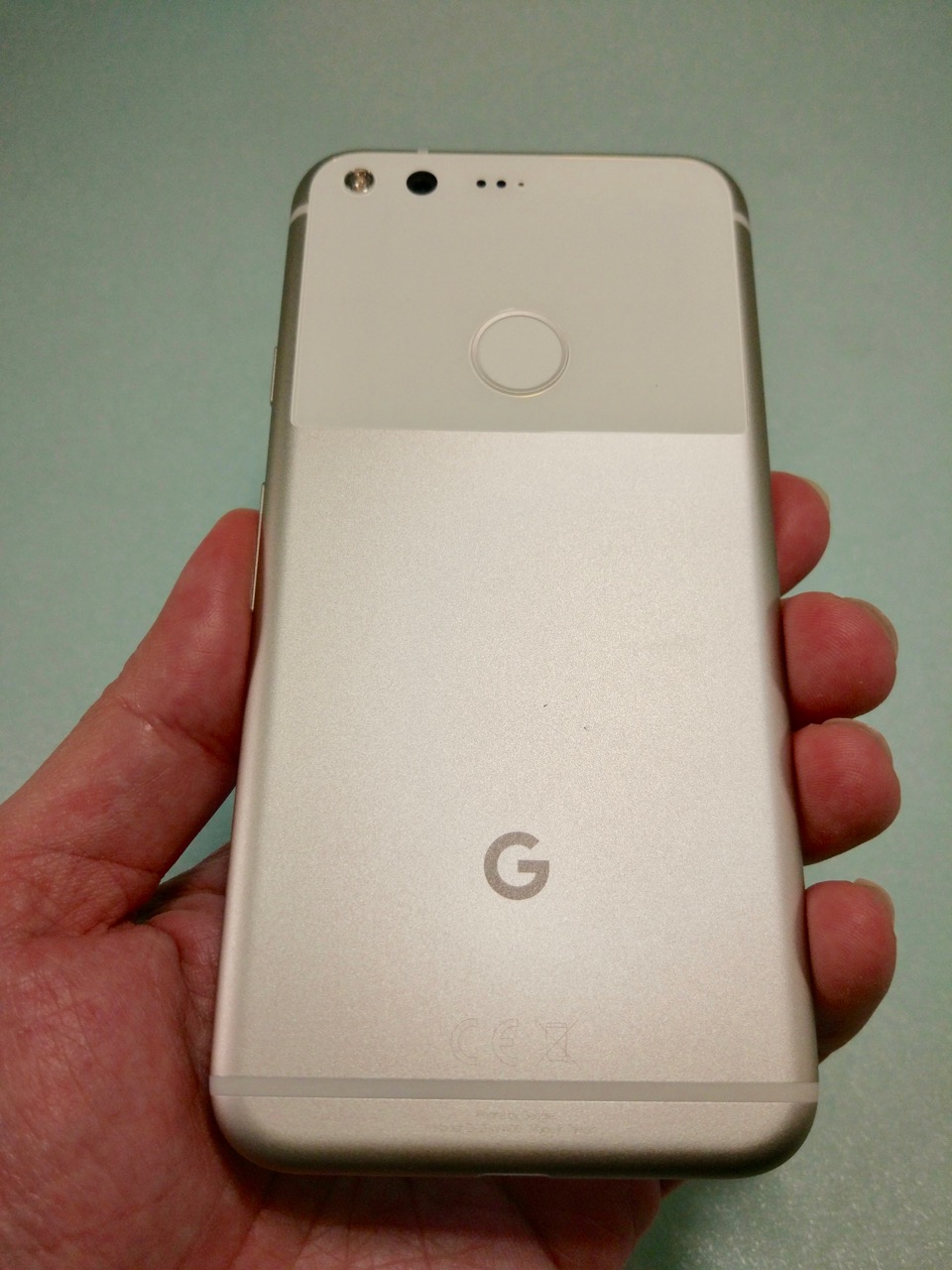 To the right, there are the power and volume button.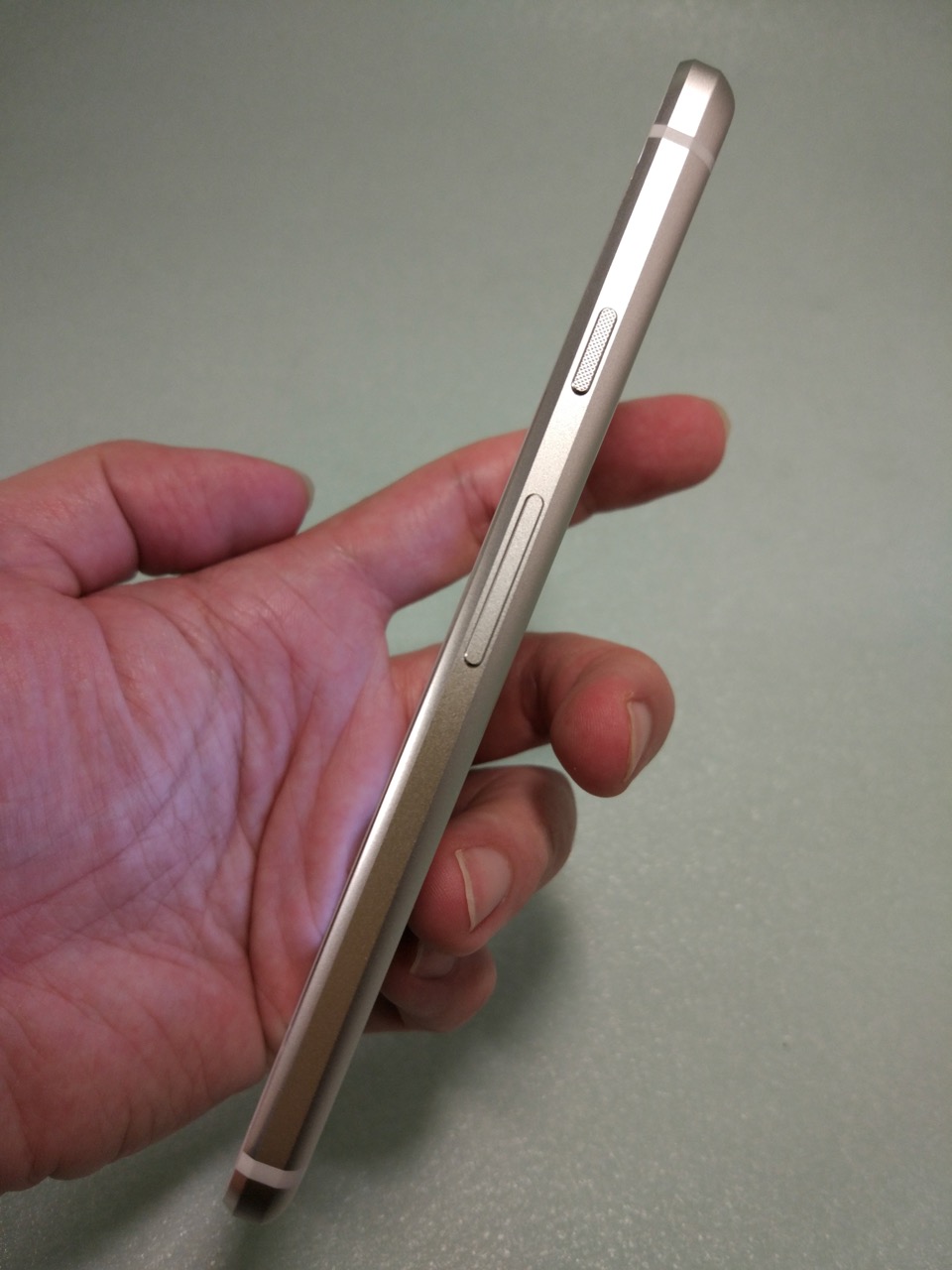 To the left, we have the single SIM card tray. Sadly, there is no dual SIM nor microSD card expansion for both Pixel and Pixel XL.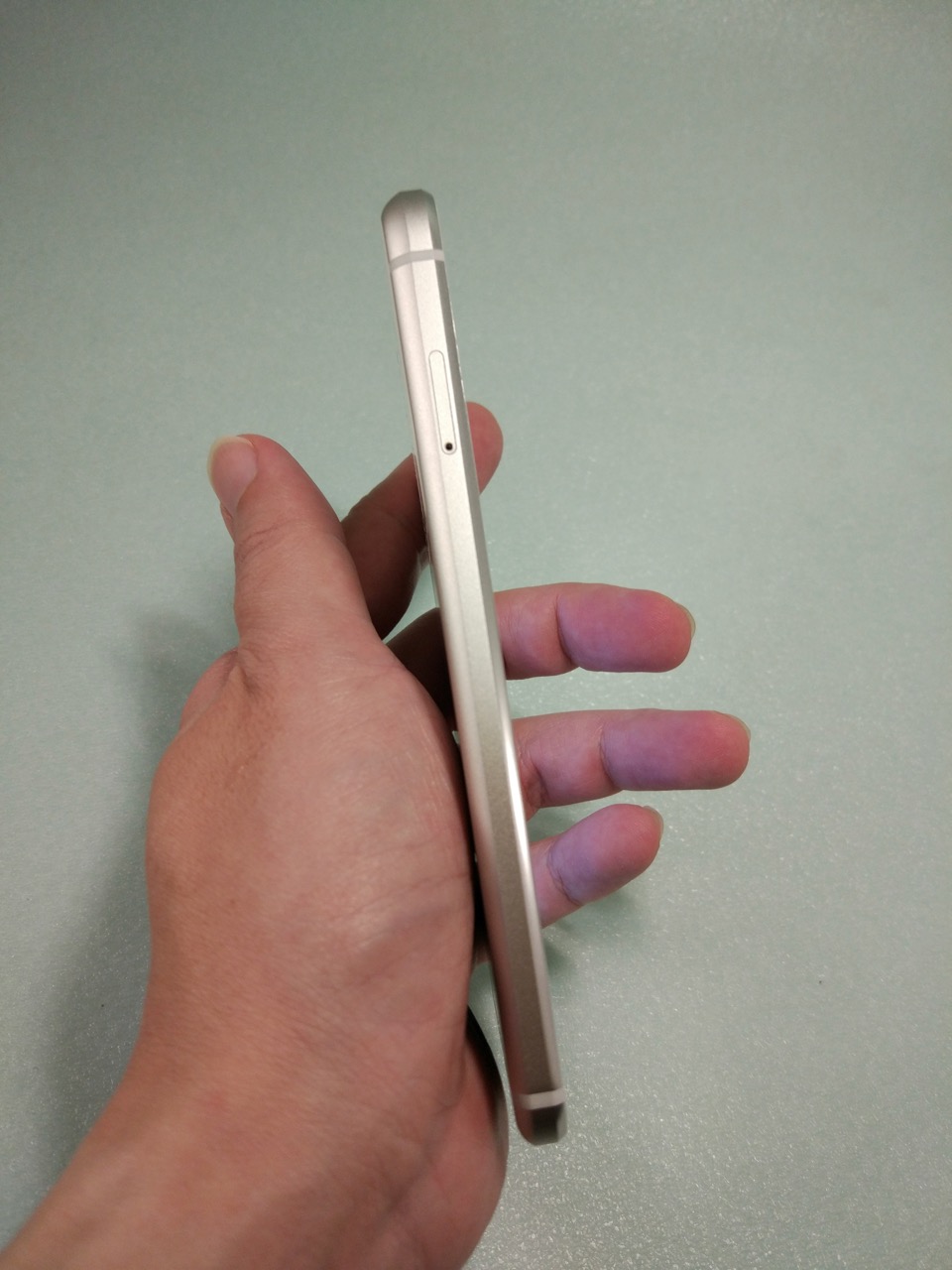 At the top is the headphone jack while at the bottom is the USB Type-C port, single speaker and microphone.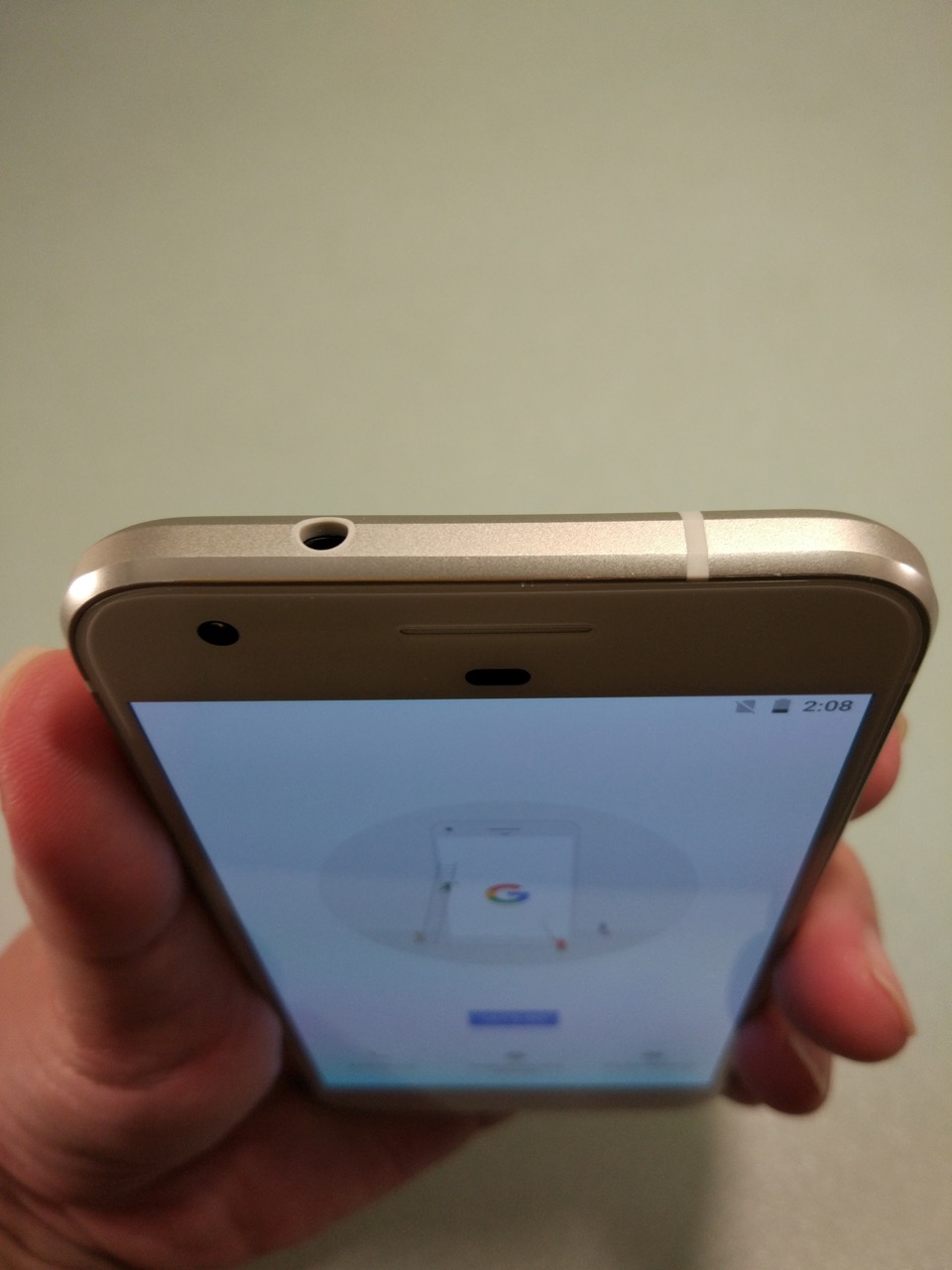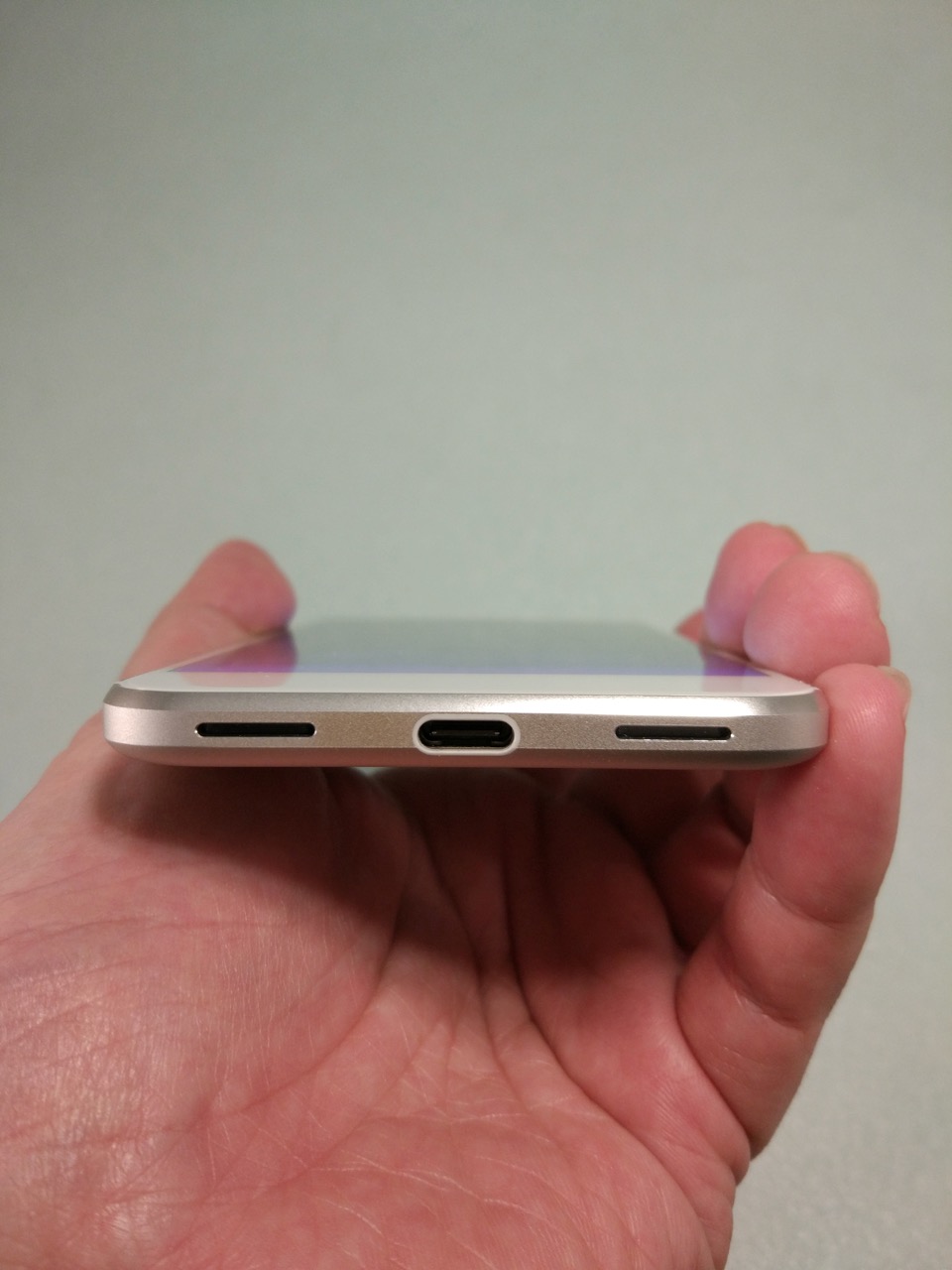 Overall, the Pixel gives quite a premium feel with its glass-metal design. Like the Samsung phones, there is no camera bump on the back. The only disappointment – it is not waterproof and has no stereo speakers.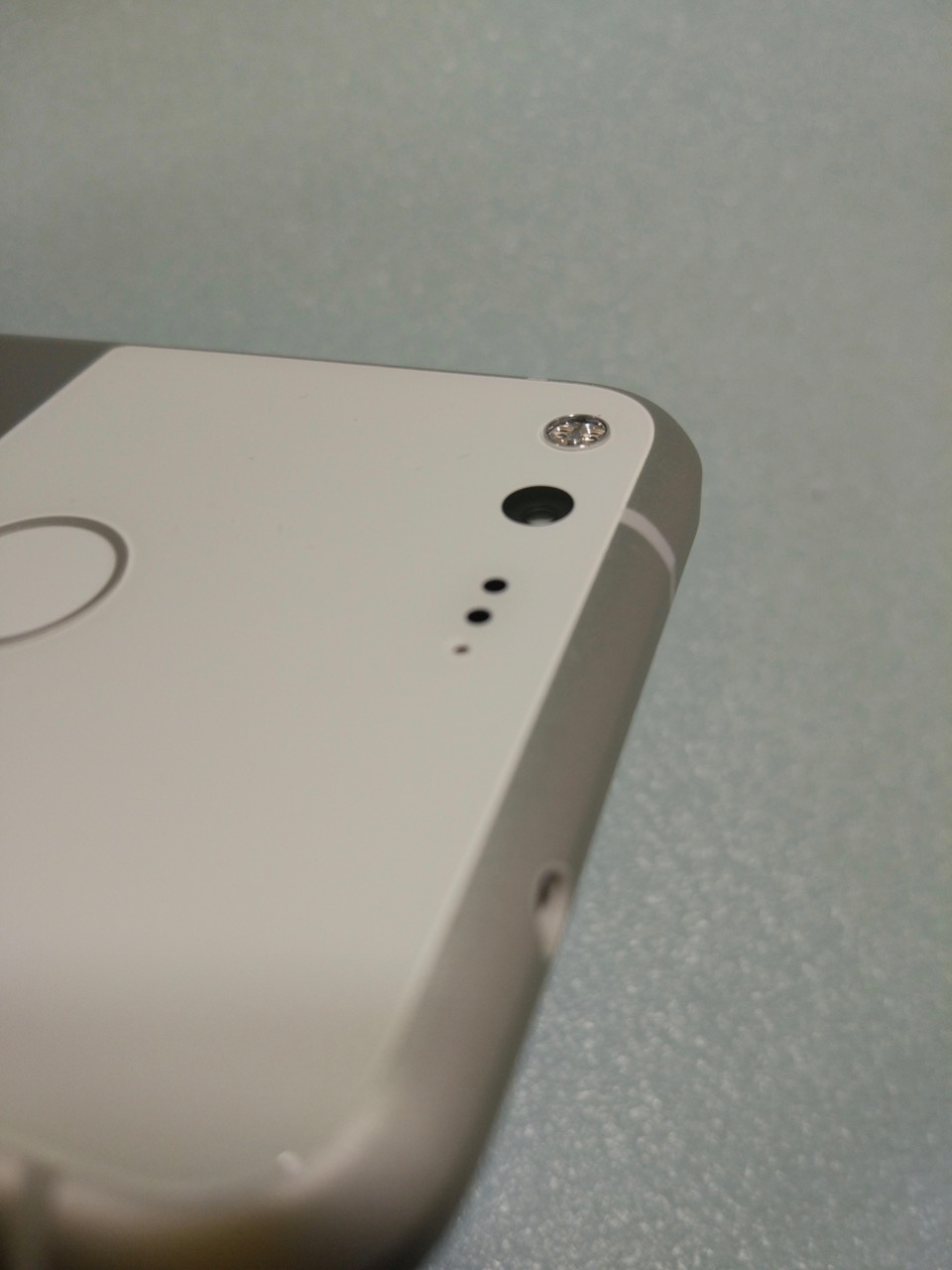 Internal of Pixel Phone:

Both Pixel and Pixel XL comes with Quad HD AMOLED display which is a bright and vibrant panel to use even in outdoor conditions. It is also well protected by a Corning Gorilla Glass 4 protection.

Pixel is powered by the latest Snapdragon 821 chipset – which features 2 high-power Kryo cores at 2.15GHz and 2 high-efficiency cores at 1.6GHz) alongside 4GB of RAM and an Adreno 530 GPU.

Compared to iPhone 7's A10 Fusion chipset (2210), and Samsumg S7's Exynos 8890 and LG G5's Snapdragon 820, Pixel's computing performance comes in pretty comparable.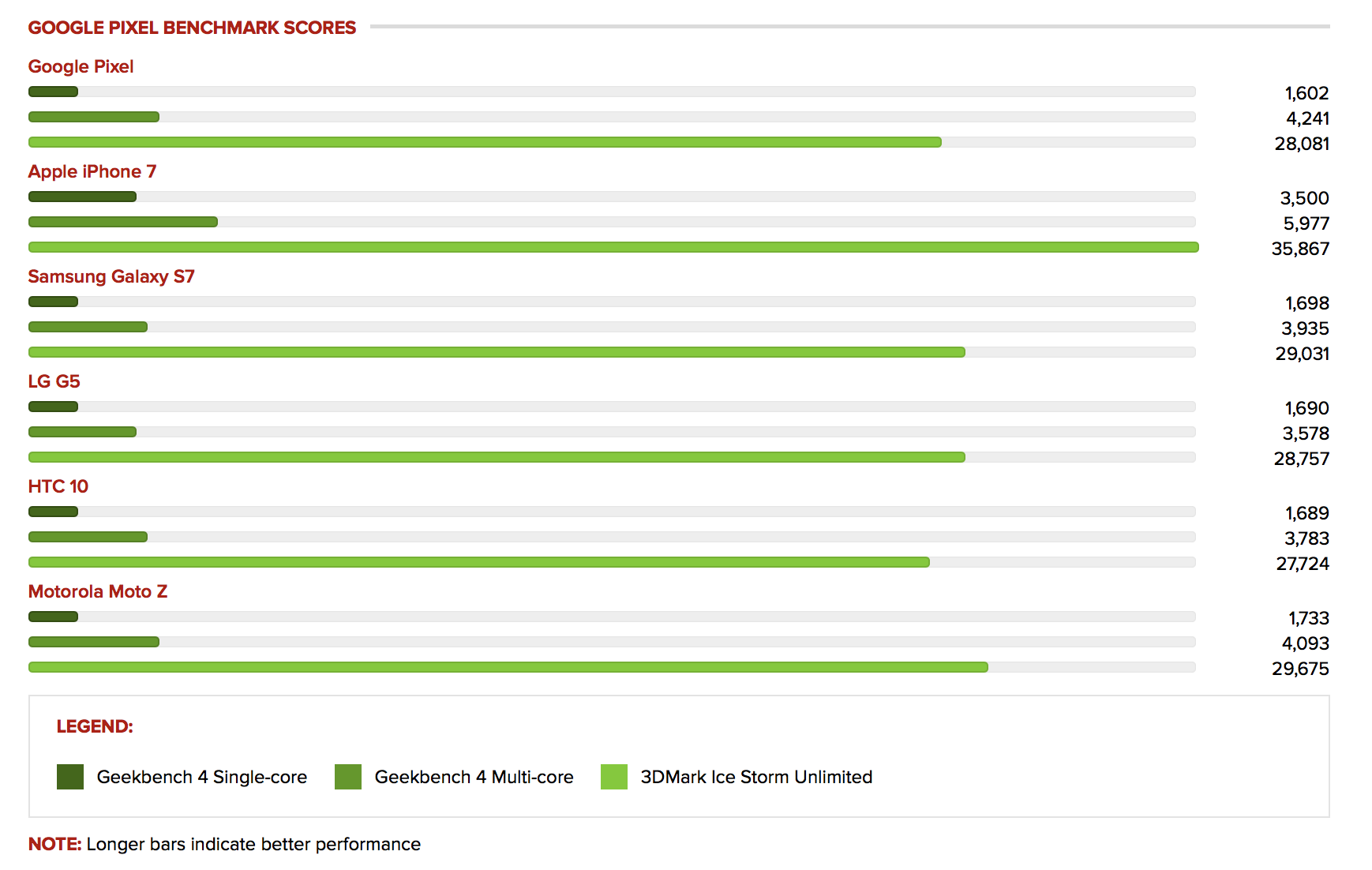 [Comparison: Left – Google Pixel, Centre – iPhone 7, Left iPhone 7 Plus]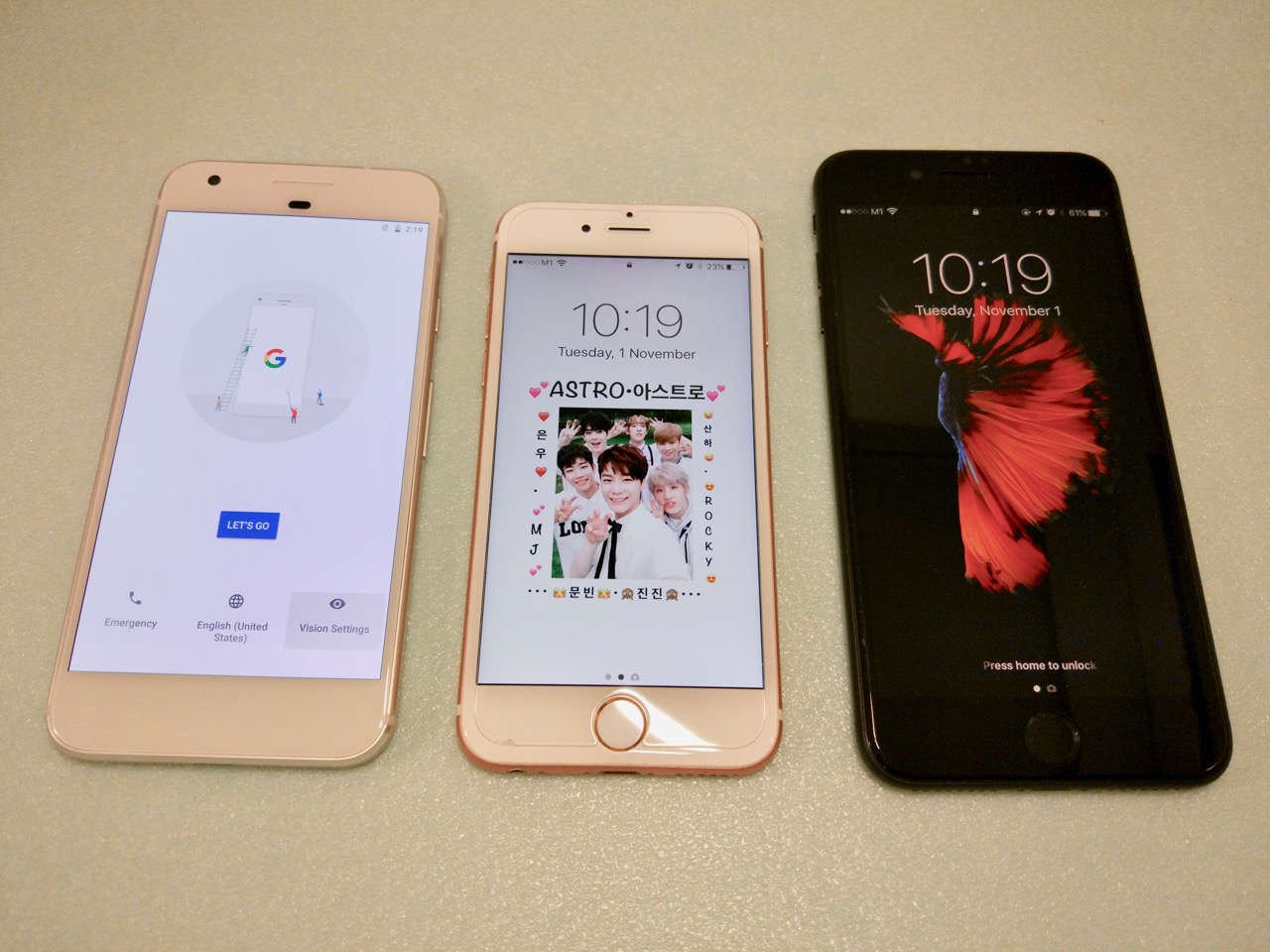 [Comparison: Left – Google Pixel, Centre – iPhone 7, Left iPhone 7 Plus]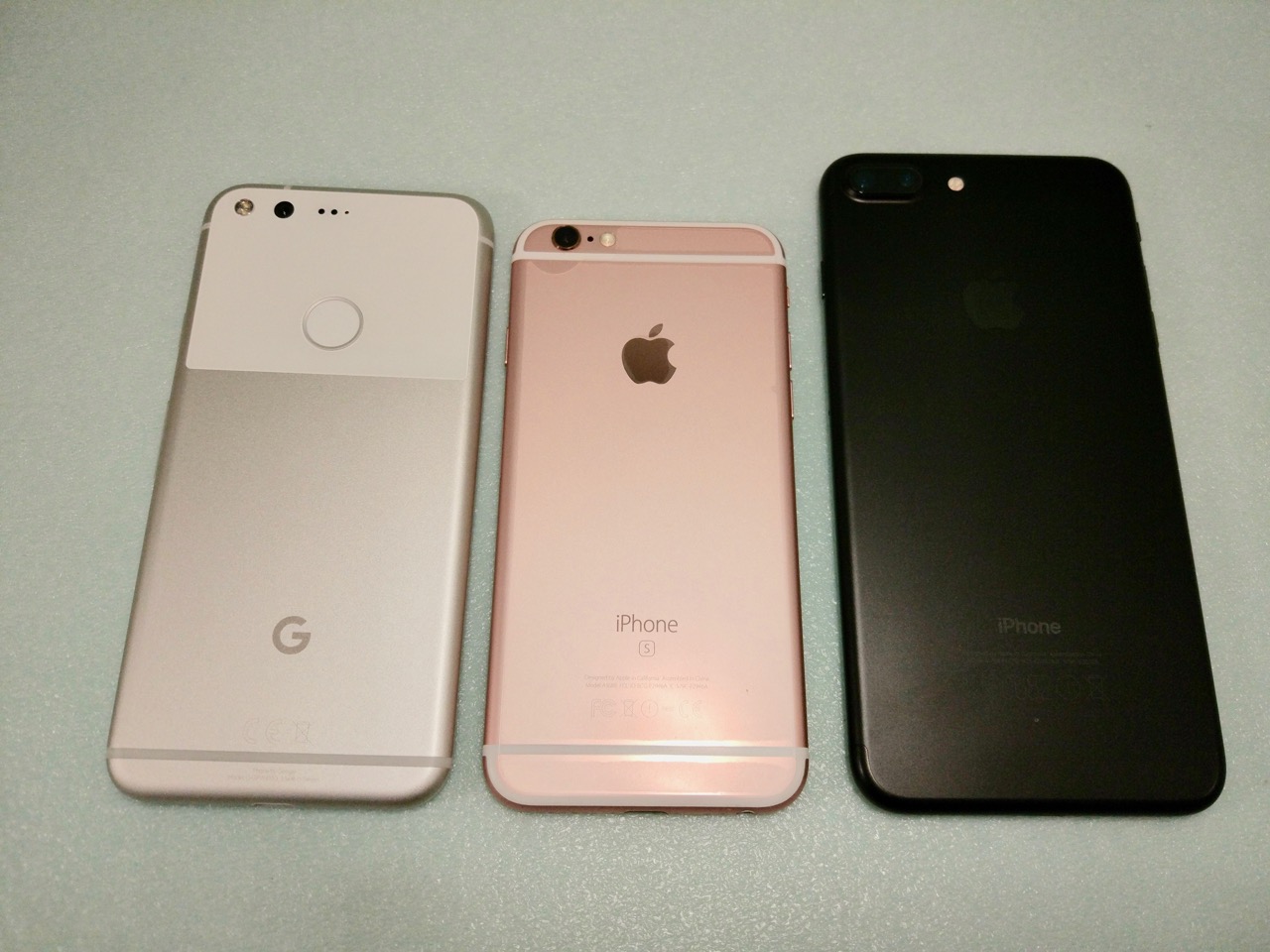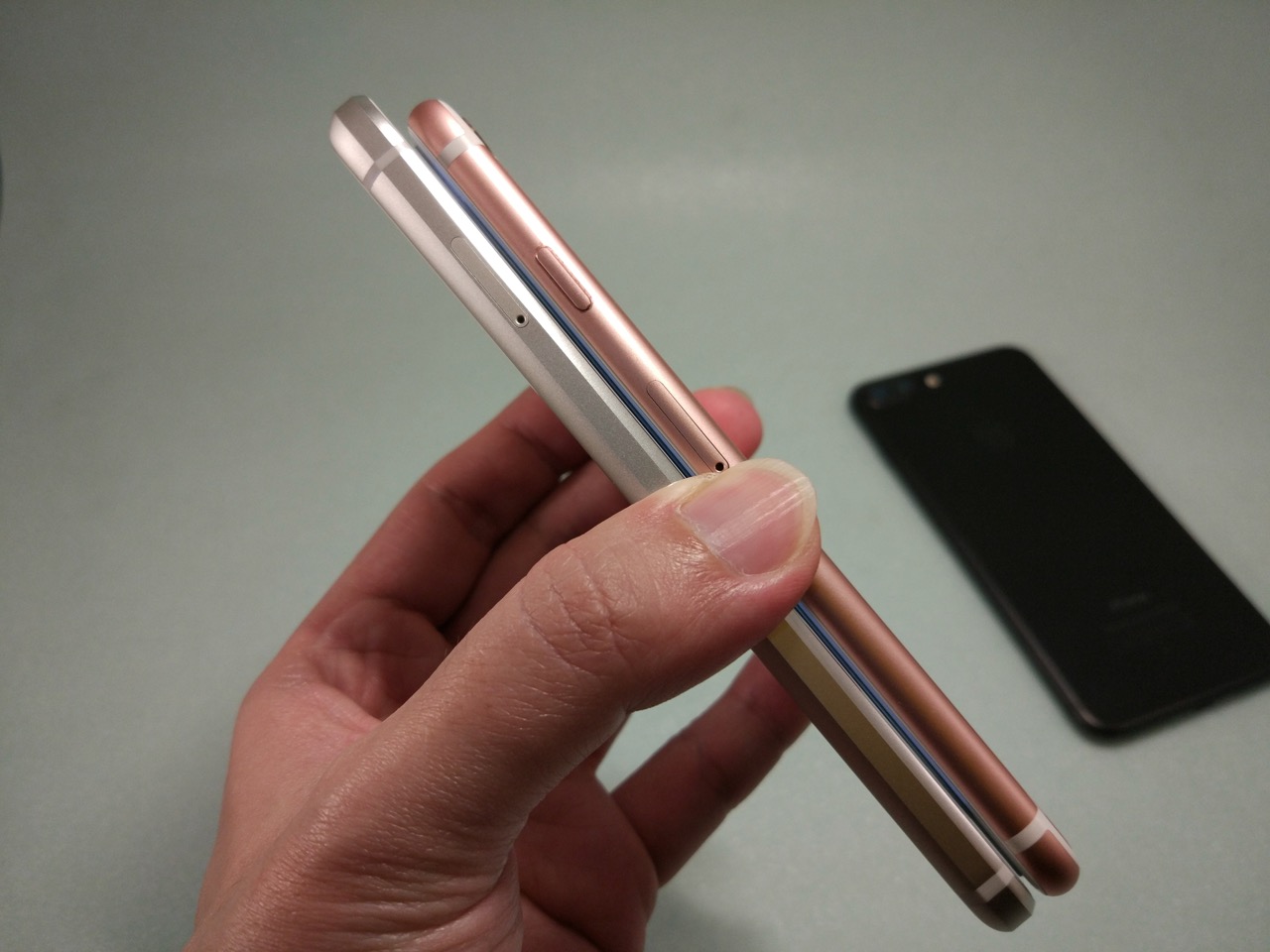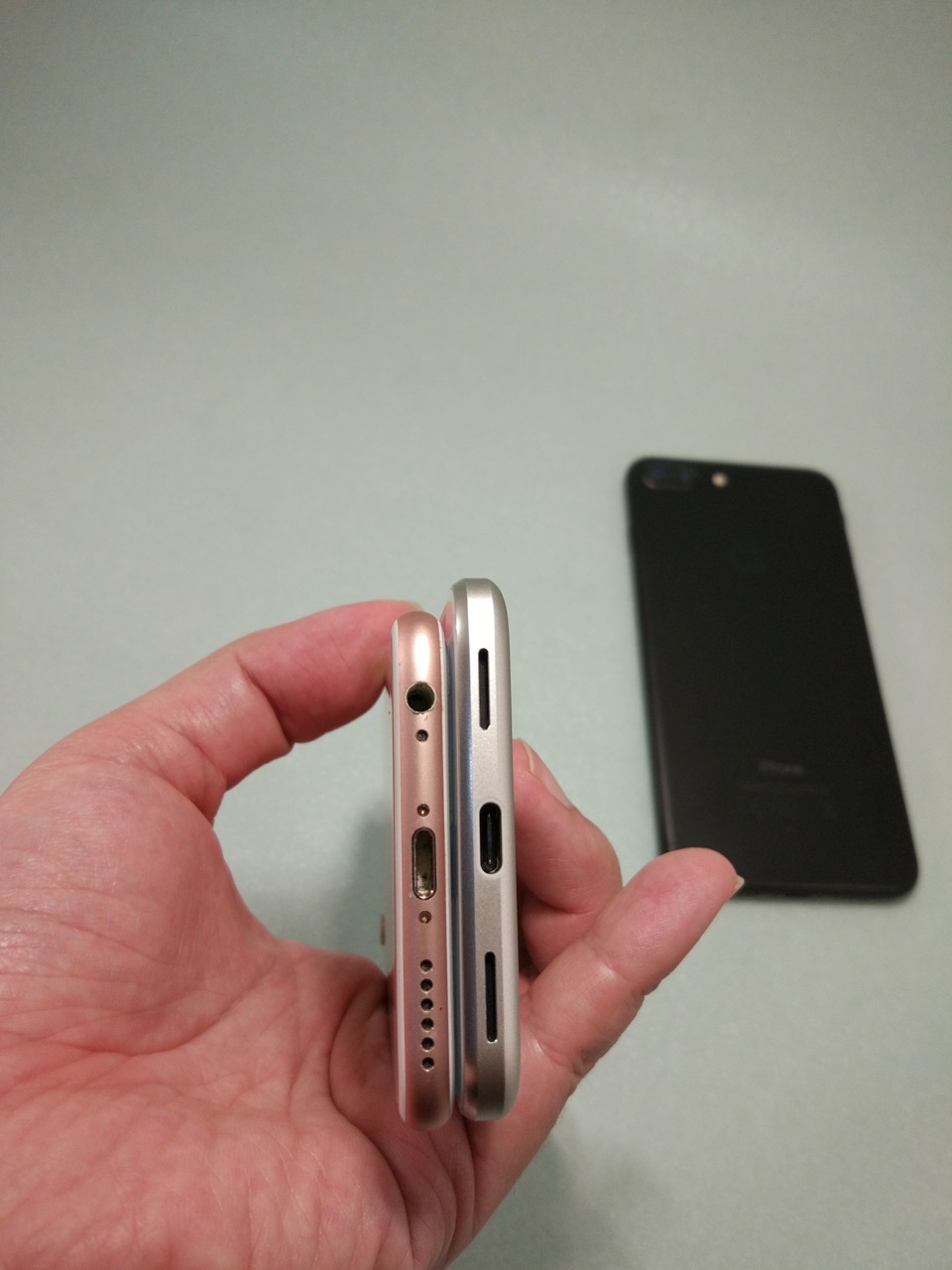 Other features:

Pixel/Pixel XL comes with two storage options – 32GB and 128GB. In addition, Google allows Pixel users to get unlimited full resolution uploads to Google Photos.

Under the hood, there's a 3,450mAh battery powering the entire Pixel XL experience, which is slightly more than the 3,000mAh unit inside the Pixel.

the Pixel XL supports rapid charging and within 30 minutes, you'll find you can add up to 40 percent battery, although the whole thing does take around 2 hours to charge,

The Google Pixel and Pixel XL both have a 12.3-megapixel rear camera with a f/2.0 aperture and 1.55µm pixels. Google claims the Pixel XL has the highest DxOMark rating for any smartphone (with a score of 89).



[Picture by Google Pixel]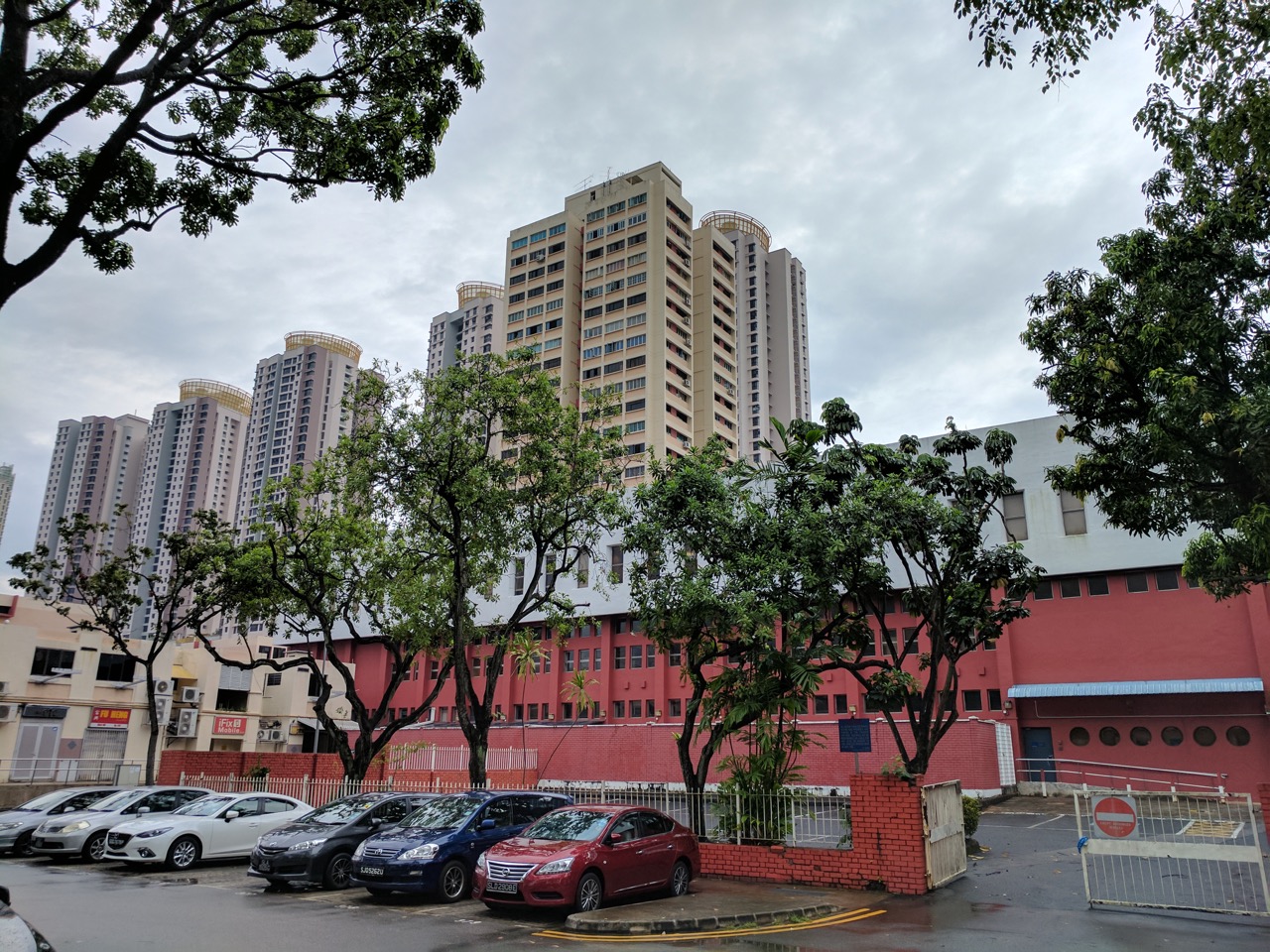 [Picture by iPhone 7 Plus]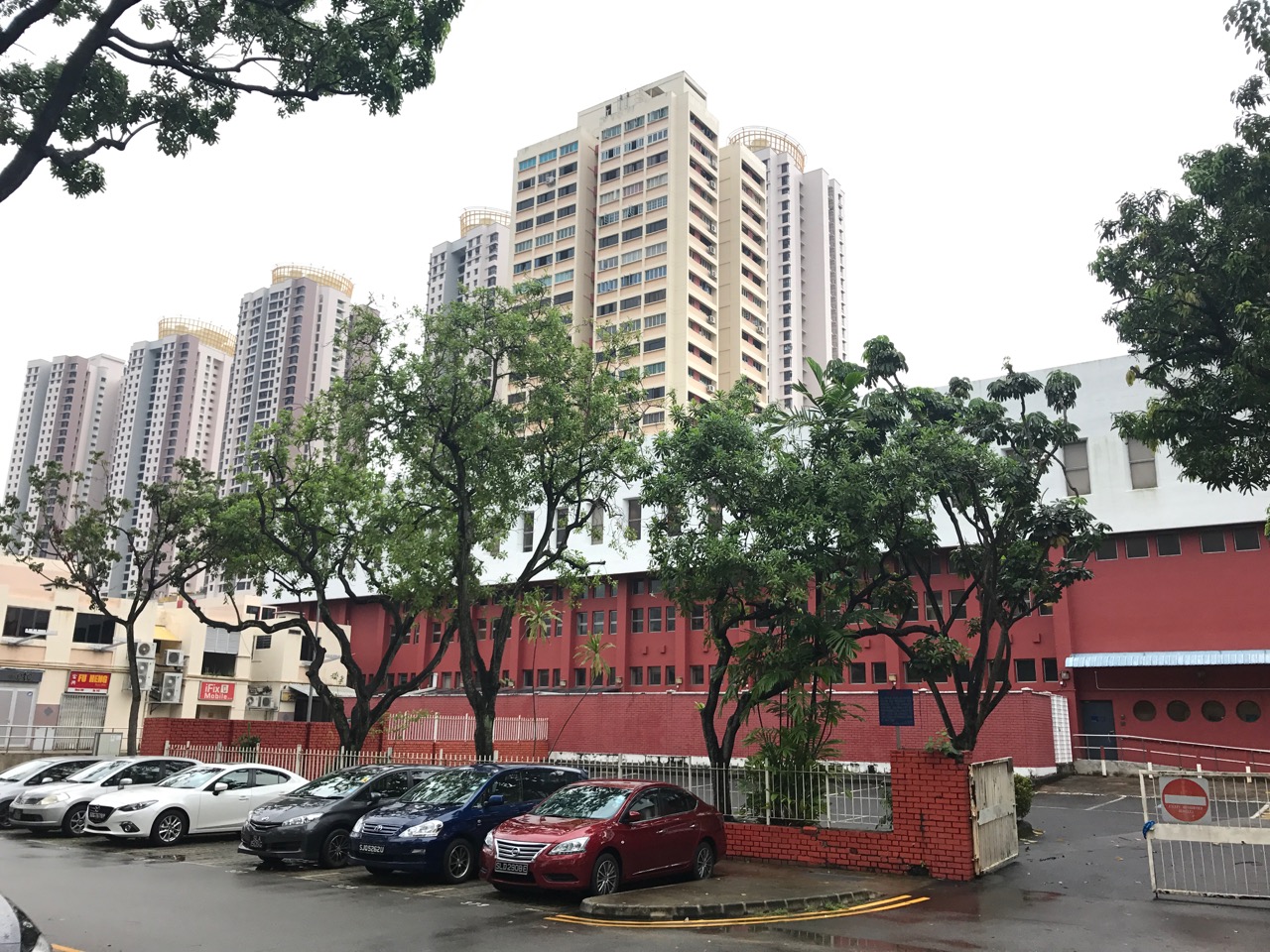 The biggest of these is the lack of Optical Image Stabilisation but it does come with Electronic Stabilisation. Thus,
photos taken in dim lighting understandably weren't as sharp.
The Pixel and Pixel XL run the latest Android 7.1 Nougat OS out of the box. The biggest selling point for the Pixels is Google Assistant, Google's new AI-based voice assistant that offers some incredible features. The same assistant that powers Google Allo – but now available through all the Android interface – it is only available in the Pixel and Pixel XL, at least in its current form. Essentially, it is a much-smarter version of Google Now and allows you to communicate with Google using more conversational speech patterns.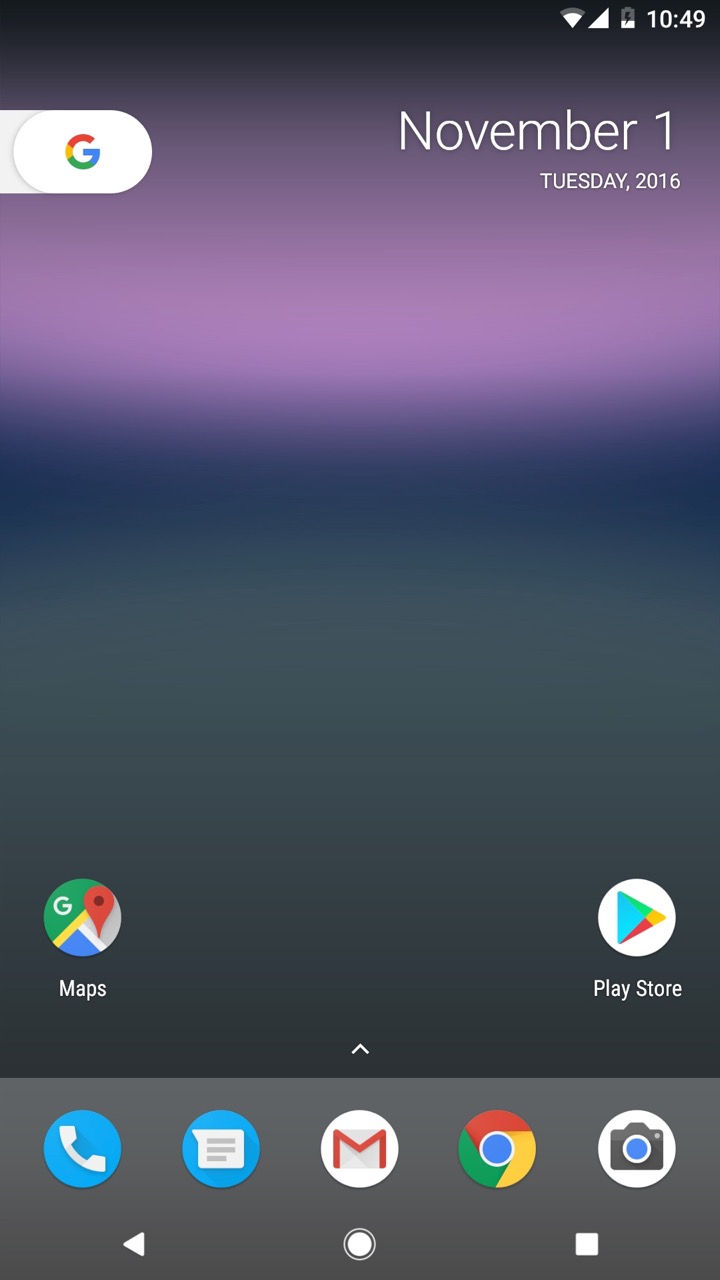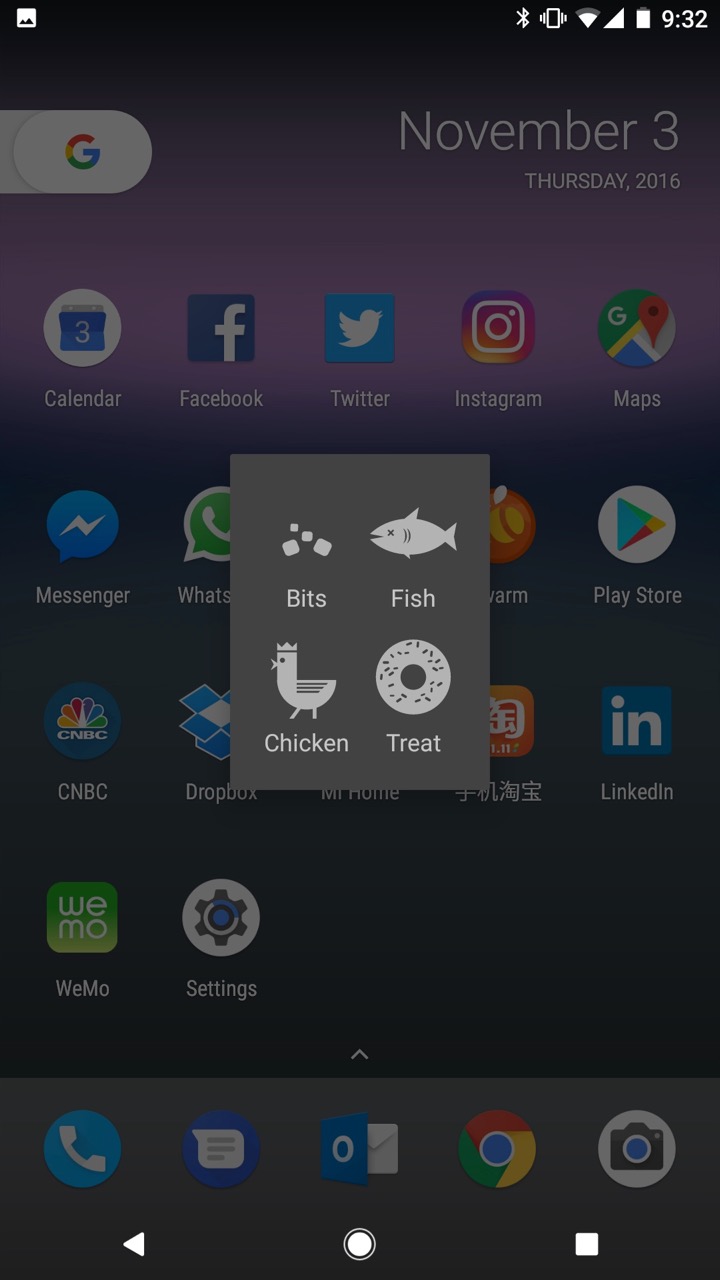 Tucked inside the packaging of the Pixel and Pixel XL is a unique adaptor which allows data to be transferred from the iPhone to this Android smartphone. A cable is then used to instantly swap the content with the whole process taking minutes.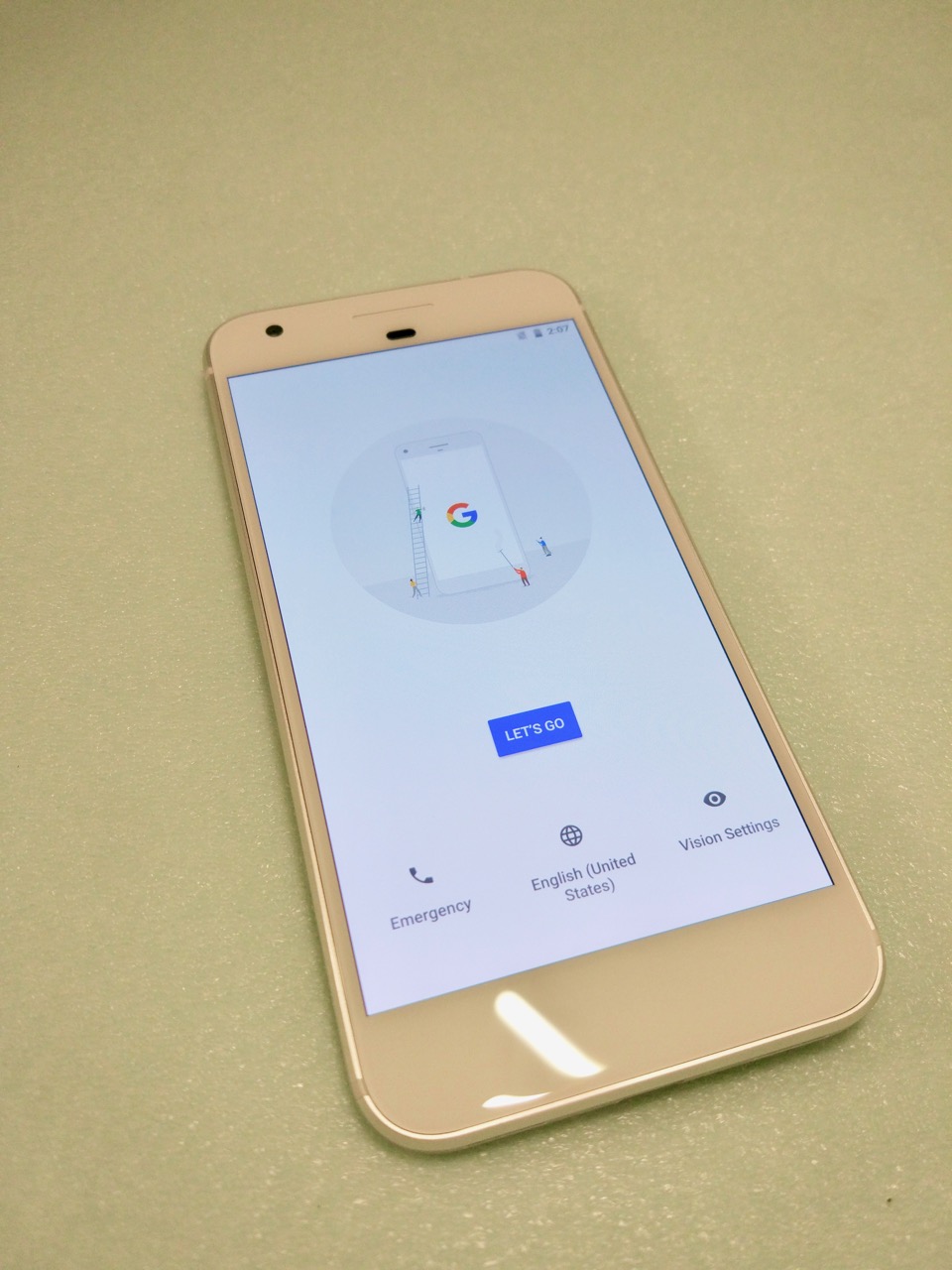 One big drawback with the Pixel and Pixel XL is the price – both are priced similar to iPhone 7 and iPhone 7 Plus respectively.

Pixel costs USD769 (£719, S$1140) for the 32GB version, and USD869 (£819, S$1290) for the 128GB model. Both devices are available in three colors – Really Blue, Quite Black and Very Silver.
PROS:

Readily comes with latest Android OS (Nougat 7.1)
Lighting fast experience
Good battery life unlike previous Nexus models
Pixel Launcher is one of the best interfaces
Brilliant display
Google Assistant is fantastic
Good overall built



CONS:

Lack of OIS can affect videos
Pricey
No stereo speakers or waterproofing
White unused panel on the bottom front screen – quite a waste of screen asset space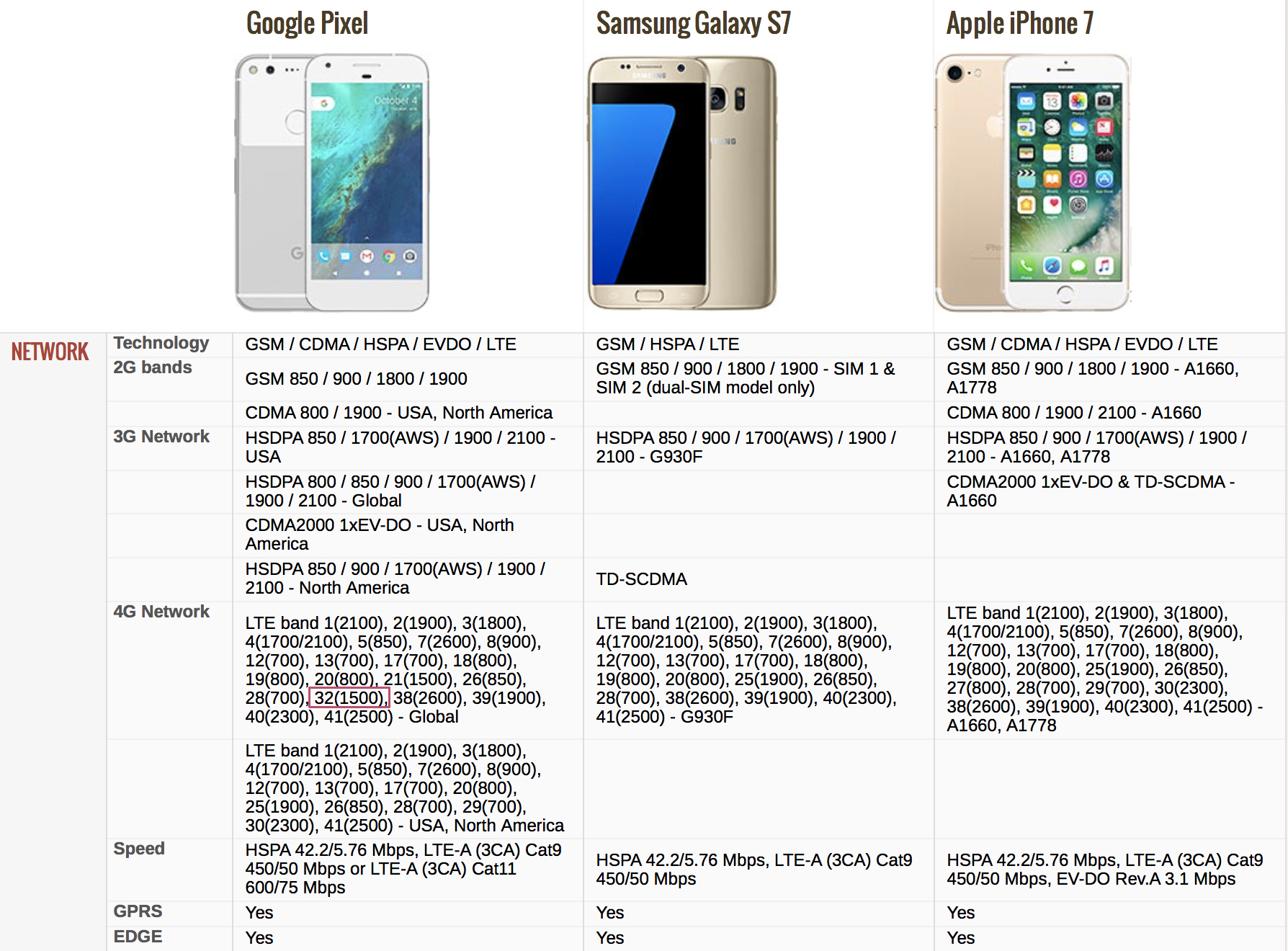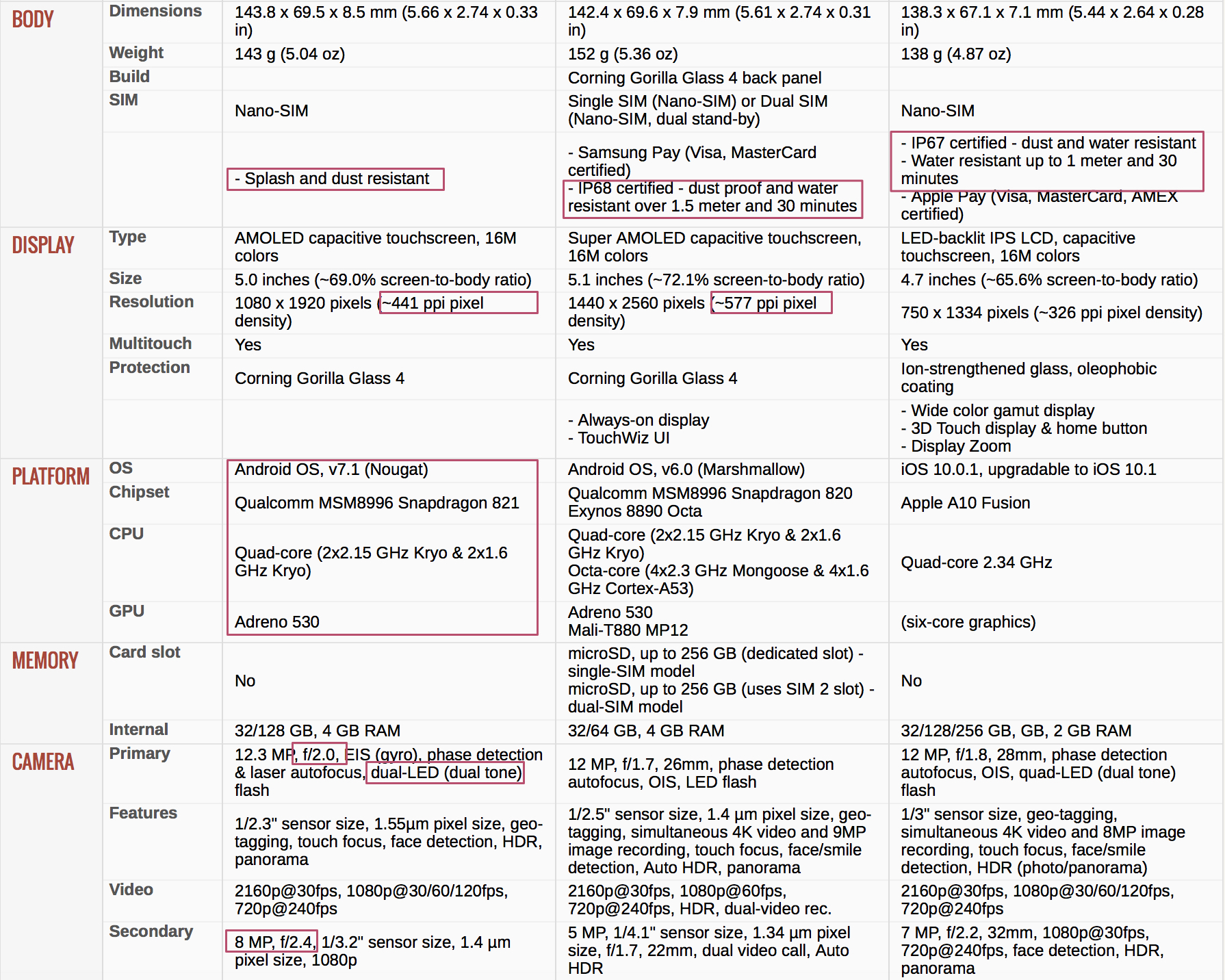 The Google Pixel is one good consideration if you're looking have a brand new Android phone in 2016 and especially if you are seeking to try out the new Android 7.1 Nougat and taking advantage of its budding VR capabilities. Do share your experiences if you manage to get your hands on this cool smartphone!


Read other related posts:
Share this article on:






Follow us on: